For the past year, students, faculty, staff, and alumni around the world have shown the resilient spirit of the Penn State community. Penn Staters have faced unprecedented challenges, and our community has met them with creativity, hope, and determination.
re·sil·ience
/rəˈzilyəns/
the ability of a substance or object to spring back into shape; elasticity.
the capacity to recover quickly from difficulties; toughness.
A quality shared by Penn Staters around the world.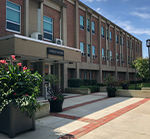 Expanded Academic Portfolio and Programming
In fall 2020, Penn State Greater Allegheny launched two new academic programs, expanding the number of degrees students can earn on our 52 acre campus adjacent to a 205 acre regional park. Students are now able to pursue a Bachelor of Science in Recreation, Park, and Tourism Management and a Bachelor of Science in Cybersecurity Analytics and Operations.
Construction and Renovation
With all safety measures in place, we continue to upgrade our facilities so our students have access to state of the art classrooms, laboratories, engaged learning spaces, and common areas. In fall 2020, we opened renovated classroom space funded by the Edwin R. Crawford Trust. In fall 2021, we plan to open the $14.7 million fully renovated 22,000 square foot Ostermayer Lab, home to science classrooms and research spaces.
Supporting Student Success
The pandemic heightened the public's awareness of food insecurity, which has been on our radar since 2017 when we launched our Food Security Signature Program. Through generous support from our faculty, staff, alumni and friends, we were able to provide and deliver groceries and gift cards to our students at a time they needed it the most.
Crossing Bridges Goes Virtual
Our Crossing Bridges Summit engages faculty, staff, students and community members to bridge racial divides in the Mon Valley. When gathering size restrictions limited the number of people who could assemble in one place, we turned to our colleagues at WPSU to produce our 2020 - 2021 Speakers Series, Examining Black Women's Health, and deliver it to a national audience. The Summit is sponsored by Highmark Blue Cross Blue Shield and Allegheny Health Network.
Teaching and Learning Never Stopped
Physical classrooms became zoom rooms, but there was never a pause in instruction, and our students continued to learn, earn their degrees, and begin their careers. The value of a Penn State degree is beyond compare. Penn State Greater Allegheny ranks in the top 9% nationally in 40 year earnings according to a Georgetown University Center on Education and the Workforce report.