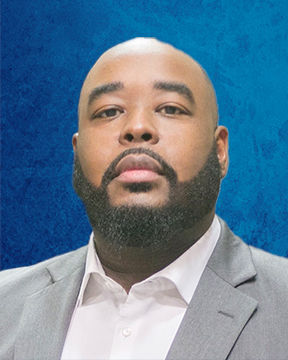 Biography

Fall 2022 Semester


On-Campus Office Hours:

Monday - 11:15 a.m. - 12:15 p.m. | 1:15 p.m. - 2:15 p.m.
Wednesday - 11:15 a.m. - 12:15 p.m. | 1:15 p.m. - 2:15 p.m.
Friday - 11:15 a.m. - 12:15 p.m.

---


Virtual Office Hours:

---

Dr. Christopher Wayne Robinson currently serves as assistant professor of social work at Penn State University-Greater Allegheny in McKeesport, Pennsylvania. Dr. Robinson is a native of Kalamazoo, Michigan who earned a bachelor's degree in social work from historically Black Jackson State University, a master's degree in social work and a graduate certificate in human services management from the University of Pittsburgh, and a doctorate in education from Indiana University of Pennsylvania. Robinson is a 2021 recipient of the Pittsburgh Courier Men of Excellence Award and a 2020 honoree of the NISOD Excellence in Teaching Award.

Teaching Interests: Social work practice, human behavior in the social environment, cultural competence

Area(s) of Expertise: Cultural competence and diverse populations, social work practice methods, student persistence to graduation.
Research Interests

Community Colleges

Cultural competence and diverse populations

Historically Black Colleges and Universities

Social work practice methods

Student persistence to graduation
Publications

Robinson, C.W. (2022). Increasing Access to HBCU Social Work Programs through Transfer Equity Programming. Journal of Baccalaureate Social Work. (Pending, manuscript submitted)

Robins, Anthony G. and Christopher Robins (In Press). "Could Culturally Tailored Study Skills Strategies Be the Panacea to Black Males Being Missing in STEM Professions?" In Unveiling the Cloak of Invisibility: Why Black Males are absent in STEM Disciplines. Information Age Publishing.

Robinson, C. W. (2021). Reducing the cost of higher education through the invaluable mission of community colleges and affordable HBCUs. Diverse Issues in Higher Education. Retrieved from
https://diverseeducation.com/article/207635/
Education

Indiana University of Pennsylvania, DEd, 2017

University of Pittsburgh, MSW, 2007

Jackson State University, BSW, 2006
Papers and Presentations

Reducing the Cost of Higher Education Among Black Social Work Students Through the Mission of Community Colleges and HBCUs, National Association of Social Workers-Pennsylvania Annual Conference, 2022

Pennsylvania Program to Program TAOC: Transfer is the Higher Education Equity Pipeline, Community College ASW to BSW Committee, Pennsylvania Department of Higher Education, 2022

Decreasing the Cost of College Through the Utilization of Community Resources for Community College Students Pursuing HBCUs, Black Doctoral Network Conference, 2022
Course Schedule

PSU 8

Frable Building 208

Thursday, 12:25 p.m. - 1:15 p.m.

SOC 5

Frable Building 221

Monday, Wednesday, 4:00 p.m. - 5:15 p.m.

SOCW 195

Frable Building 221

Monday, Wednesday, 2:30 p.m. - 3:45 p.m.