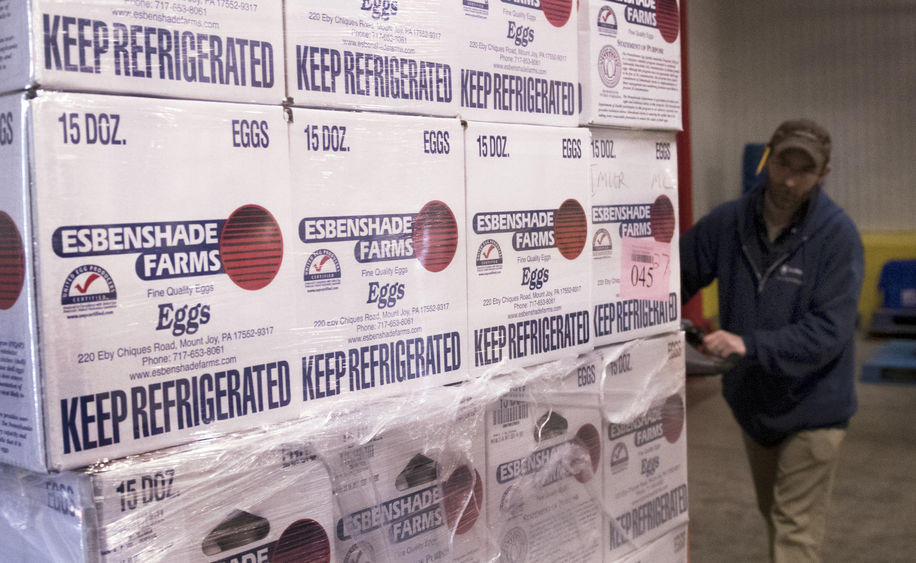 UNIVERSITY PARK, Pa. — As the coronavirus pandemic continues to impact communities throughout Pennsylvania and the country, Penn State staff members across the Commonwealth are supporting neighbors and community members in need by donating food — crates and pallets full of apples, lettuce, onions, potatoes, eggs, cheese, yogurt, eggs, tofu, tortillas and more — to food banks and other local organizations.
"We know this is an extremely difficult time for students and people in our community and beyond. We're striving to come together as a Penn State family to do what we can to help ease that burden," said Anna Sostarecz, sustainability coordinator in Penn State Enterprise Services, who helps organize weekly food donations. "During this time of uncertainty, it motivates me to be able to help friends and neighbors in this critical way."
"Throughout the year, whenever we have something to give — from produce to dairy to beans — we always call the Erie City Mission, as well as our campus' Lion's Pantry," said Lacey Schulz, manager in Housing and Food Services. "It really is a team effort for those of us who are part of the Housing and Food Services team. Our managers and staff go above and beyond to communicate and coordinate our donations to help support those in need in our community."
In just a couple of weeks, more than 17,445 pounds of food have been donated to these three organizations thanks to the collective efforts of University staff members in Penn State Enterprise Services, Nittany Lion Inn, Penn Stater Hotel and Conference Center, Residential Dining, HUB Retail Dining, Campus Catering and the Berkey Creamery.
According to Joe Arthur, executive director of the Central Pennsylvania Food Bank, over the past week, many of the food bank's partner agencies have reported triple the number of clients. He said with record numbers of Pennsylvanians filing for unemployment, the demand on food banks is increasing significantly.
"The Central Pennsylvania Food Bank has packed thousands of additional Crisis Response Boxes and anticipates packing hundreds of thousands more in the coming weeks," Arthur said. "We appreciate the safe and direct donation of food-service-quality food from Penn State, which will help us feed these families in need."
As part of this effort, the Creamery also is donating dairy products to the food bank, which will be distributed among a network comprised of 1,000 food pantries, service agencies, soup kitchens and shelters in 26 counties across the state.
"The coronavirus pandemic is having a devastating impact on many people, including those in our community," said Jim Brown, assistant manager of the Creamery. "We wanted to do our part to ease their burden and give our products to families who need help now."
'We Are' stories
The "We Are" spirit is perhaps more important than ever before, and Penn Staters everywhere are coming together in new and amazing ways. During these challenging times, our community is continuing to realize Penn State's commitment to excellence through acts of collaboration, thoughtfulness and kindness. As President Eric Barron has written on Digging Deeper, this truly is a "We Are" moment — and we want to hear your "We Are" stories.
Visit news.psu.edu/WeAre to share how you or other Penn Staters are supporting each other to overcome the collective challenges presented by the novel coronavirus. We are!