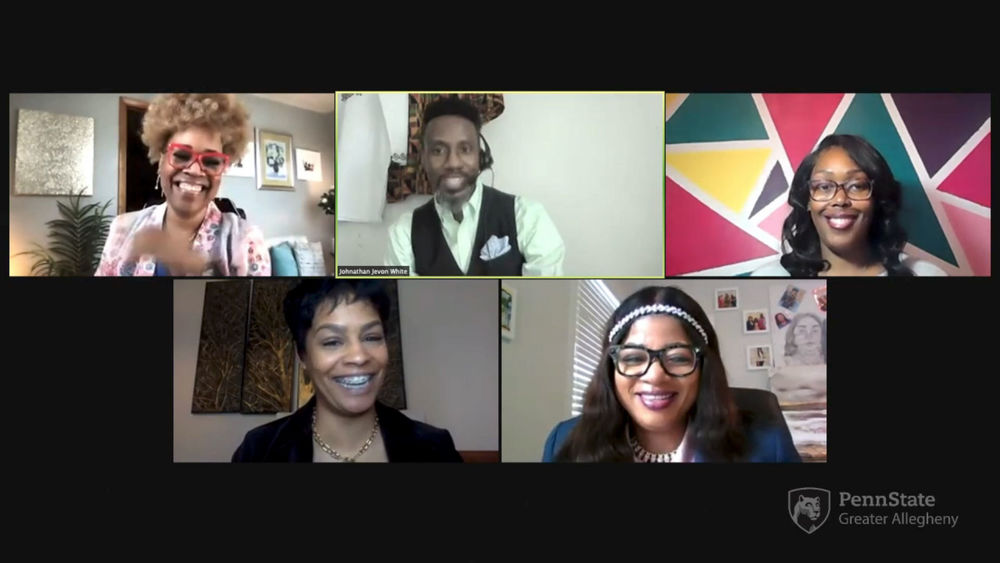 MCKEESPORT, Pa. — Penn State Greater Allegheny's signature program, The Crossing Bridges Summit, held its final installment of a four-part series discussing Black Women's Health. The event was held on April 15. The panel focused on political and policy influences and was sponsored by Highmark Blue Cross Blue Shield and Allegheny Health Network. Recordings of this installment and the entire 2020-21 series are available at watch.psu.edu/crossingbridges.
Johnathan White, assistant teaching professor at Greater Allegheny, moderated the event that featured panelists Morgan B. Cephas, Pennsylvania House of Representatives - 192nd District; Rikell S. Ford, Allegheny County Department of Human Services and school board member for the Clairton City School District; Rochelle L. Jackson, director and founder, Black Women's Policy Agenda; and Stella Onuoha-Obilor, vice president, Clinical Quality Highmark Health.
White started the conversation by reflecting on Ibram X. Kendi's acclaimed text "How to Be an Antiracist." In it, Kendi emphasized to eradicate racism, people must deal with public policy. "I think this phrase public policy can be a little ambiguous," said White.
"Public policy is a course of action that is curated and/or enacted typically by a government in response to public real-world problems," noted Obilor. "It could even be a public health threat like systemic racism." She continued, "Policies can do a lot when it comes to reforming the way that Black women are cared for. Reports have shown that even when they're sick, the medical professionals take their illnesses less likely than the white folks."
Obilor discussed the International Organization of Medicine and their six domains of importance. One domain, Equitable Care, demands that the care that is given to individuals will be of the same level. Characteristics such as race, gender, age, sexual orientation, or geographic location should not decide the quality of care someone receives. "To attend to the highest level of equity, you much first remove health disparities," said Obilor, "disparities are those preventable differences in the health of one group over another."
Noticing Obilor's reference to disparities, White discussed with Cephas the findings in the Pittsburgh Inequity on Race and Gender 2019 report and the role state leaders, in concert with community members, could play in improving health outcomes in our communities.
"I'm a firm believer state and local governments play a huge role in advancing and reversing the trends that come out of that study," said Cephas. "When you have women coming from Western Pennsylvania, championing your issues, it really reflects a voice that had been missing. We have a responsibility not only in this moment to look at every decision we're making with an equitable lens, but also looking at the policies that came before us that have created and lended themselves to these disparaging outcomes."
Disparaging outcomes has been a reoccurring theme in this year's Crossing Bridges Summit.
Rikell S. Ford, who serves on the Clairton City School District School Board, spoke on the role districts can play in breaking these cycles for our younger generation. "As a school board director for the Clairton City School District and working in child welfare, I am no stranger to seeing intergenerational trauma and how it affects our communities," shared Ford. "So, when thinking about policies within schools, more social workers and less school resource officers is major."
"Oftentimes we think that students come to school and just misbehave or sleep through class because they don't want to learn," said Ford. "If there were more social workers there to educate educators on what's happening, that may be a start with children having better outcomes within the educational system."
Panelist Rochelle Jackson has devoted her professional career to addressing complex issues facing Black women and children. She understands how important people' stories are, and the role those stories can play in educating people. The stories are experiences, and when shared with empathetic and sympathetic individuals who shape policy, the policies can bring about meaningful change.
"We have to use our power and continue to amplify our voices in our space and across this country," said Jackson.
Jackson also touched on the importance of voting. "That vote is an investment in your future, your children's future, and your community's future," she said. "Hold people responsible, accountable, and be engaged and involved."
Following the panel discussion, guests participated in a Summit Talk focused on policy work. Halen Sav, regional director for the Allegheny County House Democratic Delegation, was the keynote speaker and discussed her experiences as a research analyst focused on legislation and policy efforts. During her career, Sav has worked on health and human services related issues including healthcare accessibility, prescription drug pricing, insurance issues, and child custody laws.
"Halen helped us understand how we can bring issues and information to the legislators' attention during all phases of the legislative process," said Kristal Tucker, assistant teaching professor of Biology and member of the Crossing Bridges Summit planning committee. "We have to be persistent and interact with our leaders, so they understand what we need in our communities."
Jackson agrees with the need to show up and be active. "Shirley Chisolm says if there's no more seats at the table you bring a folding chair," said Jackson. "People need to be educated, acknowledged, and trained. They need to know that these are public spaces, and you need to be there. Your voice needs to be heard. You don't have to be invited."
Penn State Greater Allegheny will continue its collaboration with community partners to increase awareness of and address health disparities facing Black women. The Crossing Bridges Summit will return in the Fall with its new series on policing. For more information, visit greaterallegheny.psu.edu/cbsummit.