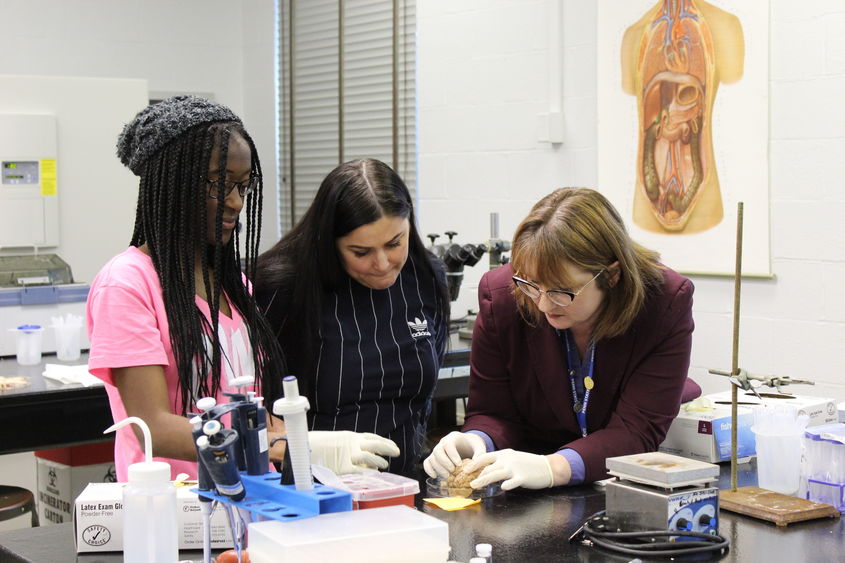 MCKEESPORT, Pa. – Over the past year, many organizations found creative ways to continue their programming and activities. Those who plan the Pittsburgh Regional Science & Engineering Fair (PRSEF) were no different, and last month hosted their 82nd annual event on a virtual platform. Penn State Greater Allegheny faculty and staff served as judges.
According to Bob Heyl, student aid coordinator, and Greater Allegheny's liaison to PRSEF, the campus has served on the judging committee since 2010. The fair is open to all students in grades six through 12 from 21 counties within Western Pennsylvania and Garrett County, Maryland.
"Members of our judging team read the project abstracts and ranked those students we wanted to interview for an academic scholarship," said Heyl. "In our interviews, our faculty are interested in the knowledge the students have gained and the future impact they can have on their chosen fields."
Representing Greater Allegheny as judges were Carlos Chueca, admissions counselor; Larry Dupak, lecturer in information sciences and technology; Jacqueline Edmondson, chancellor and chief academic officer; Melan Hasquet, director of admissions and student aid; Eric Lipsky, associate professor of mechanical engineering; Emmy Radich, assistant professor of energy engineering; Andrea Stevens, assistant teaching professor of microbiology; and Kristal Tucker, assistant teaching professor of biology.
Following the interviews, the judges selected 13 students who would receive a scholarship if they applied to, were admitted to, and attended the campus. This year's recipients and their projects include:
Sanjana Khedikar, Upper St. Clair High School - Patterns In Influenza RNA Mutations
Abby Killam, Indiana Area Senior High School - Landfill Luthier: Recycling Paper to Supplement Strings
Sarina Krishnaswamy, Upper St. Clair High School - Patterns In Influenza RNA Mutations
Hanna Lowden, Pittsburgh Allderdice High School - The Effects of PFOA Exposure through Consumer Goods on the Liver
Audra Moore, Indiana Area Senior High School - Impact of Mask Wearing on Facial Expression Recognition
Melanie Navaratna, Indiana Area Senior High School - Machine Learning for Improving NonAmerican English Speech Recognition
Nick Nedzesky, Seneca Valley High School - The Effects of Glycerol on Biofilm Production
Leeann Parsi, St. Joseph School - Identification of Mutations in the 5` Untranslated Region of the Sars-CoV-2 Genome
Anthony Puthenpurackal, North Allegheny Senior High School - The Transition to a Clean Automotive Sector with Hydrogen-powered Combustion Cycles
Erika Rispoli, The Ellis School - Understanding mechanisms of MDD: model extension of the BDNF-NFκB pathway
Autumn Smith, Indiana Area Senior High School - What kind of harmful bacteria could be in your stainless-steel water bottle?
Stella Swanson, St Joseph School - Forest ash and the Germination of Lactuca sativa
Victor Wu, Indiana Area Senior High School - Investigating Biofuels (Continuation)
Greater Allegheny sophomore Sidney Przybylski participated in PRSEF when she was a student at Norwin High School and received a scholarship from the campus for her work, "Rooting for Bioplastics." Przybylski is an engineering major, with a focus on alternative energy and power generation.
"I made my own plastic from household ingredients and infused it with cheese cloth to make a completely biodegradable and durable plastic substitute," recalled Przybylski. "When I learned I received a scholarship for my work, I was so excited that I sent my teacher an email – in all caps - that I'll have a scholarship to my first-choice school."
Przybylski has developed a strong working relationship with the STEM faculty and demonstrates her commitment to the environment through her involvement in student clubs and organizations. As SGA President, Przybylski recently participated in the University's Council of Commonwealth Student Governments' second sustainability summit focused on climate change. For Earth Day, she and her peers will volunteer with Grounded Strategies of Pittsburgh.
The PRSEF scholarship recipients who ultimately decide to attend Greater Allegheny, along with other future students pursuing STEM related fields, will study in the campus' state of the art laboratory and research space. This fall, the campus will reopen the Ostermayer Laboratory which is currently undergoing a $14.7 million project to modernize and improve the existing space.
To learn more about STEM and research opportunities at Penn State Greater Allegheny, email [email protected] or call 412-675-9010.