The second in a three-part series about the impact of "A Greater Penn State"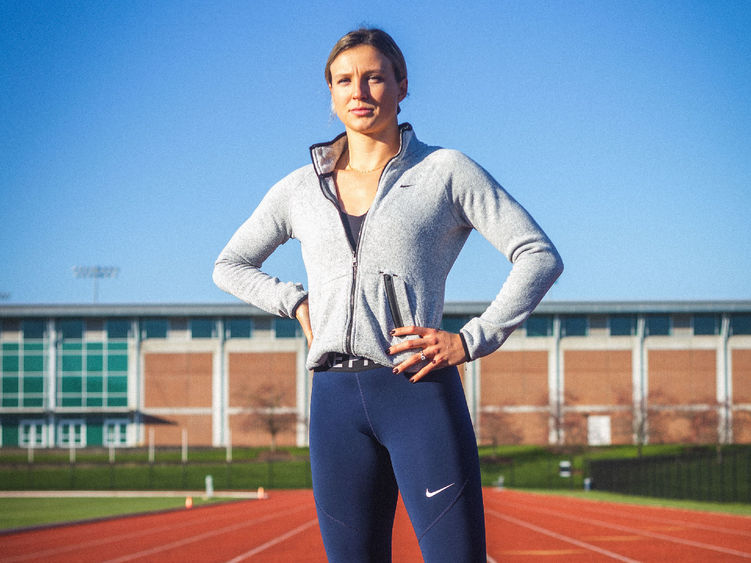 UNIVERSITY PARK, Pa. — In March 2020, senior Maddie Holmberg Nickal was in New Mexico with Penn State's track and field team, preparing to compete in the NCAA Indoor Championships, when a late-breaking decision cancelled the event due to COVID-19. Nickal thought that her collegiate sports career — which had included Big Ten and All-American honors — had come to an end overnight.
"In the context of what we all suffered, an athletic season may seem insignificant, but for student-athletes who have trained our entire lives, it was devastating," said Nickal. "It wasn't the first setback I'd faced as a competitor, and I had prepared for every outcome of my final season — except not being able to have one at all while healthy and fully prepared to accomplish my goals."
Thanks to Penn State's Returning Seniors Fund and an NCAA decision to offer Nickal and her peers another season, though, she was able to return to the track — and return to the University for a master's degree in nutritional science through World Campus. It's one of the many ways that supporters of "A Greater Penn State for 21st Century Excellence" have helped Penn State students and faculty to pursue their ambitions.
The campaign, which concluded on June 30, raised more than $2.2 billion for the three key imperatives of a modern land-grant institution: opening the doors of higher education to students from every background; creating transformative experiences for both students and citizens; and impacting the larger world through research, outreach and service. More than $289 million was secured over the six years of the campaign for the second priority, helping to enhance the value of a Penn State education for students and the quality of life for communities through philanthropy not only to intercollegiate athletics, but also to the arts and humanities, global engagement and digital innovation.
A new home for art
The most visible physical symbol of the campaign's impact may be the new Palmer Museum of Art, currently under construction in The Arboretum at Penn State. Donors made the new state-of-the-art facility possible, with more than $22 million in support to date. At an April 22 celebration of "A Greater Penn State," Palmer Museum Director Erin M. Coe said, "It is through philanthropy that we have been able to create a destination for students and families, visitors and community members that will do justice to our expanding collections, exhibitions, and programs, and that will provide new spaces to engage audiences and meet the needs of a teaching museum of the 21st century." With nearly double the gallery space of the current Palmer Museum on Curtin Road and additional areas  for education programming and events, the new facility is expected to open in 2024.
Keiko Miwa Ross, Penn State's 2020 Philanthropist of the Year, has been a leading donor to the museum project, and she has also made gifts to replace WPSU-TV's transmitter system, name spaces and enhance resources in the University Libraries, expand the Student Farm, and contribute to the development of the Pollinator and Bird Garden in the Arboretum — all assets to both Penn State students and citizens of the region. Earlier this year, as she expanded her philanthropy to include named spaces in the Penn State Innovation Hub and the Bellisario Media Center, she said, "Penn State has given me a sense of community here in State College, and I am so glad that I can help to make that community stronger than ever."
Growing global leaders
Gifts to the campaign are also helping the Penn State community to define itself as global. Support for international experiences and opportunities was a "A Greater Penn State" priority, and the impact is unfolding in the lives of students and alumni like Elizabeth Powderly, who graduated in May from the Eberly College of Science with a degree in biochemistry and molecular biology. Through an internship in Ireland made possible through the Perreault Fellows Program, endowed by Paul and Beverly Perreault, Powderly gained experience that's helped her to choose a career in healthcare consulting.
"I never thought I could go abroad — I didn't think I could afford it," said Powderly. "Ireland was truly a transformative experience that I wouldn't have had without the Perreault Fellowship. It's made me more confident as a person. But also, when I start my job, I'm going to be working with a lot of different communities and different cultures and different people. Global citizenship is at the heart of what Penn State and the Perreault Fellowship is about." Powderly shared more about her experience in a video available at greaterpennstate.psu.edu.
Preparing for a digital world
At the heart of "A Greater Penn State for 21st Century Excellence" was a vision of the future as both global and technological, and digital innovation was also a campaign priority. One of the earliest and most significant gifts to the campaign was the $30 million commitment from Donald P. and Vivienne Bellisario that named Penn State's College of Communications and launched the creation of the Bellisario Media Center, a state-of-the-art facility equipped with the technologies students will use in their communications career. When the gift was announced in 2017, Dean Marie Hardin said, "In the fast-moving fields of media and journalism, the greatest advantage we can give our students is hands-on experience, as they learn from faculty who are themselves leaders and game-changers."
At Penn State's campuses across the Commonwealth, philanthropy is helping students and communities to prepare for a digital future. The Digital Fluency Project at Penn State Greater Allegheny provides every student, faculty member and staff member with iPads that can be used to access online resources, engage in collaborative projects and more. Donors James and Megan Minarik have supported the project and encouraged other donors with a challenge grant.
During a 2019 event, Greater Allegheny information sciences and technology (IST) major Katarina Shields thanked the Minariks, saying, "I knew I couldn't be an IST major and not have a computer, but I also knew that it would take me a very long time to save enough money for one… [The Digital Fluency Project] literally changed everything for me… I have found my true passion at this campus. It wouldn't have happened without the people who have been put along my path, including two incredible people, alumnus Jim Minarik and his wife, Megan."
Maddie Holmberg Nickal is also grateful to the donors who shaped her Penn State experience — both as a student-athlete and now as a resident of Centre County. A recipient of the Breslin Family Endowed Track & Field Scholarship, among other awards, she has settled in the area with her husband, celebrated Penn State wrestler Bo Nickal. At the April 22 campaign celebration, where the Nickals served as emcees, she said, "Thank you to all the donors who have made Penn State such an incredible resource for our community, whether that's through gifts to public broadcasting or Shaver's Creek, to the arts or to athletics. You have given us so many reasons to be proud Penn Staters — and to build our life together here."
View a WPSU-produced video of the campaign celebration, including remarks from Maddie and Bo Nickal, here.
With the record-breaking success of "A Greater Penn State for 21st Century Excellence," which raised $2.2 billion from 2016 to 2022, philanthropy is helping to sustain the University's tradition of education, research and service to communities across the Commonwealth and around the globe. Scholarships enable our institution to open doors and welcome students from every background, support for transformative experiences allows our students and faculty to fulfill their vast potential for leadership, and gifts toward discovery and excellence help us to serve and impact the world we share. To learn more about the impact of giving and the continuing need for support, visit raise.psu.edu.