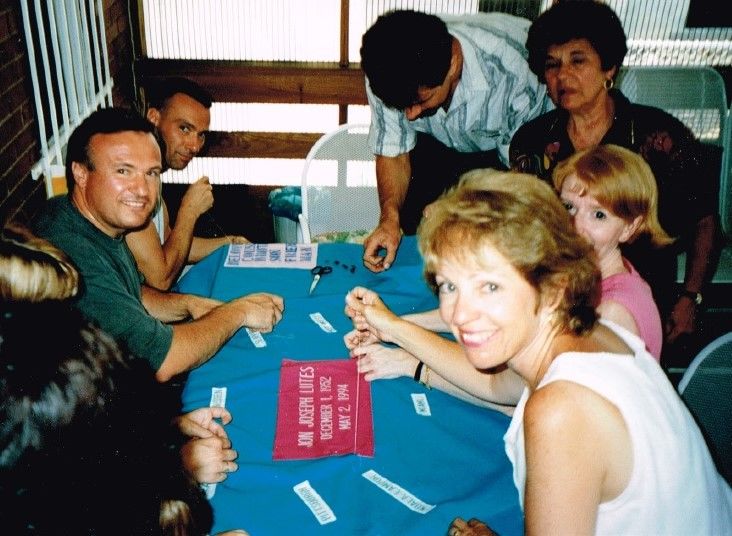 MCKEESPORT, Pa. — Jon Joseph Lutes loved pizza, his Italian mother, and having fun. He had a passion for working with children, travel, and his friends and family. His life, full of love and laughter, was cut short at the age of just 42.  He died of AIDS on May 2, 1994.
A 12-feet by 12-feet piece of the AIDS Memorial quilt, including a panel dedicated to Jon Lutes' memory, is on display from Nov. 28 through Dec. 2 in the concourse of the Penn State Greater Allegheny Student Community Center, to commemorate World AIDS Day, which also happened to be Jon Lutes' birthday – Dec. 1.
Penn State Greater Allegheny Director of Student Affairs Glenn Beech was a friend of Lutes'. They met while attending college at Slippery Rock State College (now University). The two had several classes together and became friends, as Beech said, due to Lutes' likeable nature. Beech said, "He was a unique individual who brought a varied group of people together and we all became friends. Mostly because Jon was a fun, funny, and accepting individual who enjoyed life."
Beech shared that Lutes, originally from Monessen, Pa., loved working with children. After graduation, Lutes volunteered to serve in the Peace Corps teaching English to children in Kuala Lumpur, Malaysia. Later, he moved to Seattle, Washington, where he taught infants how to swim at a YMCA. 
According to Aidsquilt.org, the NAMES Project Foundation is the international caretaker of the epic AIDS Memorial Quilt. It was formed in 1987, when a group of people first gathered in a San Francisco storefront to find a way to remember and honor the lives of their friends, partners and loved ones lost to HIV/AIDS. They were angry, scared, frustrated, heart-broken and determined to create a memorial that could not be dismissed or denied.
The website also states that what began with a single stretch of fabric measuring three feet by six feet, has since become the internationally celebrated, 54-ton AIDS Memorial Quilt. 

In July of 1995, a mutual friend of Lutes and Beech, Kathy Sturni, and Lutes' mother Rose thought it would be a good gesture for a number of Lutes' friends to come together to create a panel for the AIDS Quilt in his memory.  So, one Sunday, about eight of his friends who were still in the Pittsburgh area got together at Kathy's house and sewed a panel, all the while sharing personal stories about Lutes. Beech remembered, "It was a day filled with emotion and we shared both laughter and tears."
According to worldaidsday.org, World AIDS Day is held on the 1st of December each year and is an opportunity for people worldwide to unite in the fight against HIV, to show their support for people living with HIV, and to commemorate people who have died. World AIDS Day was the first ever global health day, held for the first time in 1988. World AIDS Day is important because it reminds the public and government that HIV has not gone away – there is still a vital need to raise money, increase awareness, fight prejudice and improve education.
Beech added, "I think Jon would have loved the quilt, or more so, the idea that a group of friends got together to preserve their memories and care for one another. He would be proud that the quilt is still bringing AIDS awareness all over the world," said Beech.