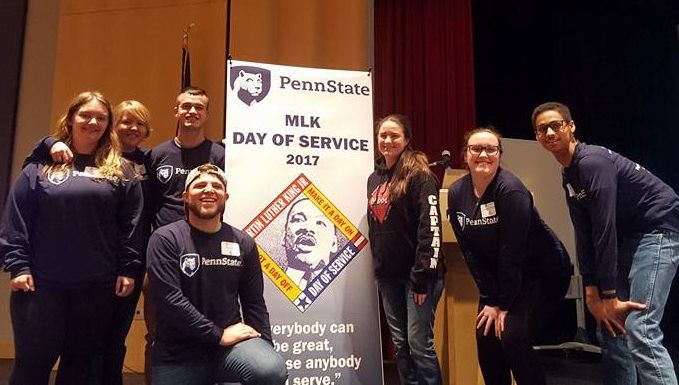 Each year, students from seven Penn State campuses in Western Pennsylvania commemorate the Martin Luther King Jr. holiday by coming together and performing volunteer work. This year's event was held on Monday, Jan. 16, with Fayette serving as the host campus. Nearly 100 students participated.
Instead of having the day off, the student volunteers headed out to various non-profit sites to work. Students performed various tasks such as cleaning, organizing, or working with the elderly or children.
Erin O'Malley, associate director of Student Affairs at Penn State Greater Allegheny, organizes the campus' participation. She said, "Providing our students with opportunity to do community service is one of my favorite things about my position. Giving up their time to help another person or cause shows their personal growth and gives them a foundation to want to give back. Doing service for another person opens up so many doors and helps a community grow. I find it amazing that we have students who want to work on a day off just to help make someone else's life a little easier."
One of those students is Chris Smith, a second-year broadcast journalism major. Last year, Smith helped to organize clothing and household items at the Braddock Free Store, which receives surplus and donated goods and redistributes them to neighbors in need. Smith participated again this year. He said, "I enjoy doing service for the surrounding community I'm in. It makes me feel good to know I'm helping someone." Smith also belongs to a youth volunteer corps back home where he helped with such tasks as raking leaves and playing bingo at retirement homes.
The event is a tradition that began nine years ago, in an effort to use Penn State Pride to give back to the community. Students wanted to make a big difference in their local communities in a short period of time. Each year, a different campus hosts the event, including Beaver, Altoona, Behrend, DuBois, Fayette, Greater Allegheny, and New Kensington.
Students volunteered at a number of organizations including an animal shelter, a domestic violence home, St. Vincent De Paul, the local food bank, some community ministries, and a nursing facility.