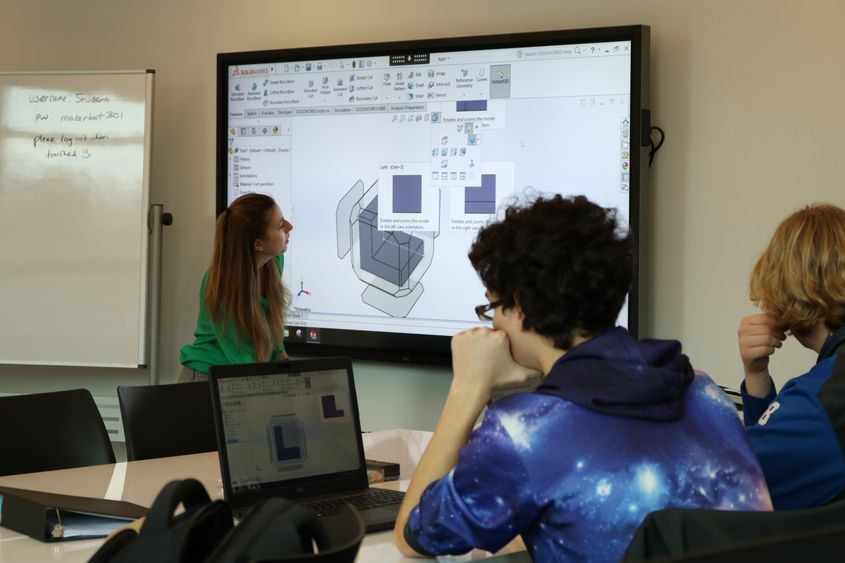 MCKEESPORT, Pa. — Penn State Greater Allegheny will offer the third year of the energy engineering major, beginning in Fall 2018. This will be the first 3+1 Energy Engineering program at any Penn State campus and will allow students to remain at Greater Allegheny through their junior year, then move to University Park to complete their final year of study.
"Adding the 3+1 Energy Engineering Program to Penn State Greater Allegheny means that students will have the option to pursue one more year of this cutting-edge degree program at our local campus, and it also positions the campus to play a role in the new energy paradigm emerging in the Pittsburgh region," said Jacqueline Edmondson, chancellor and chief academic officer at Greater Allegheny.
Eric Lipsky, associate professor of engineering at Penn State Greater Allegheny, explained the benefits of the partnership between the Greater Allegheny and University Park campuses, which led to the development of the 3+1 Energy Engineering Program.
"Energy engineering is offered at University Park as a four-year degree program in the College of Earth and Mineral Sciences," explained Lipsky. " We are excited to partner with the College of Earth and Mineral Sciences (EMS) to bring the third year of this program to the region."
"In addition to providing benefits to students and broader academic collaborations between the campuses, this partnership will enhance connections between energy researchers at University Park and the burgeoning energy industry in southwestern Pennsylvania," said Lee Kump, dean of EMS.
In additional to increasing the academic offerings at Greater Allegheny, this collaboration also will provide a financial benefit for students planning to attain this degree. "Many of our students are commuter students who attend Greater Allegheny to save money on room and board costs," said Lipsky. "Being able to offer these local students one more year, as opposed to two years locally and two years at University Park, will reduce the overall cost of their education, and this can make a Penn State degree more accessible for a larger number of students."
Additionally, because of this new program, faculty will have the opportunity to teach more advanced classes within the energy engineering discipline.
"For me, this is a chance to expand my teaching by being able to offer different courses in engineering," stated Lipsky.  "I am excited because, as you advance in the energy engineering course work, there are fascinating concepts to share with the students."
Looking ahead, Penn State Greater Allegheny has a goal to offer energy engineering as a four-year degree within the next few years, and support is continuing to develop for this endeavor. "We have established an advisory board, comprised of engineering and energy professionals from the region," said Edmondson. "Our faculty and the advisory board are working closely with EMS to deliver the third year of the program. We are also working to secure funding to expand our engineering lab space on campus so we can offer the fourth year, which includes labs, as early as 2020."
Penn State Greater Allegheny will advise students through the first three years and direct them to the completion of the degree at University Park. "We are thrilled to have this option available for our students, and we are so appreciative of Dean Kump and our EMS colleagues for their efforts to make this a reality," said Edmondson.