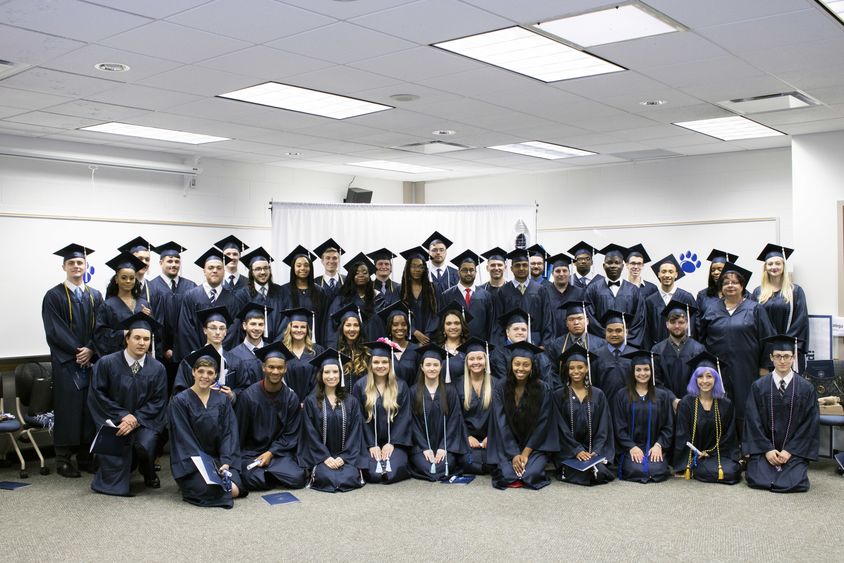 MCKEESPORT, Pa. — On May 5, Penn State Greater Allegheny participated in University-wide commencement activities. Faculty and staff, alongside the graduates' friends and family members, watched and celebrated as 52 students became Penn State alumni.
Commencement, held in the Wunderley Gymnasium on Greater Allegheny's upper campus, was filled with emotions as the student speaker, Rhickisha Hinkson, welcomed the ceremony-goers and told her peers that "every person was put on this Earth to accomplish some purpose bigger than just making a living."
During the ceremony, keynote speaker Saleem Ghubril, executive director of the Pittsburgh Promise, shared words of wisdom to the Class of 2018 and welcomed them into the next stage of their lives.
At the end of the event, families, faculty, staff and alumni congregated to the Student Community Center for a final goodbye.
Congratulations to Penn State Greater Allegheny's Class of 2018:
Associate in Science
Business Administration
Bachelor of Science
Administration of Justice
Jashaun Jamie Fontanez
Michael Sokolowski
Richard J. Vollberg
Biobehavioral Health
Rebecca A. Capozzi
Marin Marina
Michael J. Rosa
Laura I. Vazquez Diaz
Business
Andrew Richard Brissette
Ryan Hunter Brown
Amanda Georgette Burchell
Qinzhi Chen
Rhickisha M. Hinkson
Nicholas Jugovic
Jermey A. Martin
Ryan McMahon
Taylin Marie Panella
Tony Patterson Brown
Brittney M. Renfro
Craig Slepsky
Ryan James Snyder
Jacob James Thieret
Scott Michael Uniatowski
Brianna Nekaybaw Ware
Information Sciences and Technology
Adejuwon Israel Adenuga
Nicholas Charles Andrews
Qinzhi Chen
Kedar Dhital
Cody Koscielski
Zachary E. Long
Luke A. Padezan
Syed M. Saleem
Manoj Sharma
Nathan McCoy Withers
Mechanical Engineering
Organizational Leadership
Project & Supply Chain Management
William R. Kahanic III
Nathan C. Lawrence
Psychology
John Besnak
Paige Darlene Hako
Marissa Lynn Lewis
Marino R. Swanson
Tracy Lynn Thomas
Aubrey N. Wilson-Tucker
Kayla Zeigler
Bachelor of Arts
Letters, Arts and Sciences
Communications
Shakeria Fallon Ra'sha Carter
Ashley Hammond
Tawnya Pirch
Psychology
Brittany Nicole Lesko
Angela Rose Mayhue
Jordan Williams