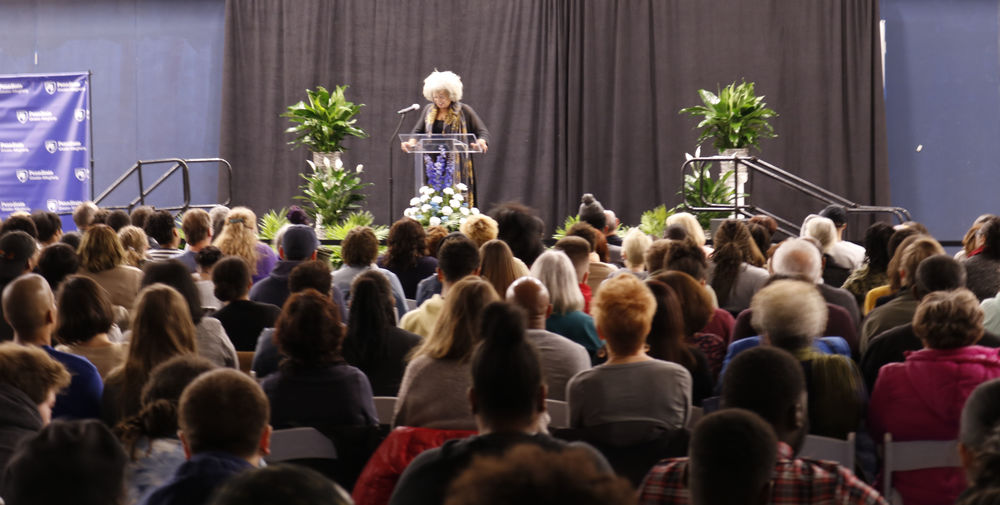 MCKEESPORT, Pa. – "What would it take to have a society where everyone felt valued?" This was one of many challenges activist and author Angela Davis presented to the audience who gathered on Friday, Oct. 19 in the Wunderely Gym at Penn State Greater Allegheny. Davis, the Fall 2018 Crossing Bridges Summit keynote speaker, addressed a crowd of more than 780 people on social topics of concern to her. 
"Having Angela Davis speak as part of our Summit was truly a historical moment for us," noted Chancellor and Chief Academic Officer Jacqueline Edmondson. "Dr. Davis pointed out examples where racism, misogyny, economic disparities, and other social problems are institutionalized, and she encouraged us to use intersectionalities and apply multiple lenses to solve these problems."
"Having Angela Davis speak as part of our Summit was truly a historical moment for us."

-- Chancellor and Chief Academic Officer Jacqueline Edmondson
Davis has been a voice in the civil rights movement, and she has dedicated years of service to activism and advocating for the oppressed, both in the United States and abroad.  
Anthony Mitchell, associate teaching professor of African and African-American studies, introduced Davis. Later, Mitchell reflected on the experience. 
"I wanted to introduce her in a welcoming manner that recognized her longevity in the struggle and enormous intellectual contributions to movements as a catalyst for inspiring 'new age' movements that confront ongoing inequities in U.S. society," noted Mitchell. 
The Crossing Bridges Summit is intended to engage the campus and community in efforts to bridge racial divides. The four components of the summit include: the speaker series; the Summit Talks (which engage the community in conversations after the speaker); Unity Talks (student-led conversations about diversity and equity); and a visiting scholar series.
"As educators, our first goal is to make experiences come alive for our students," mentioned Erica Tachoir, director of career excellence and community outreach. "Having Dr. Davis at Greater Allegheny provided a unique opportunity for students to see history in present action."
An audience-driven, 15-minute Q&A session with Davis sparked questions about how we can move forward in the current political climate. Davis also shared advice for activists throughout the greater Pittsburgh region.  
"The patrons' questions were fitting because many wanted to understand how specific issues, police brutality for instance, fit within the larger framework of an international movement and coalition for social justice," said History Lecturer Johnathan White. "It was an honor to moderate—I only wish we had more time to hear more of her wisdom."
After the Q&A session, Davis spent 45 minutes signing books and speaking with people who were moved by her words. Student Amani Blakney met Davis and received Davis's autograph in her latest book 'Freedom Is A Constant Struggle: Ferguson, Palestine, And The Foundations Of A Movement.' 
"Meeting Angela Davis was a surreal and transcending experience," said Blakney. "She carries herself with such grace and integrity, and is truly someone who stands her ground and acts in selflessness with the intention of justice and peace."
Jasiri X, a local rapper from Pittsburgh and the first independent hip-hop artist to be awarded an honorary doctorate from Chicago Theological Seminary in 2016, opened the night. He rapped about the struggles the black community faces in the current global political environment. 
Steven Carter, a communications major and station manager of campus radio - WMKP, introduced Jasiri X and noted, "He's been doing great things for a long time, and I'm just taking notes because I want to be a great, influential public figure just like him."
Greater Allegheny continued the conversation by hosting the Summit Talks. The Summit Talks, an open discussion held the day after the keynote speaker, featured a diverse group of civic leaders who helped participants reflect on, consider, and frame the speaker's message in a way that translates to actionable initiatives in the Mon Valley.   
The panelists who moderated the Fall 2018 Summit Talks included: 
•    Jasiri X, local rapper
•    Fred Brown, president and CEO of The Forbes Funds
•    Kelleigh Boland, program officer of the Jefferson Regional Foundation
•    Summer Lee, community activist and Penn State alumna
"Through the Summit Talks, we can identify problems in the community by actually talking to and with the community. We don't have to guess because it keeps us in the presence of leaders in and residents of the Mon Valley. They know what the needs are because they live them daily," noted Tachoir.
The Crossing Bridges Summit's past keynote speakers include Michael Eric Dyson (Fall 2017) and McKeesport-native Brandon Short (Spring 2018).  Plans are underway for the Spring 2019 Crossing Bridges Event. Pittsburgh-based artist and activist Vanessa German will be the next keynote speaker on April 5, 2019. The event will be free and open to the public. 
For more information concerning the Crossing Bridges Summit, contact Justin Varney, public relations specialist, at [email protected].