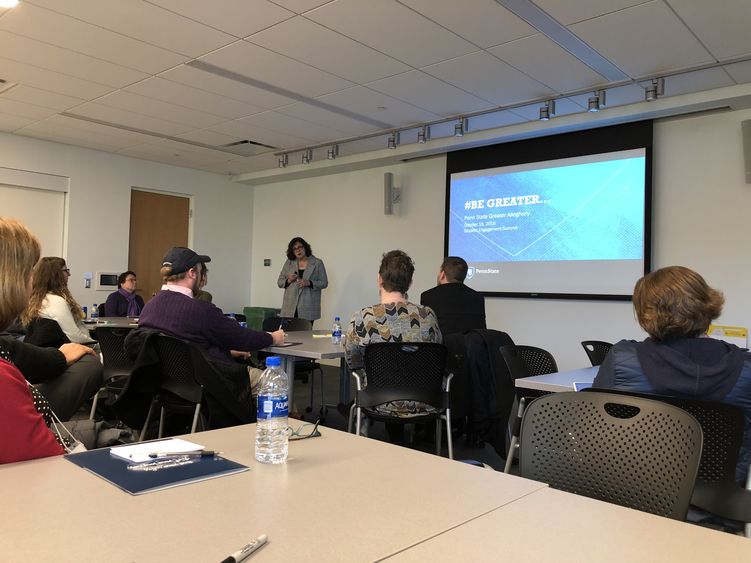 MCKEESPORT, Pa. — Penn State's Student Engagement Network (SEN) hosted the Student Engagement Summit on Oct. 18 in the HUB-Robeson Center, located at University Park. The summit provided guidance and support for students, faculty and staff to construct a universal framework for student engagement across Penn State's ecosystem.
Penn State President Eric J. Barron developed six University-wide imperatives, including the SEN. The SEN is charged with engaging students through academic, personal and social development programs; and is a joint initiative of Undergraduate Education, Student Affairs, and Outreach and Online Education.
Penn State Greater Allegheny's chancellor and chief academic officer, Jacqueline Edmondson, spoke on "Collaboration: Building Partnerships." During her presentation, Edmondson discussed the importance of community outreach and building relationships on and around campus. Edmondson illustrated the effects of Greater Allegheny's own community projects including the Free Store 15132 and little Food Pantry.
"As a land-grant institution, we must always challenge ourselves to ensure we are serving the people of the Commonwealth through our research, teaching and service. It is critically important for Greater Allegheny to be an integral part of the communities we serve and to consider what this means in relation to the many ways the term 'community' can be applied, geographic and otherwise," noted Edmondson.
In addition to Edmondson's presentation, the event offered guests a panel discussion, breakout sessions (technology, resources, storytelling, discovery and assessment), and a keynote speaker.
Penn State strives to engage students in new ways by providing unique college experiences. Students, faculty and staff who want to get involved at Greater Allegheny can contact the Student Services and Engagement team in the Student Community Center, room 210B.