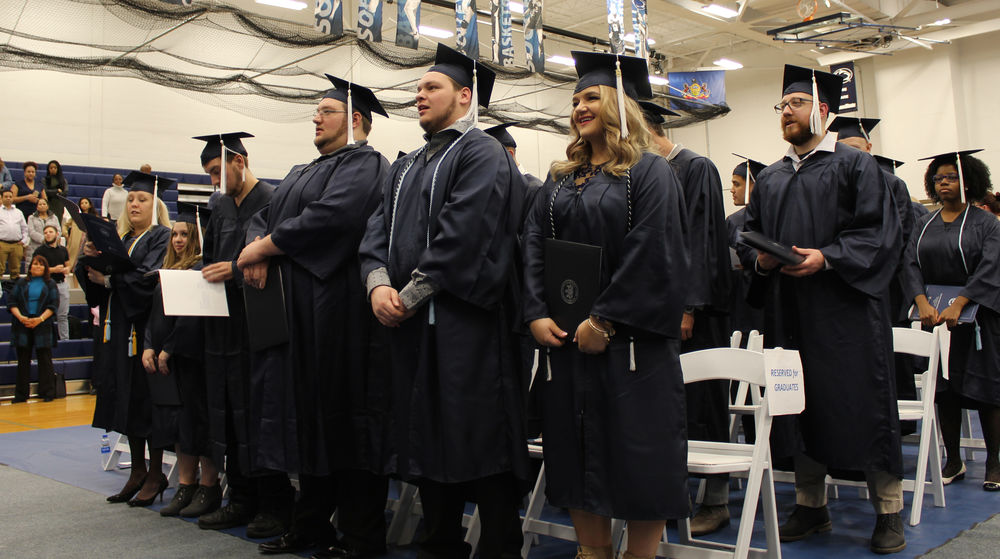 MCKEESPORT, Pa. - This past weekend The Pennsylvania State University awarded diplomas to students across the commonwealth.
Twenty-nine students from Greater Allegheny's campus graduated on Dec. 14, in the Wunderley Gymnasium. These graduates have successfully achieved the requirements in programs such as Administration of Justice, Biobehavioral Health, Business, Communications, Information Sciences and Technologies, Project & Supply Chain Management, Psychology, and Security and Risk Analysis.
Student speaker Curtis Newby captured the attention of ceremony-goers with his commencement address. Newby acknowledged that his life could have taken a different direction and credited his family, friends and teammates (PSUGA Men's Basketball Team), and the faculty and staff at Greater Allegheny for the role they played in supporting him as he worked to earn his degree.
"I would like to thank all my family and friends who supported me through all my ups and downs, even before I decided to come back to school to pursue my degree because I know things have been rough for our family," said Newby.
During the ceremony, keynote speaker Fred Ramos, senior vice president, corporate communications at Highmark Health, challenged the graduates to remember three things as they embark on the next phase of their lives; being prepared, being respectful, and being trustworthy.
At the end of the event, families, faculty, and staff share a final celebratory moment as we welcomed the newest members of the Penn State alumni. A special thank you to Housing and Food Services for catering the celebration.
Congratulations to Penn State Greater Allegheny's Fall Class of 2018:
ACADEMIC EXCELLENCE RECIPIENTS
Eric Norman Arbogast
Joshua E. Arroyo-Vazquez
Zachary Pollack
Rachel Marie Schweitzer
Kristen Marie Zolnierzak
Matthew John Zovko Jr.
BACHELOR OF ARTS DEGREE CANDIDATES
Administration of Justice
Samantha Jo Segiel
Communications
Khari Hicks
Kelsey M. Hoffman
Curtis Newby
Daniel Steven Stepansky
Psychology
Sara N. Copeland
BACHELOR OF SCIENCE DEGREE CANDIDATES
Administration of Justice
Adam Bachmaier
Mitchell Gregg DeVall II
Rachel Marie Schweitzer
Biobehavioral Health
Joshua E. Arroyo-Vazquez
Amanda Evelyn Johnston
Kristen Marie Zolnierzak
Business
Scott Amorose
Antonio Lucic-Jozak
Susma Bista
Kyle Miller
Eric Greiner
Tyler Rawlings
Antoine Harris
Christian Peter Schratz
Anthony Janicki
Michael Vay
Jalen Robert Ledbetter
Matthew John Zovko Jr.
Information Sciences and Technology
Muhammad Akram
Yam Bista
Raghu N. Chimoriya
Joseph McLachlan Jr.
Tejendra Subedi
Project & Supply Chain Management
Aubriea Miller
Psychology
Eric Norman Arbogast
Roberta Kameka-Yearwood
Jerry E. Pastories
Zachary Pollack
Security and Risk Analysis
Patrick M. Swaney