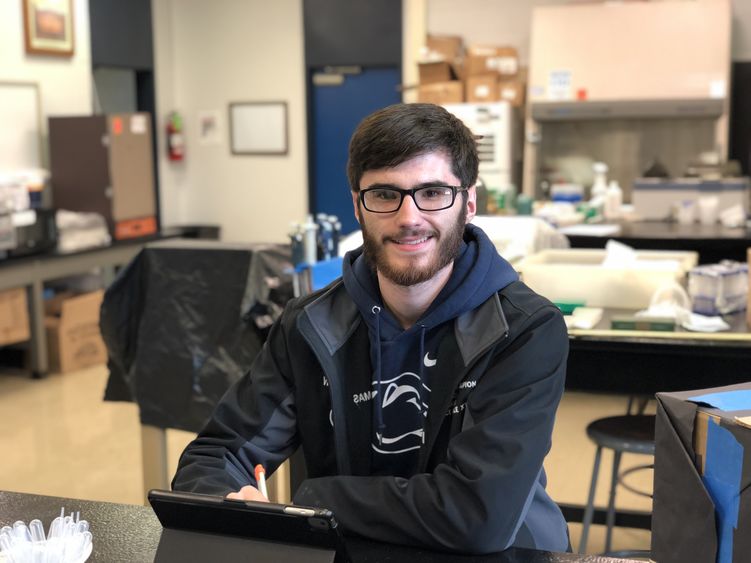 MCKEESPORT, Pa. —  During the 2018 Fall semester, Penn State Greater Allegheny launched a digital fluency project, providing an Apple iPad and Logitech Crayon to campus community members (faculty, staff and students).
Wyatt Thomas, a freshman who intends to major in chemical engineering, is maximizing his in-and-out of classroom experiences with the help of the digital fluency project and these new tools.
Thomas is currently enrolled in CHEM/BBH 297 (CUREs). CUREs is a new course offering led by doctors Megan Nagel and Kristal Tucker. Its curriculum is focused on course-based undergraduate research experiences.
For his project in the course, Thomas is attempting to design a spectrometer with an iPad as its detector.
"The goal for Wyatt is to ultimately be able to quantify protein concentrations from a Western Blot, a common technique for detecting and analyzing proteins," noted Nagel, associate professor of chemistry. "This would replace specialized gel documentation equipment, typically costing upwards of $10,000."  
His first-generation design featured everyday materials such as a cardboard box and glow sticks. 
"The iPad, provided through digital fluency, was used to take photos of luminescent samples," said Thomas.
The photographs could then be analyzed using image analysis software provided free of charge through the National Institutes of Health (NIH).
Thomas is currently applying the engineering design process to build his second-generation prototype from more robust and permanent materials.
"The successful construction of this spectrometer would represent a unique and inexpensive method for measuring protein concentrations," said Nagel. "The spectrometer will be used for numerous applications in collaboration with the work of Dr. Kristal Tucker, who is currently evaluating the connections between hyperglycemia and Parkinson's disease."
The project also provides Greater Allegheny's students with an advantage in the job market. The National Association of Colleges and Employers (NACE) looks for students to obtain eight competences or career fluencies. One fluency is focused on technology, according to Erica Tachoir, coordinator of Career Excellence and Community Outreach.
"We are putting a piece of technology in students' hands, and with that technology, they are figuring out how they're not only going to be able to transfer these skills into the work world but how they might even create a job for themselves in that transition," said Tachoir.