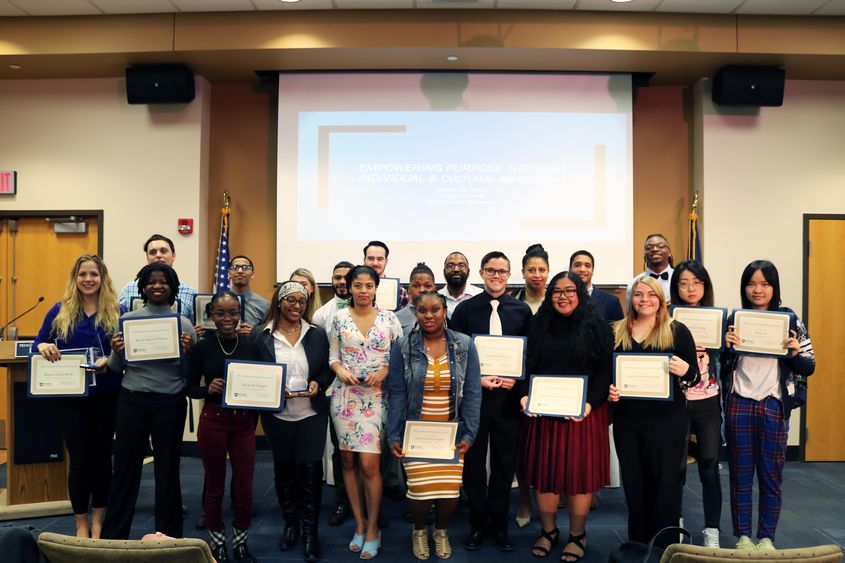 MCKEESPORT, Pa. — "Dream bigger, you're already EPIC!"
This was the message of Aaron Whigham, Penn State Greater Allegheny's co-coordinator for the Mon Valley Launchbox, who discussed inspirational topics with students, faculty, staff and families at the recent Empowering Purpose Through Individual and Cultural-Awareness (EPIC) Awards, held in the campus's Ostermayer Room. More than 30 students received an award for their academic achievement.
"You have knocked down doors and broken through barriers," said Whigham. "For you to be first generation students who are learning on a whole other level, you're creating a brand-new boundary for your families."
Jacqueline Edmondson, chancellor and chief academic officer; Siobhan Brooks, learning center coordinator; Erica Willis, director of ACE (Academic and Career Excellence) program; and Evan Williams, residential education specialist, handed out the Academic Achievement Awards and the EPIC Awards.
The Academic Achievement Awards have four tiers which distinguish students who have achieved a 2.7 or higher GPA in the previous semester. The tiers include Bronze, Silver, Gold and the Gold Star.
This year's EPIC and Academic Achievement awards winners are listed below.
Adam Smith
Alexandra Hall
Andrew J. Speranza
Angela Kij
Bimal Regmi
Brenden Robert Caruso
Codey Hamilton
Danaesia Terrell
Darwin Christian Jr.
Wenqi Deng
Dharma Kharel
Ebonie R. Slade
Gary Faupel Jr.
jagesh subba
Jalen Bolger
Jay-Jay Fields
Jayla Ellis
Jeffrey Holden
Jessica N. Gatti
Jiahao Huang
John M. Mesco
Katarina Shields
Katie Summer Chuahong
Ke'ira Marie Williams
Koran Fleming
Korionna DeVaughn
Kyle Smith
Ting Lei
Livia Bodner
Manuel Rosario
Ma'Nyah Wright
Maria Koedel
Namrata Pokhrel
Nathaniel Mehring
Nicholas Kazousky
Om Koirala
Payton Burnsworth
Raeann Emily Sleith
Raphael Trillanes
Savanna Lorraine Simm
Shawn Dainty
Sierra Thimons
Teraja Anada Bull
Todd Hone
Tyler Patterson
James Joseph Fields
Koran Fleming
Tommi Lynn Barnes
Xueyao Wang
Xinyu Zhang
Zihui Xie