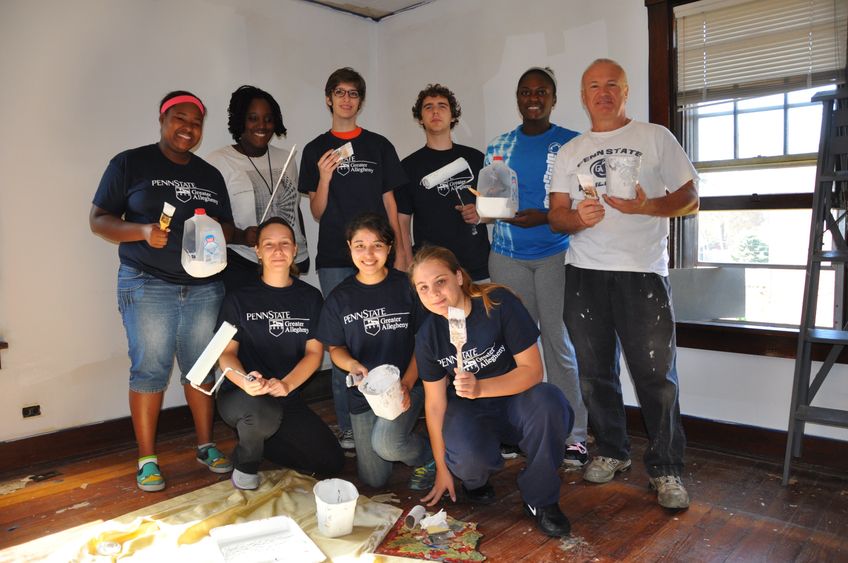 MCKEESPORT, Pa. — The vision of Penn State Greater Allegheny is to always care for and advance the success of its students and communities. 
Each year, on several early Saturday mornings, students from the campus have helped their community by volunteering with Habitat for Humanity of Greater Pittsburgh. The tradition of students helping to build houses will continue this year as students gear up to volunteer three days this fall. 
Glenn Beech, director of student affairs, takes the students on these trips, and he has been impressed with the enthusiasm the students show when helping their local community.
"I am so proud of each of the students who, unselfishly, gives up entire Saturdays to participate in a community service project for a community in which they are a part of, only because they are studying here," Beech said. "This act of kindness, on their part, demonstrates to me that they are members of a caring and compassionate generation that is striving for a better future for all of us." 
Last year Brianna, a student from Philadelphia who is studying accounting and business, was eager to take the opportunity to help a family. "It felt awesome to help rehab a home with my friends and I can't wait to help again," she said.
According to the Habitat for Humanity website, the organization believes that "every single person on this earth deserves a place that they can call 'home.'" The mission of Habitat for Humanity of Greater Pittsburgh is to build decent shelter for the citizens in Allegheny County. Once the board of directors of Habitat for Humanity of Greater Pittsburgh approves a family, they earn sweat equity by working 350 hours of labor. This experience assists families in learning how to maintain their new home; it also gives them a sense of accomplishment and pride.
Upcoming Saturdays when students can volunteer with Habitat for Humanity are Sept. 24, Oct. 22, and Dec. 3. The campus will provide a shuttle and a box lunch for all participants. To sign up, students should see Beech in the Student Affairs Office or call 412-675-9163.
Like many Penn Staters, the Habitat for Humanity volunteers take great pride in the opportunities that have been given to them, and enjoy giving back. Kudos to all of the student volunteers for demonstrating their Penn State pride.