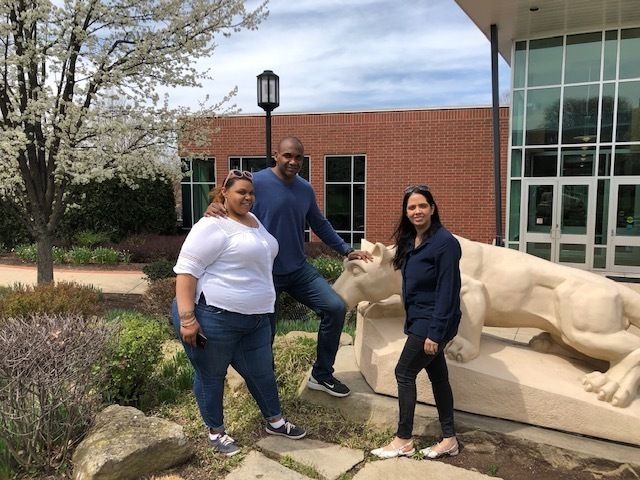 MCKEESPORT, Pa. — Penn State alumnus, Board of Trustees member, and McKeesport native Brandon Short, his wife, Mahreen Short, and family have announced the formation of the Karli Short Better Tomorrow Foundation in memory of their daughter, who was the victim of gun violence in September 2021. Gifts raised by the foundation will initially fund a scholarship to assist Penn State Greater Allegheny students with financial need who have been affected by gun violence. In addition to offering financial support, the foundation eventually has plans to provide mentoring to students.
During a June 10 press conference, Brandon Short said, "When my family and I searched for ways to honor Karli and support victims of gun violence, we could think of no better way than to help students achieve the American dream by supporting their education and creating a better tomorrow."
"Karli's legacy won't be defined by the wrong that was done to her, but by the kindness and compassion that radiated from her," said Short. "As we grieve, we are also doing what Karli would have done: striving to lift up those who are struggling."
Greater Allegheny's incoming Interim Chancellor and Chief Academic Officer Megan Nagel attended the press conference and acknowledged the difference the scholarship will make for students.
"The trauma and burden that comes from being connected to a tragic loss of this manner creates scars that are most often invisible," said Nagel. "A scholarship dedicated specifically for students impacted by gun violence acknowledges this burden and sends a clear message that there can truly be a better tomorrow. By easing some of the financial burden of a higher education along with the mentorship and connection to the Karli Short Better Tomorrow Foundation, I believe there can truly be a lasting impact."
Students attending Greater Allegheny benefit from a close-knit, student-centered community, where they can begin nearly all of Penn State's 275-plus majors or pursue one of three associate degrees or 11 bachelor's degrees. One of the 11 bachelor's degrees, a bachelor of social work, is offered exclusively at the Greater Allegheny campus within the Penn State system.
Some of the student success programs offered at Greater Allegheny include mentoring for first-generation college students, the Stewart and Jones Scholar Leadership Program and undergraduate research experiences beginning as early as the first semester in STEM and social science fields. Another initiative, the Digital Fluency Project, promotes technical equity by providing all faculty, staff and students with an iPad and Logitech Crayon digital writing and drawing tool. These tools provide connections to innovative teaching, learning and service strategies.
The foundation's inaugural fundraising event will occur July 15 at the Omni William Penn in Pittsburgh and feature several former Penn State football players and NFL stars including Franco Harris, Lavar Arrington, Anthony Adams and Mike Logan, also a McKeesport native.
"We humbly recognize that through the pain endured by Brandon and his family, his daughter Karli Short's beautiful spirit will continue to impact others," said Nagel. "I want to again thank Brandon, the entire Short family and all those who will contribute to this scholarship fund." 
Donors who wish to contribute to the Karli Short Better Tomorrow Scholarship for Penn State Greater Allegheny students can make a gift online at raise.psu.edu/KarliShort. Checks can be sent to Penn State Donor and Member Services at 2583 Gateway Drive, Suite 130, Bristol Place One, State College, PA 16801. Please note "For Karli Short Scholarship" in the memo line of the check.