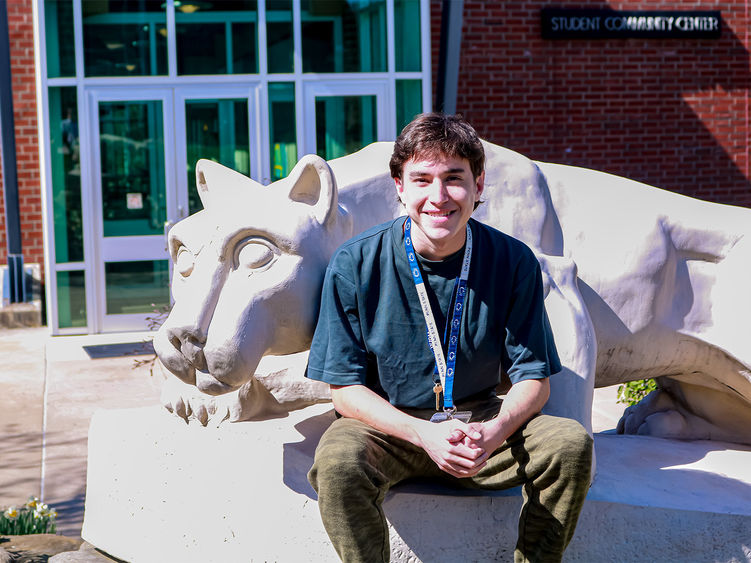 MCKEESPORT, Pa. — Juan Pablo Romero Vásquez, a first-year engineering student at Penn State Greater Allegheny, will participate in two prestigious summer research programs, giving him the opportunity to collaborate with faculty and industry professionals and prepare for a future career.
In the first program, Penn State's Multi-Campus Research Experience for Undergraduates (MC REU), Romero Vásquez will collaborate with Fernando A. Soto, assistant professor of energy engineering at Greater Allegheny, and Kofi W. Adu, professor of physics at Penn State Altoona. The trio will work on a project entitled "Energy Harvesting at the Carbon-Silicon Interface: A Computational Exploration of Heterojunction Solar Cells," as part of the "C3N project: Towards High Power Conversion Efficiency CNT/Si metamaterial Solar Cell."
The MC REU program supports Penn State undergraduate students in conducting research with Penn State faculty, with the aim of promoting mutual awareness and collaboration among faculty across the commonwealth. Soto and Adu plan to continue collaborative work on the project in the fall 2023 semester.
According to Soto, the goal of their research is to create a more efficient solar cell to convert sunlight into electricity. Solar energy is a clean and renewable source of energy that can help reduce dependence on fossil fuels. The aim of developing better solar cells is to help make solar energy more accessible and affordable.
"We are focused on developing a new type of material that can be used in solar cells," said Soto. "At Greater Allegheny, Juan Pablo and I will run computer simulations to understand how the CNT-Si materials interact at tiny scales. This will help our Altoona research collaborators design, fabricate, and test a high-performance solar cell."    
Also happening this summer, Romero Vásquez will participate in the NASA L'SPACE Program's Mission Concept Academy (MCA) to learn NASA mission procedures and protocols and collaborate with team members to complete mission-related projects. The program aims to explore the Trojan asteroids, asteroids that orbit Jupiter around the Sun and hold clues to the formation of the solar system.
"This program is designed to prepare enthusiastic STEM students for a future in the space industry," said Romero Vásquez. "Participants are from different backgrounds, and we can learn from NASA professionals."
Those professionals include Donya Douglas, project manager for the Lucy mission at NASA's Goddard Space Flight Center in Greenbelt, Maryland; and John Dankanich, center chief technology, Marshall Space Flight Center in Huntsville, Alabama.
At the conclusion of the program, Romero Vásquez and other participants will present a solution proposal paper based on the work they completed.
Soto, Romero Vásquez's academic adviser, is excited for the opportunities his student will experience this summer. "I am thrilled that Juan Pablo can be involved with these two prestigious programs," said Soto. "I look forward to all he will achieve this summer."
Penn State Greater Allegheny emphasizes the importance of student research experiences. Campus programs such as the Science and Engineering Course-Based Undergraduate Research Experiences (SECURE) lab, the Undergraduate Clinical Research Training Program and original research projects led by faculty make these high impact practices available to students as early as their first year on the campus.
To learn more about student research at Greater Allegheny, visit the undergraduate research and fellowship mentoring webpage.