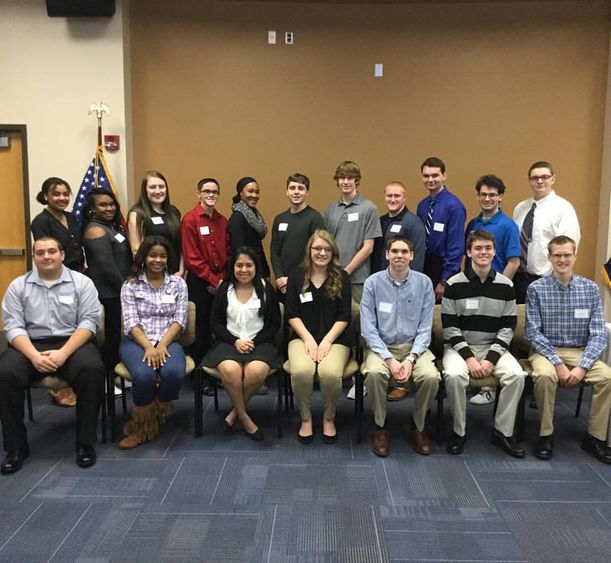 The parking lots were full to the brim. The Student Community Center was bustling with a group of high school students and their parents. The bleachers in the Wunderley Gymnasium were packed with an excited crowd.
Saturday, Jan. 21, was a busy day on campus at Penn State Greater Allegheny.  Prospective high school students and their families attended the Blue and White Scholarship Brunch hosted by the Admissions Department.  More than 65 prospective students and their families came to the Athletics Department's Recruit Day, and even more came to cheer on the men's and women's basketball teams as they faced off against Penn State Brandywine.
Blue and White Scholarship Brunch
Chancellor and Chief Academic Officer Andrew Egan welcomed the crowds at both events. Admissions Counselor Rachael Banks shared her story of the power of scholarships with the crowd before the scholarship recipients were recognized. Director of Campus Development Laura King explained how scholarship donors make a difference in the lives of students, and sophomore broadcast communications major Chris Smith spoke to the crowd about his experiences at the campus.
Director of Enrollment Management Victoria Garwood said, "It's so nice to have the scholarship recipients come together with donors, faculty, and staff to learn more about their future as Penn Staters."
Each family received a letter from Smith's mother, Traci Smith. She wrote, "The Greater Allegheny campus has been a home away from home for my son. The staff has a tremendous heart and will help students and parents alike with any questions. This is such a great feeling for a parent to have when visiting campus; that the staff cares about your child, and he is part of an extended family in a safe environment."
Athletics Recruit Day
Up the hill, the Wunderley Gymnasium was filled with even more activity.  After a meet and greet with coaches and current student athletes, the prospective student athletes and their families heard from campus Athletics Director Korie Morton-Rosier, who explained the many opportunities for students athletes at the campus. 
Sergeant Dave Pack of the campus Police Department talked to the families about the safety of the campus, telling the crowd that Greater Allegheny is the eighth safest college campus in the United States. 
Coaches from various men's and women's teams were introduced, and the guests then attended break-out sessions to learn more about financial aid, academics, and more. 
The day culminated with the basketball games, the women losing to Brandywine and the men's team winning 87-76.