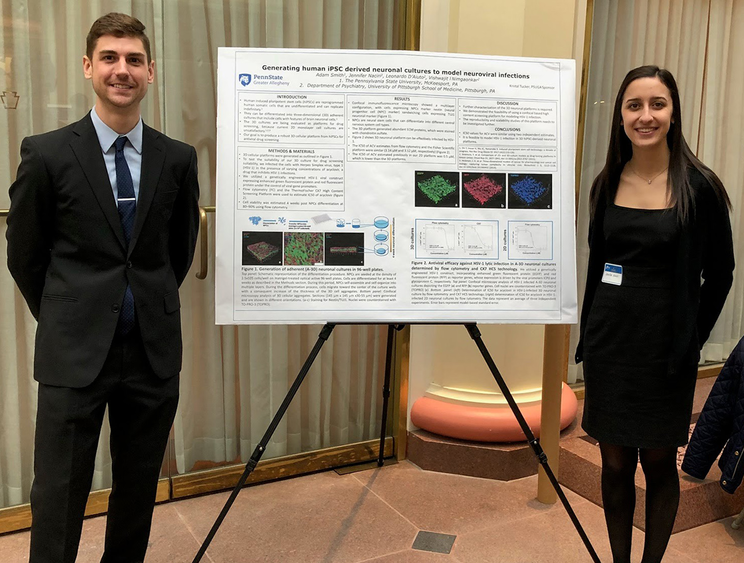 MCKEESPORT, Pa. -- Penn State Greater Allegheny student Adam Smith presented information on a new three-dimensional drug screening platform at the Undergraduate Research at The Capitol Pennsylvania (URC-PA) event in Harrisburg on April 17. Smith, who studies bio-behavioral health, recently completed research on the generation of human induced pluripotent stem cells (hiPSC)-derived neuronal cultures to model neuroviral infections.
Smith, alongside Jennifer Naciri (University of Pittsburgh), Dr. Leonardo D'Aiuto (University of Pittsburgh), and Dr. Vishwajit Nimgaonkar (UPMC), designed and tested a new three-dimensional (3-D) drug screening platform using hiPSCs which can generate 3-D cultures exhibiting features of in vivo developing brains. The study involves exposing 3D neuronal cultures generated from hiPSC to the Herpes Simplex Virus, type-1, (HSV-1) to test their suitability for drug screening. This experimental research provides a prototype model for antiviral drug screening in a 3D culture system.
Currently, the process employs two-dimensional (2-D) culture systems to identify novel antivirals.
"For clinical/animal trials, scientists are spending millions of dollars only to find that they failed because they used a 2D model versus a 3D model," said Smith. "Whenever you use a 3D model it's more accurate. So, you are not wasting as much time, energy, or effort."
In the study, Smith, and other researchers tested the differences between the 2D model and 3D model using Flow Cytometry* and a plate reader called the CX-7 High Content Screening from Thermo Fisher Scientific.
The CX-7 is a confocal imaging platform which allows a quantitative analysis of specific cell types present in the culture system. Smith found that using the CX-7 was as accurate as Flow Cytometry, and is much faster and considerably less labor intensive.
"It's going to streamline the drug screening process," said Smith. "That would result in drugs coming to the market potentially faster or finding drugs faster than through the traditional method."
"Mr. Smith possesses all of the attributes you could wish for in a physician. He is intelligent, quick witted, determined, and kind," said Kristal Tucker, assistant professor of biology at Greater Allegheny. "Although he intends to be a medical doctor, I am convinced he would make an excellent MD/Ph.D and should pursue clinical neuroscience research as well as practice medicine in the future. Whatever he ultimately decides to do he will succeed."
Smith is completing his junior year at Greater Allegheny and plans to graduate in Spring 2019. He plans to apply to medical school.
*Flow Cytometry is the measurement of cell characteristics, which can include cell size, cell count, cell cycle and more. "How a Flow Cytometer Works." Thermo Fisher Scientific. Accessed April 16, 2018. https://www.thermofisher.com/us/en/home/life-science/cell-analysis/cell….