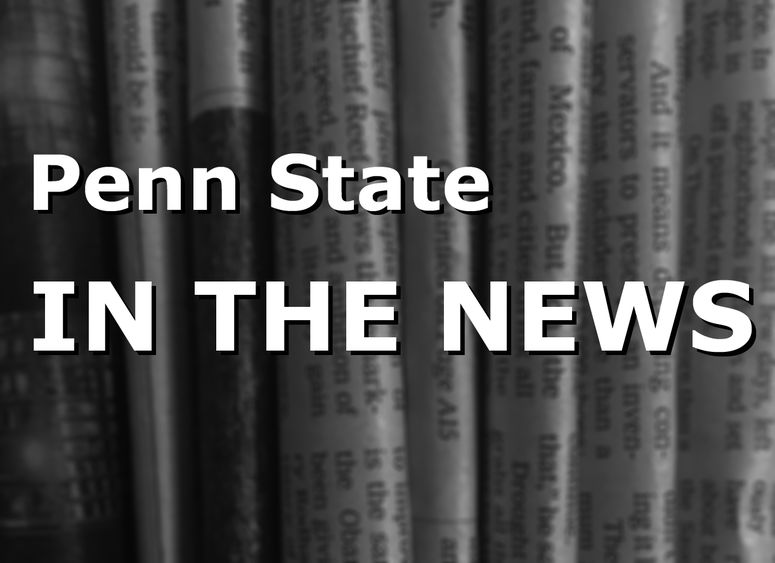 UNIVERSITY PARK, Pa — Penn State appears in the news hundreds of times every day. Monthly, Penn State's Office of Strategic Communications features national and international news coverage of the work and expertise of Penn State's faculty, students and staff.
December's highlights:
-- Penn State students are involved in groundbreaking research in various disciplines across campus. Sometimes the goal of that research is to solve major problems facing the globe, and sometimes a more practical concern sparks innovation. A group of meteorology students wanted to take pretty pictures of sunsets but there was no way to know in advance how colorful a sunset would be. So Jake Deflitch, Jake Hallet and Ben Reppert wrote a computer program that can predict them. "We decided to on a scale of vividness. I guess you could say the wow factor," Hallet said. "The deeper the red, the better." Hundreds of news agencies, including CBS News This Morning, talked with the young men responsible for improving Instagram's sunset selection.
-- Douglas Charles is an associate professor of history at Penn State Greater Allegheny and recently wrote a book "Hoover's War on Gays: Exposing the FBI's Sex Deviates Program." He detailed how, "During World War II, as FBI agents began to focus on individuals perceived as security threats given their sexuality, or perceived sexuality." Charles said the FBI used informants for decades, "This type of informant was employed to gather information about radical groups, particularly in the 1960s, that FBI officials believed were trying to overthrow the government." In December, his research was featured on The History News Network and Time Magazine.
-- Some of the research being done at Penn State has ties to the U.S. military and a lot of that happens at the Applied Research Laboratories. ARL granted a rare tour to a news crew from the Philadelphia Inquirer. They learned scientists at Penn State are keeping sailors safe by advancing technology in silence. "The crown jewel for submarines is how quiet can they be," said Paul E. Sullivan, a retired Navy vice admiral and director of the laboratory. "Noise is death." The story caught the attention of most prominent military news outlet in the country and Stars and Stripes reran the article highlighting the partnership between Penn State and the Navy.
-- This month the headline "World's oldest peach pits reveal juicy secrets" and similar tags appeared across the world including Yahoo, Fox News and Archaeology Magazine. The peach pit in question was found near a bus station in southwestern China and is more than 2.5 million years old. "The peach was a witness to the human colonization of China," Peter Wilf, a professor of paleobotany at Penn State said. "It was there before humans, and through history, we adapted to it and it to us." Wilf is working with colleagues in China on the fruit-find. "If you imagine the smallest commercial peach today, that's what these would look like," Wilf said. "It's something that would have had a fleshy, edible fruit around it. It must have been delicious." Although The Washington Post presumed the peach was no longer delicious.
-- In August 2014, Penn State hired Sandy Barbour as director of athletics. In December 2015 Forbes declared Barbour as one of the Most Powerful Women in Sports and one of the Most Powerful People in College Sports. The writer said Barbour "has developed a reputation for being one of the most forward thinking administrators in all of college sports."
These are just a few of the highlights. For more of Penn State's experts' appearances in the media, visit http://news.psu.edu/media-highlights.