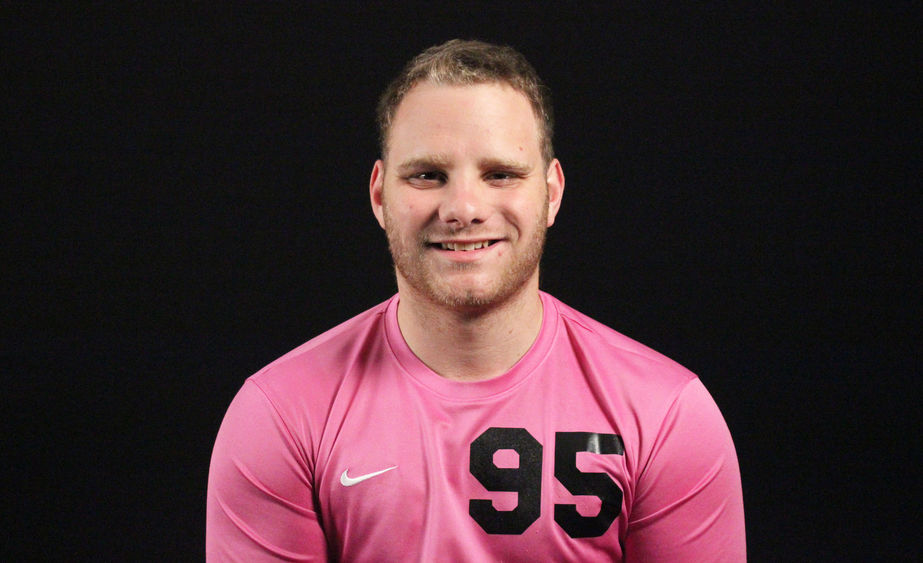 MCKEESPORT, Pa. — In soccer, goalkeepers stand out because of their unique jerseys, worn to tell them apart from other players. For some, the jersey allows them to express themselves, like Carlos Navarro Montoya, of Argentina, who wore a jersey with a truck on the front, his image behind the wheel. For others, like Penn State Greater Allegheny goalkeeper Colin Bucsok, the purpose of the brightly colored jersey is to tell a story and send a message.
Bucsok's jersey features bright pink all over with a black "95" in the top right corner. It is not only worn to stand out from the blue and white of his teammates, but also to honor the memory of his mother, Genine Bucsok, who passed away after a battle with Stage 4 Breast Cancer in April of 2014.
October is Breast Cancer Awareness month. Millions of athletes from around the sporting world will wear pink wristbands, tape and other accessories all to raise awareness about this deadly disease. For Bucsok, who wears his pink jersey all year long, this month means so much more because of the memory it keeps alive.
"[Breast Cancer Awareness Month] means a great deal for me, because it helps the memory of my mother plus helps other people who are in the same situation that I am in, understand that there is support," said Bucsok. "Cancer is a horrible thing, and nobody should ever have to go through what I went through.  I am happy to donate and have other people donate to make sure it never happens again."
Genine Bucsok was like many mothers who support their sons. She went to all of Colin's games and cheered him and his teammates on as they played. Bucsok said she was his biggest supporter and was always in the stands with a smile on her face.
"My mom, in a soccer sense, was always my number one fan," said Bucsok. "If I would go down hurt she would scream from the crowd and tell me to go rub some dirt in it and take a lap. She always pushed me, and she was always there for me."
The months leading up to Genine Bucsok's diagnosis were for the most part normal. She had some back and bone pain but thought nothing of it. It was when her chiropractor sent her to a neurosurgeon that the Bucsok family received news that would change their lives forever.
After sitting in the hospital for a couple of hours, Bucsok and his dad went to get something to eat in the cafeteria. Bucsok noticed something was wrong as soon as they sat down. 
"My dad was sitting there crying," said Colin Bucsok. "I asked him what was wrong and he told me my mom had cancer. When we first went into the hospital my mom was upbeat, I was upbeat, and we figured it was some kind of bone tweak. Then the doctor told my mom, who told my dad, who eventually told me the news."
In the months that followed, doctors did everything they could to try and help Bucsok's mom in her recovery. It took many surgeries and countless radiation treatments before they began chemotherapy.
"The stage 4 breast cancer my mom had was compressing her bones. She had a few fractures in her leg they fixed and then started radiation treatment," said Bucsok. "They went through radiation treatments for about two months, she moved back home, and the doctors started her on chemotherapy.
"The first day of her chemo treatment she was coughing and acting very sick, but she went and got it anyway. Chemotherapy lowers the white blood cell count in your body, so she got a massive pneumonia stuck in her lungs and went into a coma state," he said.
In April of 2014, Genine Bucsok lost her battle with breast cancer and passed away. The initial shock was hard for Bucsok and his family. He talked about how the first year was a real struggle as he was coping with the tragedy.
"I remember at the funeral I hugged about 500 people, told the story to about 300, and said I was ok about 1,000 times," said Bucsok. "The first couple days were rough, the first month was really rough, and truly the first year was rough."
Bucsok took an extended break from the soccer field after his mom's passing. He was going through the motions in almost a dazed sense, trying to comprehend the tragedy that faced his family.  He was a freshman at Thomas Jefferson High School and had to find a way to cope.
"My dad was an instrumental part in helping me cope," said Bucsok. "He was actually the crier of the two of us. Me, I didn't cry, I was just dazed the whole time. It was really helpful for me to step up and help him and have somebody else to help take care of."
His return to the soccer field later that year enabled him to find a space where he could get away from reality. Bucsok says being on the field helped get his mind off of the situation and focus on a sport that he loved.
"My first game back [on the soccer field], I was in an emotional state, and I let out a lot of anger," said Bucsok. "We ended up losing that game, but it helped to get back on the field."
Bucsok's return to the field saw him come back better than ever. In his final three seasons at Thomas Jefferson High School, he was named to the WPIAL Class 3A Section 4 All-Section team. During those three seasons, his team made the playoffs in each year, and Bucsok had a record of 49-13-2.
That good play has followed him to the college level at Penn State Greater Allegheny, where he was named a Penn State University Athletic Conference Honorable Mention Goalkeeper and went 9-2 his freshman year. With his team's 9-0 win over Westmoreland County Community College on Oct. 4, Bucsok broke the record for the most career wins in PSUGA soccer history.
However, for Bucsok it is not about the stats, the accolades, or any other honors he receives on the field. It is about representing his family and his mom's memory in a way that would make her proud.
"I always give 110 percent and try my best, first and foremost," said Bucsok. "I don't get injured a lot, and when I am injured, I typically play through it. I do that to show the strength that my mother passed on to me, but also, to represent my family and my school with class. I try and stay calm, cool and collected on the field."
Bucsok, like many other people whose lives are affected by cancer, has to try his best to keep moving forward. One way is by giving back to his community and helping the people around him become better people in their own right.  It is this quality that he believes is one of the main ways he can keep his mother's memory alive.
"I think my mom would be very proud of me for all that I have accomplished and all the people I have helped," said Bucsok. "I feel I have helped many people grow over the past couple years that wouldn't have, had I not been there."
As the years since his mother's passing have gone by, Bucsok has received support from many people close to him. There are still times he gets emotional, but he uses that emotion to go out and help the people around him.
"It's been rough, it's always a hard thing, and there are even some points where I still break down and have a tough time," said Bucsok. "Every Mother's Day is rough, but there are the people who when something bad happens they sit back and take it and cry over it. I try to use that emotion to fuel me to do greater things."
Bucsok will always have the memory of his mother in his heart as he takes the field with pink on his back for the Penn State Greater Allegheny Soccer team. This month, when you see athletes dressed in pink from head to toe, send some good thoughts to the many people, like the Bucsok family, who help to raise awareness so that a cure can be found for this deadly disease.