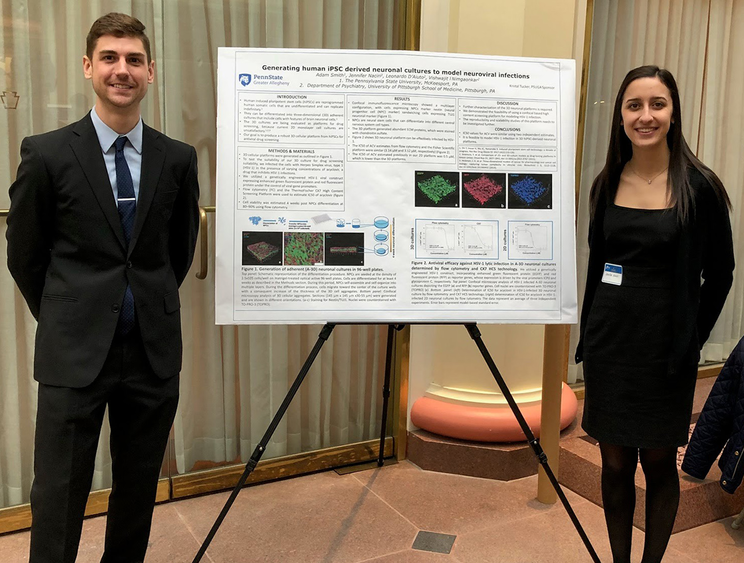 Penn State Greater Allegheny (PSUGA) student Adam Smith has been accepted into the Touro College of Osteopathic Medicine, a medical school in Middletown, New York.
Smith is studying at PSUGA to earn a degree in biobehavioral health (BBH). The BBH degree is an integrative scientific study of the many different processes that affect biological, psychological and social health.
"The BBH degree has prepared me well for medical school," stated Smith. "More specifically, I am going to an osteopathic medical school which emphasizes a holistic approach, which is similar to the emphasis of the BBH degree."
Smith acknowledges the interpersonal learning experience provided by professors on campus for his success. Smith stated, "I'd like to recognize Dr. [Kristal] Tucker and Dr. [John] Peles for providing me with excellent guidance and mentorship throughout my time at Greater Allegheny."
"Adam Smith works hard and is serious about his education," stated Tucker, assistant professor of biology. "He has taken advantage of every opportunity available here at PSUGA and a few at Pitt to fulfill the lofty requirements to be accepted to medical school."
Smith is a hardworking student who is active across the campus community. He is a member of the Pre-professional Health Sciences Club, an organization that was founded in 2016 by Tucker that assists students with professional and personal development.
"I learned how to serve others through the Health Sciences Club. More specifically, I started the blood drive at PSUGA which has been running for three semesters now," stated Smith. "It has impacted many lives including those of us on campus who volunteer to make it happen."
His involvement on campus does not stop there. Smith is a constituent of the Student Government Association (SGA) at PSUGA.
"The Student Government Association is an amazing organization, and I'm so thankful to have met so many great people through it. SGA has played a significant role in shaping our campus," stated Smith. "I genuinely believe it's made my connection to the campus much stronger and improved my academics as well as sparked an interest in public health and policy."
Smith is set to graduate in May.