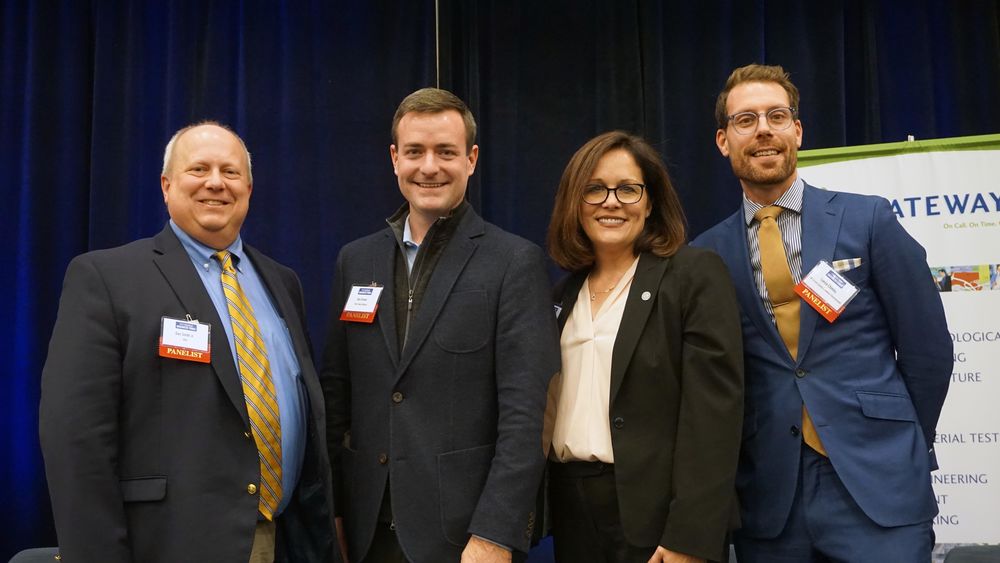 MCKEESPORT, Pa. — On Nov. 15, the Pittsburgh Business Times held its 75th installment of the Corridors of Opportunity event in the Wunderley Gymnasium at Penn State Greater Allegheny. The event attracted community and business leaders and featured panelists who spoke to the present and future development of the Mon Valley region.
The panel featured Don Smith Jr., president of RIDC; Ben Brown, CEO of Mon Valley Alliance; Lance Chimka, director of Allegheny County Economic Development; and Penn State Greater Allegheny Chancellor and Chief Academic Officer Jacqueline Edmondson.
"Penn State Greater Allegheny has had an impact on over 28.2 million dollars in this region," said Edmondson. "In the last year alone, the [Mon Valley] LaunchBox has added an impact of over $1.1 million in the region. It's a really important commitment for us to work with local businesses as we host events like this and as we do other things with the community and region."
During a question-and-answer session, guests and panelist discussed topics including education, transit and real estate. Aaron Whigham, Greater Allegheny's strategic initiatives manager and co-coordinator of the Penn State – McKeesport Community Center was inspired by the discussion.
"It was exciting to see the stakeholders and decisionmakers in the room discuss such wonderful opportunities and developments for the Mon Valley region that are on the horizon," said Whigham.
In 2020, the Pittsburgh Business Times plans to visit Wexford/Moon, Beaver, Lawrenceville, and Parkway West.