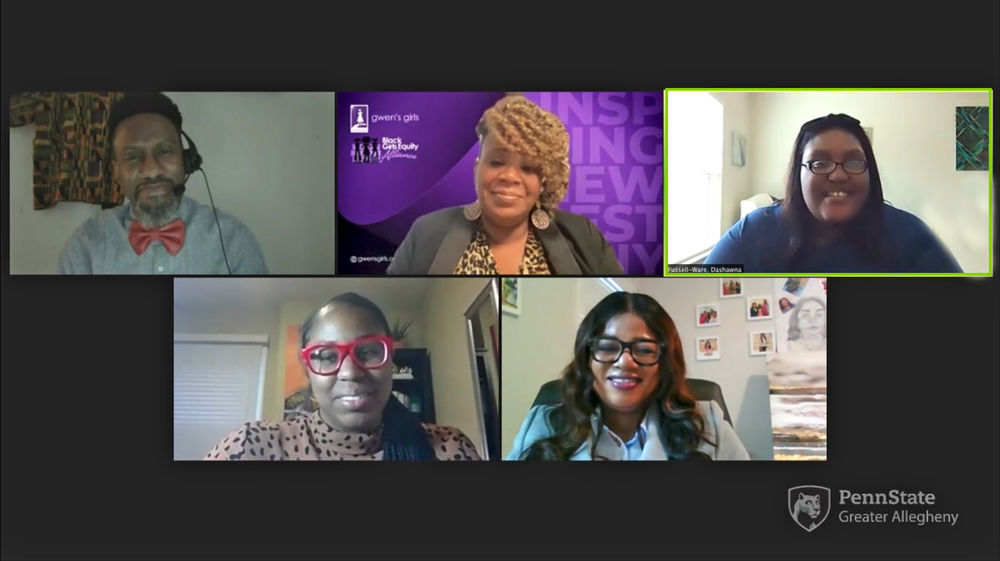 MCKEESPORT, Pa. – Penn State Greater Allegheny held its third of four Crossing Bridges Summit events on Thursday, March 18. The panel discussion focused on the psychological influences affecting Black women's health. The live event was sponsored by Highmark Blue Cross Blue Shield and Allegheny Health Network. A recording of the event is available at watch.psu.edu/crossingbridges/.
A spoken-word art piece by Ke'ira Williams, president of the Psychology Club and a biobehavioral health major at Greater Allegheny, stirred emotions as she described what it is like seeing through the eyes of a Black woman.
An excerpt from Williams's piece, meant to focus viewers on the event's subject, read: "I was born in a world where people had a look of disgust. With eyes that followed as I walked by. Born into the social norms of how you should look, how you should speak, and how you should think. But Blacks had to do more than that to be acknowledged. Be yourself; you're enough, but when will it actually be enough."
Williams reflected on the opportunity. "My visual and spoken art gave me a place to speak in advocation for the unheard in the Black community in a transformative way," said Williams. "There is a lot of stigma and fear associated with Black mental health that created a barrier and is easily overlooked by the community because many things are normalized." 
Williams continued, "The massive weight of environmental racism, biases, distrust of the medical industry, and many things that influenced past experiences has caused African Americans to adapt. [The] Crossing Bridges Summit gave me an outlet to express, advocate, and give a glimpse of the mental health trauma that the black community has suffered. Alongside bringing attention to the mental toll that unnoticed negative biases can have because it is looked at as normal or something to push through."
Johnathan White, assistant teaching professor at Greater Allegheny, led the event that featured panelists Raven Davis, Allegheny County Health Enrollment Unit supervisor; Kathi R. Elliot, chief executive officer at Gwen's Girls; Dashawna J. Fussell-Ware, doctoral fellow, Steel Smiling; and Stella Onuoha-Obilor, vice president, Clinical Quality Highmark Health.
Each panelist shared valuable insights on mental health, race, and the on-going pandemic.
"I want to say thank you for having this summit, this conversation. It is a conversation that doesn't happen often," said Elliott. "Especially from the intersectional lens, oftentimes women's issues don't get highlighted."
Elliot continued, "recently, the city council and across the country, different cities have been saying that racism is a public health issue, and in fact, it is. Until we continue to have courageous conversations like this and talk about some of not just the issues but solutions, we will continue seeing some of the same manifestations of racism that exists."
Courageous conversations are an essential component of Greater Allegheny's Crossing Bridges Summit, which started in Fall 2017. Events of the past year, including the pandemic, the killing of George Floyd, and the rise in activism weigh heavily on community members and impact their well-being daily.
"We talk a lot about wellness and self-care", said Fussell-Ware. "There are a lot of people walking around saying oh yeah I'm fine; I'm doing really good for myself; I'm not stressing about anything; and the reality is that if you are Black or of African descent, unfortunately, that's just not true."
The panel dug deeper into the stigma of mental illnesses and how the on-going pandemic impacts Americans.
"One in five Americans have a mental illness," said Onuoha-Obilor. "People who seek help when it comes to mental illness from the comforts of their home have a higher compliance because no one knows who they're talking to. People need to know it's okay not to be okay all the time."
Davis -- a health enrollment supervisor at the Allegheny County's Office of Children, Youth, and Families -- shared that schools are an essential place for the physical and mental development of students because of the services that are provided to them.
"When I look at the youth I work with, you think about kids whose steady meals and mental health services might have come from school," said Davis. "Those things not being in place any longer or having to take place at home, when you are trying to work and manage multiple children, has definitely been a disservice to kids and making sure that they have all they need."
Penn State Greater Allegheny will continue its work with community partners to increase awareness of and address health disparities among Black women. The next panel, "Political Influences on Black Women's Health," is scheduled for 3 p.m. Thursday, April 15, at www.watch.psu.edu/crossingbridges. For more information, visit greaterallegheny.psu.edu/cbsummit