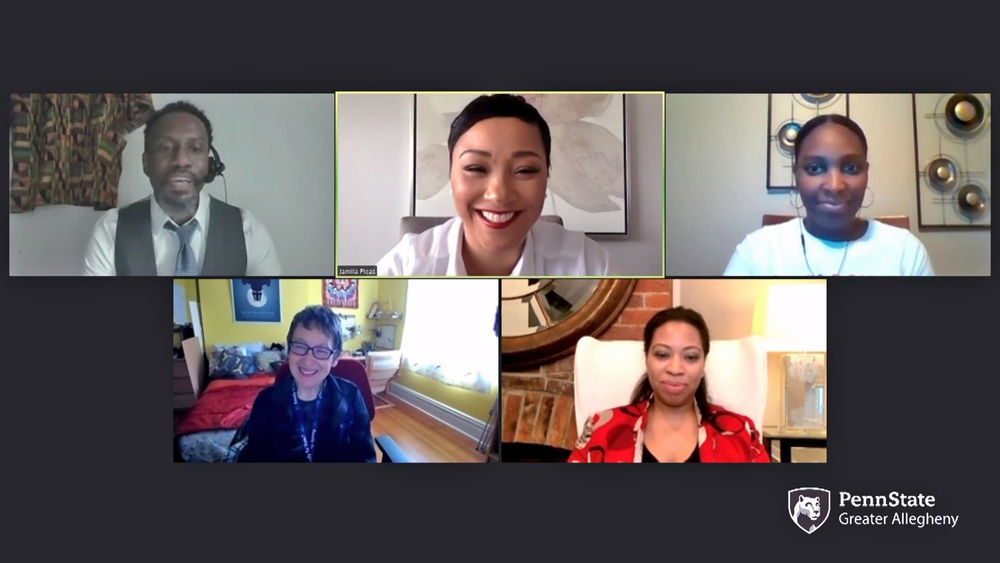 MCKEESPORT, Pa. — Penn State Greater Allegheny hosted the fourth annual Crossing Bridges Summit on Thursday, Oct. 15. The event was the first of four discussions examining Black women's health. For the first time in the program's history, the Crossing Bridges Summit was produced and broadcast online by WPSU. The live event was viewed more than 300 times by audience members in over 19 states and Canada.
The event was sponsored by Highmark Blue Cross Blue Shield and Allegheny Health Network. 
Penn State Greater Allegheny's Chancellor and Chief Academic Officer, Jacqueline Edmondson, reflected on the transition of the Crossing Bridges Summit from a local event to one with a national audience.  
"When we identified our theme last year, we imagined continuing our speaker series and Summit Talks as in-person events," said Edmondson. "I love having people come together on our campus and the vibe that happens when we are working with community partners to solve problems." 
Edmondson continued, "As the pandemic continued through the summer, however, we realized our past format would not be possible. We pivoted to work with WPSU based on experiences we had with their productions through the summer. WPSU has an incredibly professional, high-energy, talented team, and we soon realized the summit could reach an even broader audience given the new format. We were really pleased with the outcome!"
Outcomes are a key component of the Crossing Bridges Summit as its purpose is to bridge racial divides in the Mon Valley. Jessica Brooks, chief executive officer and executive director of the Pittsburgh Business Group on Health; Dr. Elizabeth Miller, co-director of the "Pittsburgh Study"; Jamila Pleas, founder of health and wellness group Her Birth Right; and Demia Horsley, director of strategic initiatives at Healthy Start, challenged the audience to bring to light and find solutions to the disparities reported in the University of Pittsburgh's "Inequality Across Gender and Race" report, published in 2019. 
Miller, a co-author of the report, noted that "we tolerate in the city of Pittsburgh over 50% of black boys and girls living in poverty. There are policy and practice issues that are going on locally that are modifiable and we can actually look at other cities doing better."
The panelists painted stark realities as they shared their professional insights, firsthand experiences, and stories from patients, making the statistics more than just numbers.
"I am grateful to be alive as a black woman in this region," noted Brooks. "I felt grateful that I made it, that my kids are alive, and they were able to get past the age of one. I still have a way to go when you look at that report for life expectancy for my 18 and 24-year-olds, especially my sons."
The moderator of the event, Johnathan White, lecturer of history at Greater Allegheny, commented that the "the rate of infant immortality for black babies is more than 6 times higher than it is for white babies."
According to Pleas, Black women are at a higher risk of complications during pregnancy than white women due to hypertension, preeclampsia and diabetes. These diseases can be due to stress, genetics or obesity. 
"Having a baseline knowledge of your own body is so critical and important," said Pleas. "The medical system is often known to ignore something when it is wrong, especially with Black women. Often, their voices are never heard or taken seriously, leading to more deaths and complications during pregnancy than any other group of women."  Pleas went on to share that educated Black women are 5-6 times more likely to experience a pregnancy-related complication and that 60% of maternal deaths are preventable.
"We need continued support for community-based and community-led solutions to address these outcomes," said Horsley. "We should invest in the time and expertise of Black women-led organizations and community-based organizations that have expertise in public health."
Horsley specifically referenced the Black Mamas Matter Alliance. "They say the engagement of communities most impacted in correcting policies and programs that impact their abilities to thrive is a core human-rights principle. Nothing about us without us," said Horsley.
The October panel discussion is archived on www.watch.psu.edu/crossingbridges.
Penn State Greater Allegheny will work with community partners to increase awareness of and address health disparities among Black women. The next panel, "Socioeconomic and Environmental Perspectives on Black Women's Health," is scheduled for 3 p.m. Thursday, Nov. 12, at www.watch.psu.edu/crossingbridges.