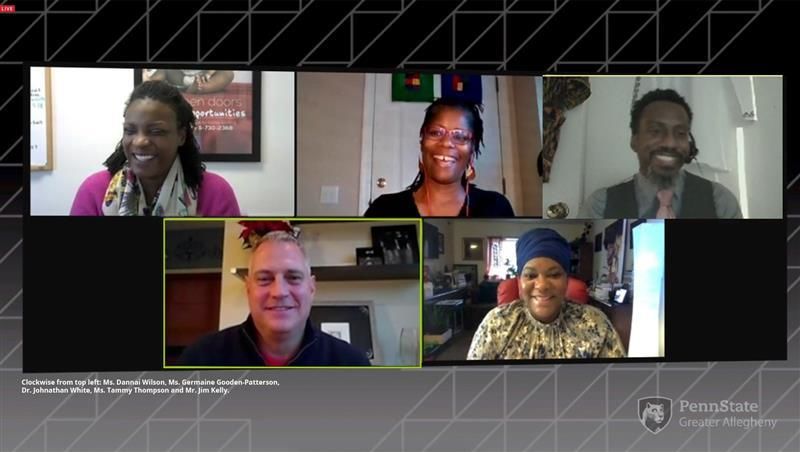 MCKEESPORT, Pa. – Penn State Greater Allegheny hosted its second of four Crossing Bridges Summit events for the 2020-21 academic year on Thursday, Dec. 10. Sponsored by Highmark Blue Cross Blue Shield and Allegheny Health Network, the discussion focused on the socioeconomic and environmental perspectives affecting Black women's health.    
Ebonie Slade, a senior majoring in biobehavioral health, set the tone for the afternoon's conversation. Her literary piece addressed the Supplemental Nutrition Assistance Program (SNAP) and was accompanied by black-and-white images of abandoned grocery stores around the Pittsburgh, Pennsylvania, region.  
"I used my poem to express the food stamp struggle that most recipients can relate to," said Slade. "There's not adequate or nutritious food options available. A lot of recipients have multiple factors hindering their access to proper food sources."  
Slade is graduating with honors later this month and will serve as Penn State Greater Allegheny's fall 2020 commencement speaker. 
Panelist and community health worker at Women for a Healthy Environment, Germaine Gooden-Patterson, expanded upon Slade's reference to available food options. "Instead of grocery stores, there will be several convenience stores which contain unhealthy foods, leading to bad health," said Gooden-Patterson. "If you don't have anything that will feed your mind, body and spirit, you're not going to thrive. It suppresses you." 
Joining Gooden-Patterson on the panel were Jim Kelly, deputy director, Bureau of Environmental Health for the Allegheny County Health Department; Tammy Thompson, poverty expert and executive director of Circles of Greater Pittsburgh; and Dannai Wilson, program manager of maternal and child health for the Allegheny County Health Department.  Each panelist shared their experiences and expertise and discussed the need for advocacy and policy changes.   
"We talk about upstream approaches. Upstream approaches really talk about policy and how we change our institutions and how we care and serve our public," said Wilson. "But downstream approaches need to happen, too. It's always how do we serve the public and make sure they get the things that [they] need right now today, but then also build infrastructure so that no one has to go without those things in the future." 
Wilson continued, "These same communities in the early '90s, late '80s are the same communities that are having these challenges in 2020. You have to account for the historical injustices because if you don't, we tend to place the blame on the people, instead of on the problem."  
The event moderator, Johnathan White, lecturer of history at Penn State Greater Allegheny, joined the conversation, adding information about the practice of redlining, and how its effects are still felt today.   
"Redlining was a practice facilitated by the government in the early 1930s and beyond," said White. "Lenders had maps where they outlined areas with red ink with residents considered high risk. Richard Rothstein's book, "Color of Law," documents the history of the practice." 
According to Wilson, redlining affects policies and practices. "It's not the people's issues; it's a systematic issue that we are facing all over the country. It cannot just be the backdoor conversations; it has to be constantly including people in these conversations and understanding how we got here." 
Thompson echoed the need to address the impact of long-term poverty. "The longer people are exposed to the trauma that [they] must endure to survive in poverty, the longer people are in that space of not having their most basic needs met," said Thompson. "If we do not get serious and intentional about changing policies and systems, somebody else is going to be talking about this 10 years and 20 years from now." 
Kelly concurred. "It is policy that we have to focus on, because regulations are not going to solve our problems dealing with community inequities." 
In the coming year, Penn State Greater Allegheny will continue its work with community partners to increase awareness of Black women's health disparities. The next panel, "Psychological Influences on Black Women's Health," will occur in the spring 2021 semester, with a specific date and time announced early next year.