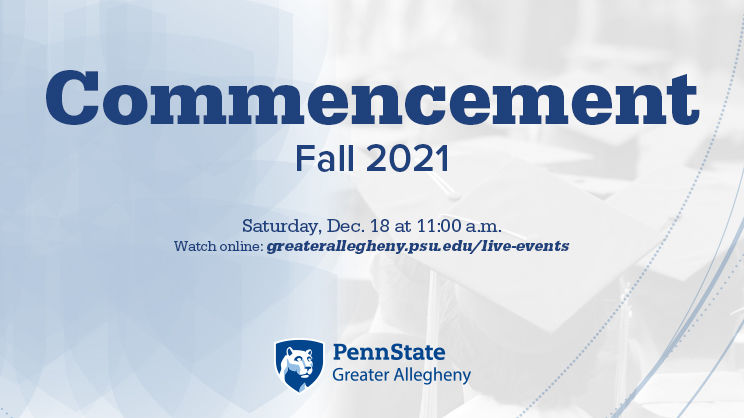 MCKEESPORT, Pa. — Penn State Greater Allegheny will celebrate its fall commencement ceremony at 11 a.m. on Saturday, Dec. 18, in the Wunderley Gymnasium. The event is by invitation only and will follow University COVID-19 policies, including required masking by all graduates and attendees regardless of vaccination status.
Chancellor and Chief Academic Officer Jacqueline Edmondson will preside at the ceremony. Fred Brown, CEO of the Forbes Fund will deliver the commencement address, and Ke'ira Williams, biobehavioral health degree candidate, will serve as the student speaker.
The commencement ceremony will be live streamed at https://greaterallegheny.psu.edu/live-events.
Greater Allegheny faculty program marshals will present the 26 associate and baccalaureate degree candidates from the campus' two- and four-year majors.
Associate degree in business administration
De'Neisha Williams
Alexander Kohler
Associate degree in criminal justice
Evan Reed
Bachelor of science in administration of justice
Anijah Gaines
Lexus Santiago
Bachelor of science in biobehavioral health
Lauren Martin
Ke'ira Williams
Bachelor of science in business
Surendra Basnet
James Fields
Koran Fleming
Elizabeth Hornicak
Joey Houston
Yousuf Ibrahim
Aaron Kercell
Tara Love
Simran Timsina
Zachary Vaughn
Bachelor of arts in communications
Riley Perciavalle
Madason Porter-Gibson
Nathanial Rega
Bachelor of science in information sciences and technology
Zainab Hameedullah
Hunter Stewart
Bradley Walker
Joseph Wega
Bachelor of science in project and supply chain management
Vincent Boyle
Alexander Kohler
Bachelor of arts in psychology
Samantha Snashell