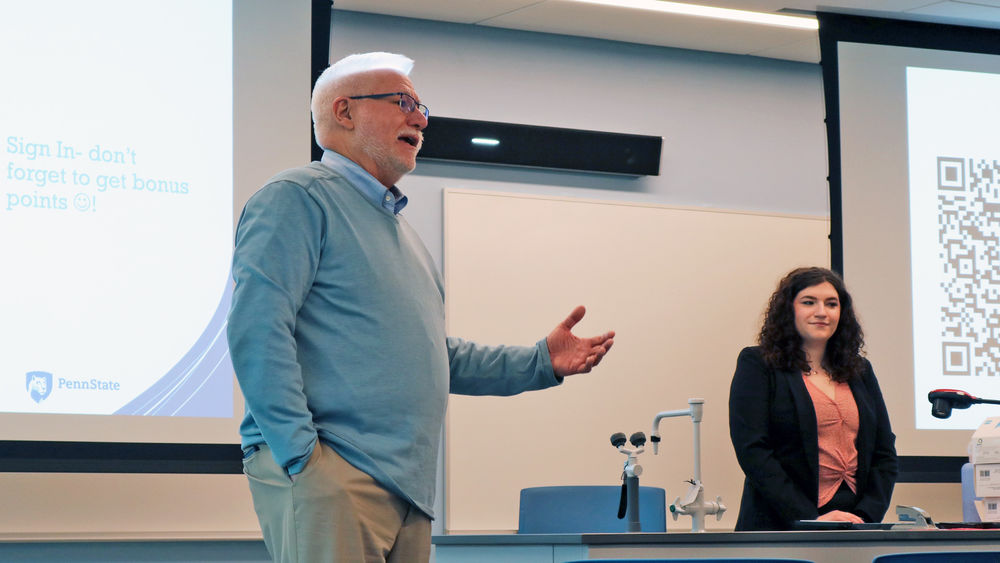 MCKEESPORT, Pa. — Penn State Greater Allegheny business major Taylor Coccia recently hosted Roy Laux, owner and retirement adviser of Synergy Group Inc., and Norm Candelore, retail operations manager for Sarris Candies and owner of Candelore's Barking Beauties, as part of her internship experience for the course BA 495A. Students in attendance were able to network with the local professionals and gain insights on topics covered in their business courses.   
Synergy Group Inc. is led by Laux, who has more 30 years of expertise in the investing and insurance industries. Laux attended Penn State McKeesport from 1970 to 1972 and was happy to return to the campus and speak to the students. 
He shared that his business was born of necessity to provide for his family and offered advice to those ready to enter the business world. 
"Business is about trust. If you are blessed, you have an opportunity to be a blessing," said Laux. "You pick the industry you're comfortable with and you can do amazing things."
Since 1988, he has helped thousands of pre-retirees and retirees establish successful retirement strategies and has been quoted in several financial media sites, including CNBC, Fox News, Bankrate.com, and PCNC NightTalk.
Candelore is the owner of Candelore's Barking Beauties in Elizabeth, Pennsylvania. Since opening his doors to the public in 2015, Candelore now has five locations across the Pittsburgh area to service and take care of more than 25,000 pets. In addition to the grooming business, Candelore also is responsible for retail operations at Sarris Candies. Together, he and his team work with more than 1,300 locations selling Sarris products. In addition to his retail operations duties, he also is the company's information technology manager and fundraising specialist.
Candelore provided insight on the importance of community in business.
"You cannot be successful if your community is not your customer," he said. "It's phenomenal what you can do when you believe in yourself and what you do. There is nothing better than giving back."
Following the event, Coccia talked about her vision to connect students to business owners. 
"I think it was such a perfect opportunity to hear Roy and Norm talk about the job market and how they have established themselves. They were able to give real-world examples to the theories and practices that we read in books," said Coccia. "Overall, I am just so proud of the event and how informative the event seemed to be for everyone."
The bachelor of science in business major at Penn State combines the theoretical underpinnings of core business disciplines, notably management, marketing, finance and supply chain management, with applied study in a practical setting and prepares students to become familiar with the unique business environments of their local communities. All students in Greater Allegheny's business program complete an internship, which gives them practical experience to share with potential employers. 
To discuss the major and Penn State's application process, contact the Admissions Office at [email protected].