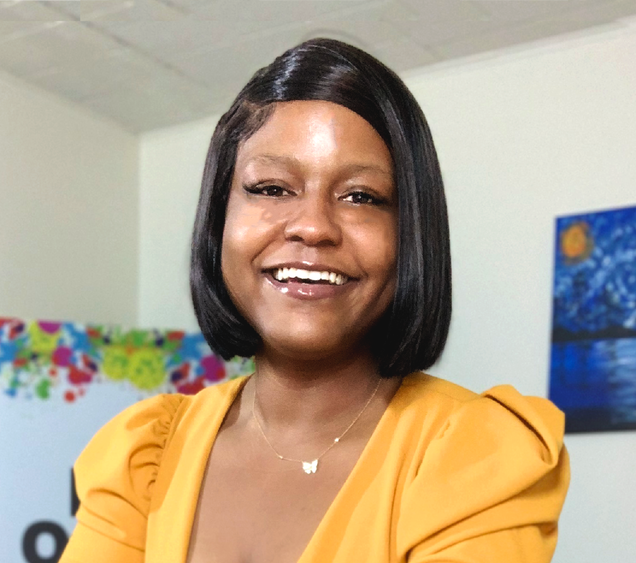 MCKEESPORT, Pa. — Penn State Greater Allegheny alumna Alisha Tarver received the inaugural Diverse Student Journalist Award from the Pennsylvania News Media Association (PNA) Foundation through its annual Student Keystone Media Awards Contest. Tarver, a 2021 graduate with a degree in communications, works as an information resources and services support specialist in Greater Allegheny's J. Clarence Kelly Library.
The Diverse Student Journalist Award, sponsored by the Lenfest Institute, was established to recognize a college student journalist, of a diverse background, for outstanding contributions to their newrooms. Diverse and inclusive newsrooms is a priority of the Lenfest Institute.
Rosemary Martinelli, lecturer in communications and business and faculty advisor for The GA-Zette, Greater Allegheny's student newspaper, recognized the role Tarver played in keeping student journalism alive and thriving during the pandemic. 
"Alisha's personal adaptation to the world of journalism was formed during the pandemic when virtual interviews and remote learning could — and often did — provide challenges to news gathering and fact-finding," said Martinelli. "She was part of a core group of students who kept the news reporting timely and accurate."
Tarver combined her position as a student journalist with her membership on Greater Allegheny's Crossing Bridges Summit committee to help bring awareness to and take the editorial lead on issues of racial equity, community engagement and Black women's health, the later which was the focus of The Crossing Bridges Summit speaker's series in 2020–21.
"[The award] gives me delayed gratification," commented Tarver. "I worked hard on the articles. I was doing it because Black women's health is important to me."
When asked how it feels to be the inaugural winner of this award, Tarver said, "That means everything to be an influence. It feels good. I hope I am able to reach back and give to others."
In addition to Tarver's award, the PNA recognized Greater Allegheny student and GA-Zette staff member Riley Perciavalle with an honorable mention for his movie review of Pittsburgh-native Michael Keaton's film "Worth."
Martinelli said that these two awards, coupled with one alumnus Nathan Raga received from PNA last year, demonstrates the strength of Greater Allegheny's communications program. "It was heartening to see that media professionals from around the country who serve as judges can find the value in the work that our student reporters bring to the college experience," said Martinelli.
To learn more about the GA-Zette and the Communications program at Greater Allegheny, visit this link.
It was heartening to see that media professionals from around the country who serve as judges can find the value in the work that our student reporters bring to the college experience."

—Rosemary Martinelli , lecturer, communications and business, Penn State Greater Allegheny