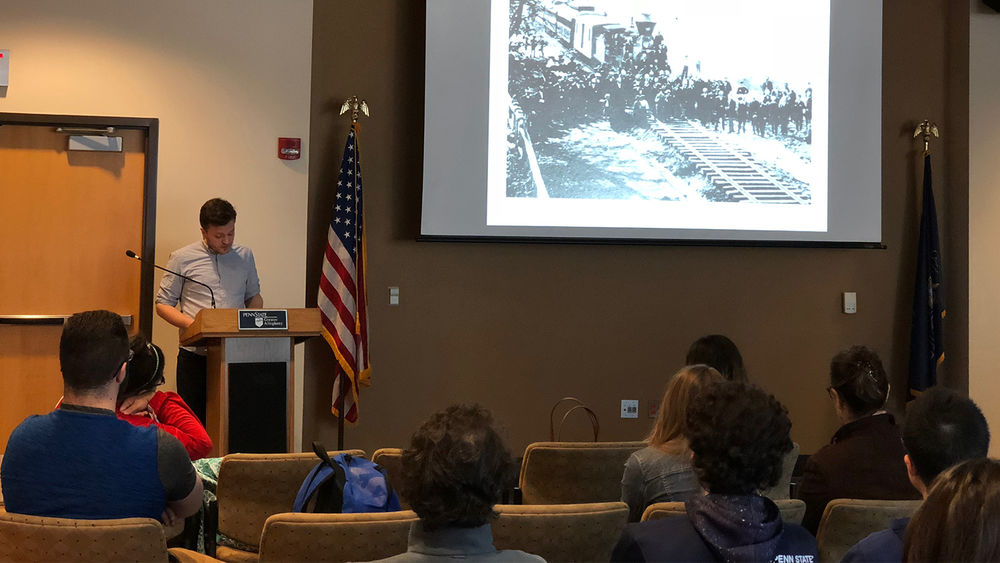 MCKEESPORT, Pa. — As part of the Teaching International program, Penn State Greater Allegheny welcomed Aaron Regal, a photographer from East Liberty, to present some of his work to students at the campus.
Coming to Penn State to talk to students about art and the gentrification in Pittsburgh was important to him. "Art is crucial and a way of life for others," stated Regal.
Regal's presentation exposed the gentrification of his hometown not by words, but by photographs showcasing what has changed in the area.
"The project is an investigation of the business quarter of East Liberty and the adjacent residential area," he said. "It's a photo series that chronicles how corporate development has displaced residents, changing the architectural and social structure of the neighborhood."
Art has been a part of Regal's life for a long time; he has been using photography as a medium since middle school. He said, "We came out of a counterculture where having a camera or video camera on you was normal."
Photography was a critical medium when discussing the change of Regal's hometown. "For a project like this, so much of it is about providing a historical documentation of a place," he said. "Photography is the most accessible medium to do that with."
Looking at the future of Pittsburgh and gentrification, Aaron Regal does not have high hopes. He uses examples of other places that have the same issues.
"I hate to be pessimistic, but if you look at places like Brooklyn or Seattle, gentrification has been much worse in those places," he said. "They are much more geographically segregated than Pittsburgh, so it is probably going to get worse, but I hope not."
To follow Aaron Regal and his project and investigation of the gentrification of East Liberty, please visit http://www.aaronregal.com/.