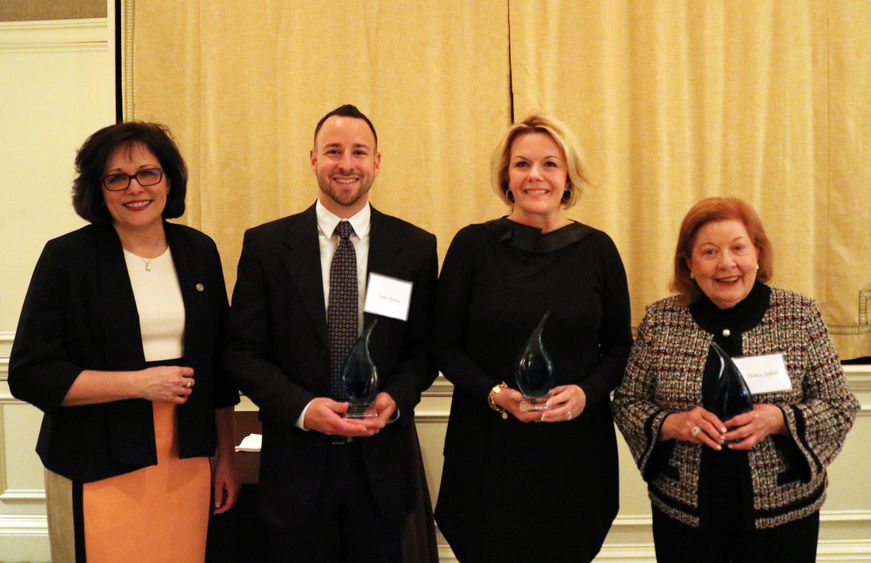 MCKEESPORT, Pa. — Penn State Greater Allegheny hosted its first Scholarship and Distinguished Awards event on March 24. The awards ceremony was held in the iconic Duquesne Club in the heart of downtown Pittsburgh.
"We're here to celebrate philanthropy and to celebrate the distinguished works of Nancy Seifert, Jesús Torres and Amy Michaliszyn," said Jacquline Edmondson, chancellor and chief academic officer.
Seifert, a Penn State alumna, former advisory board member and trendsetter within the Greater Allegheny community, received the Distinguished Volunteer Award. This award is presented to an individual who has provided exemplary volunteer service to Penn State Greater Allegheny; a leader who demonstrates a commitment to community and philanthropy, and is loyal to the campus by involvement and philanthropic support.
"We Are … Penn State, regardless of which campus we support," said Seifert. "When I went on the board at Penn State Greater Allegheny, I decided that it was the campus for me and the one I wanted to support."
In the early 2000's, Seifert was the first individual to come forward to make a leadership gift to the Student Community Center Building campaign, which houses a stage named in her husband's memory. She also helped create the All That's Jazz Scholarship Benefit, which has been a part of the community for 14 years and has raised over $1 million to support student scholarships.
"I feel like this particular campus is positioned to give a big opportunity to students for their education, and it is positioned for individualized and personal experiences," said Seifert.
Jesús Torres, a recent graduate of Penn State, who also attended Greater Allegheny, was awarded the GOLD (Graduate Of the Last Decade) Alumni Award, recognizing a graduate who has left Penn State in the last 10 years and stands out as a leader both professionally, and within the community.
"To be honest, I would not have ever imagined myself being here in this position, receiving this award from the university I attended, let alone from the best university in the world," said Torres. "I am extremely humbled and honored to be receiving this award."
Torres is a constant presence at both recruiting events and student engagement activities for the campus. His latest efforts were to help students from the University of Puerto Rico at Mayagüez (UPR-M) come to Greater Allegheny by collaborating with the Hispanic Chamber of Commerce in Pittsburgh to provide a $5,000 gift toward their studies.
"I promise I will continue to give back to the community and give back to Penn State Greater Allegheny with integrity, loyalty, passion and pride," Torres said. "Nothing is impossible as long as you put time, effort and belief in yourself."
The Distinguished Alumni Award was presented to Amy Michaliszyn. This award recognizes an individual who has attended the Penn State Greater Allegheny campus and is a leader both professionally and within the community.
"It's such an honor to come full circle and to receive this honor, too," said Michaliszyn.
Michaliszyn has demonstrated a strong commitment to community relations as well as the importance of a Penn State Greater Allegheny education, and is loyal to the campus by involvement and philanthropic support.
"I know my love for this school is true because this school loved me when I had nothing. I didn't have a title, I didn't have a degree, I didn't have any money to go there, and this school and this campus threw their arms around me and loved me," said Michaliszyn. "If you have ever loved something so much that you feel like your heart will burst, that's what I feel when I talk about Penn State."
"These community leaders invest their time, talent and treasure to ensure Penn State Greater Allegheny continues to inspire students to 'Be Greater,'" said Edmondson. "Penn State Greater Allegheny's alumni come from all walks of life. They provide insights, opportunities, lessons and inspiration to current and future students who want to dream big and pursue transformative educational experiences."
For more information on the Distinguished Alumni Awards, and to keep up with alumni events and activities, contact the Office of Institutional Advancement at Penn State Greater Allegheny at 412-675-9071.