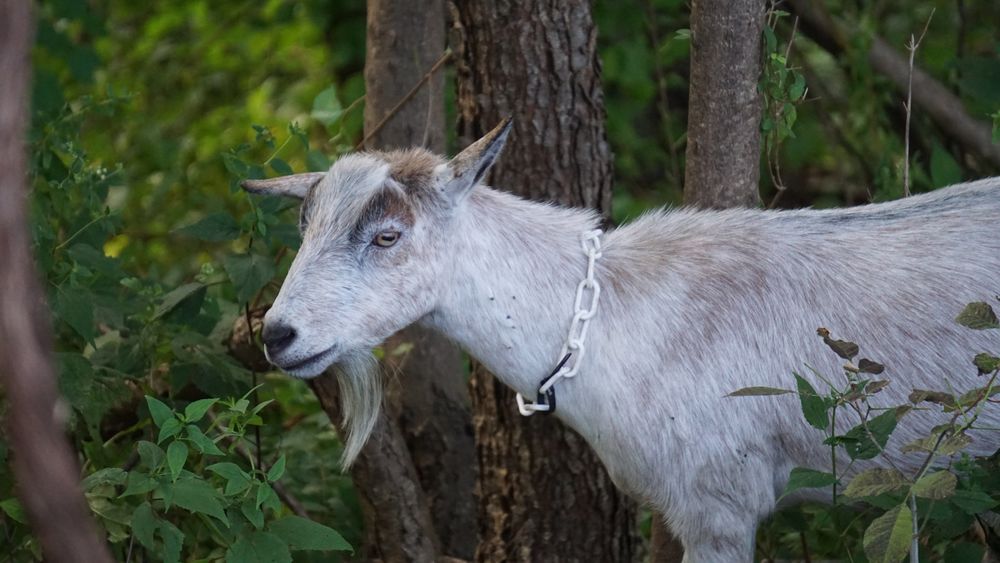 MCKEESPORT, Pa. — Penn State Greater Allegheny welcomed a few fresh faces to campus on Tuesday, Aug. 28: "Goats At Greater Allegheny" — or project GAGA — is a new initiative aiding in the continued growth of regional sustainability efforts.
Landscaping with goats, better known as "goatscaping," is designed to help clear overgrown areas and hillsides. The fenced-in area will move throughout campus grounds, allowing the goats to chomp their way through overgrown and invasive terrain.
"The goats provide a way for us to clear brush in wooded areas near Wunderley Gym and McKeesport Hall," said Jacqueline Edmondson, chancellor and chief academic officer at the Greater Allegheny campus. "This is an environmentally friendly and sustainable way to clear the overgrowth in these areas."
Goatscaping is an effective, eco-friendly way to manage vegetation without herbicides, leaving no waste and naturally fertilizing the soil.
As honorary Penn Staters, the goats will be important members of the Greater Allegheny community. During the goats' time on campus, student groups will be involved with Project GAGA.
"We have a new environmental student group led by Dr. [Eric] Lipsky, associate professor of engineering," said Edmondson. "This group will help us to set priorities for sustainability in the year ahead."
More than simply providing eco-friendly landscape management, goatscaping is a great way to create community conversations and increase community engagement.
"In addition to helping to clean up our wooded areas, the goats will provide opportunities for our campus community and neighbors to enjoy them," said Edmondson. "People seem to enjoy the goats."
Penn State Greater Allegheny has initiated several sustainability actions, including working with reusable-water-bottle company Cupanion to reduce plastic waste, and planting numerous edible gardens around campus.
"This past summer PSUGA began to plant edible landscape around the campus, including blueberries, blackberries, raspberries and strawberries, in addition to young apple, peach and pear trees," stated Adam Homer, manager, physical plant. "This year is the seed of the program, as it will take a few years to grow and be fruitful."
Penn State Greater Allegheny continues to expand sustainability throughout campus and the community.