Building on track to achieve LEED Gold Certification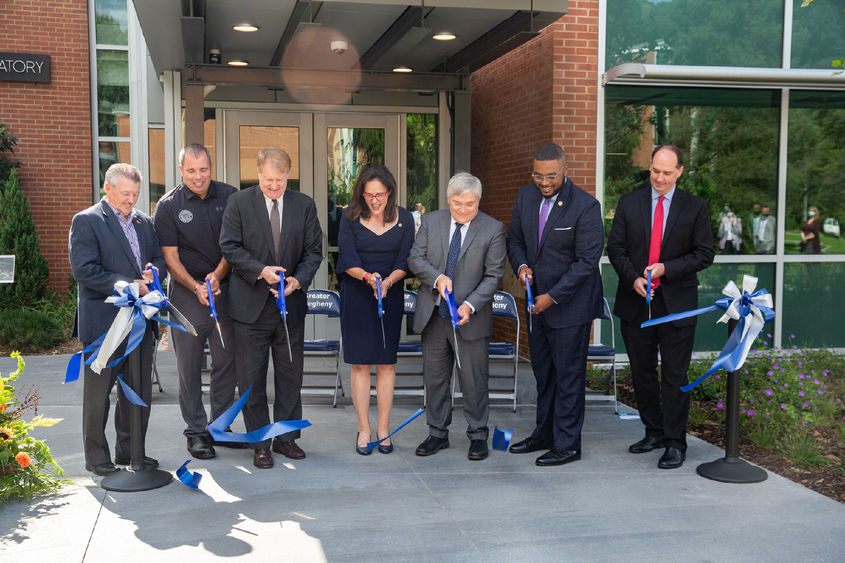 McKEESPORT, Pa. -- Penn State President Eric J. Barron and Penn State Greater Allegheny Chancellor and Chief Academic Officer Jacqueline Edmondson were joined by University, local, county and state leaders for the Ostermayer Laboratory ribbon cutting on Sept. 9 on the Greater Allegheny campus. 
The dignitaries and invited guests celebrated the completion of a $14 million renovation approved by the University's Board of Trustees in February 2020.  
Helping Barron and Edmondson to cut the ribbon were McKeesport Mayor Michael Cherepko; State Senator Jim Brewster, 45th District; Representative Austin Davis, 35th District, Allegheny County; Allegheny County Executive Rich Fitzgerald; and Interim Senior Vice President for Commonwealth Campuses Kelly Austin.  
The renovation included state-of-the-art laboratory and safety equipment, modernized teaching spaces, improved classroom and collaboration spaces, and an enhanced entrance and lobby space to the building, constructed and opened in the 1970s.  
"The Ostermayer Lab Building is a symbol of hope and promise," shared Edmondson. "It represents Penn State's commitment to education and the sciences, and its investment in the Monongahela River Valley. The fact that this building was completely renovated during a global pandemic and a period of political and civic unrest in the United States further underscores the importance of the work that will happen through this building."
President Barron discussed the impact the project will have on current and future students. "I'm very pleased that this building will serve in the training of the next generation of scientists, inventors, and innovators," said Barron.  "Our state, nation and world need highly trained individuals who can work on the most challenging problems of our time: public health and personalized medical care; food and water security; energy and the environment; and economic development. Solving these challenges will require collaboration across disciplines and innovative thinking."
Collaboration was at the center of the renovation project. The University engaged in a design-build approach which united the Office of the Physical Plant; Bohlin Cywinski Jackson, architectural firm; Turner Construction; and campus faculty, staff, and students in an innovative and creative problem-solving solutions process.  
"Our goal was to create a space in which students and faculty could work closely both in the classroom and in the chemistry, biology and research lab spaces," said Andrea Stevens, assistant teaching professor of microbiology and science lab coordinator. "We also sought to create an inviting new entry space, and a flexible use multi-purpose room where we can host community events. The enthusiasm our students and visitors display when they walk through the building confirms that we achieved our goal."  
Beyond enabling the science faculty to deliver a 21st-century science education experience, Ostermayer Laboratory is on track to achieve Leadership in Energy and Environmental Design Gold Certification from the U.S. Green Building Council, emphasizing Penn State's strategic commitment to sustainability. The design-build team focused on the highest standards of sustainability, including improved energy efficiency, reductions in water use, and use of healthy materials for improved indoor air quality, all of which reduce the buildings environmental impact. 
As one example, the renovated space contains a three-story curtain wall entry and several new windows, which greatly increase the amount of natural light that enters the building. Along with other resource-saving features, this design element reduced the number of required light fixtures and will ultimately assist in driving down Penn State's energy consumption costs.
Allegheny County Executive Rich Fitzgerald extended his congratulations and thanks to Edmondson for the work she and the campus are undertaking in the region. He shared that young people are beginning to stay in the region because of institutions like Penn State Greater Allegheny that are preparing people to enter the workforce.  
Referencing companies in the life sciences field in particular, Fitzgerald remarked, "Their biggest question they ask me is, are they going to have the workers to fill the positions they need to grow right here in this region. We can say, yes, because of great institutions like this."  
Associate Chief Academic Officer and Associate Professor of Chemistry Megan Nagel was involved in the Ostermayer Laboratory project since campus members visited Penn State Berks and Penn State Hazleton to learn from their renovation experiences. "Exploring transformed spaces on other campuses, and meeting with our colleagues in the East, I began to envision what was possible for the Ostermayer Building," said Nagel. "Now that the planning and construction are complete, I can say with confidence that it far exceeds my expectations."
Nagel spoke of her pride for the building and the environment in which students will learn. "This is a special place," she said. "The building itself reflects the values of the campus, promoting collaboration, cutting-edge technology and classrooms that support innovative pedagogies for our diverse student body, many of whom are first in their families to attend college."