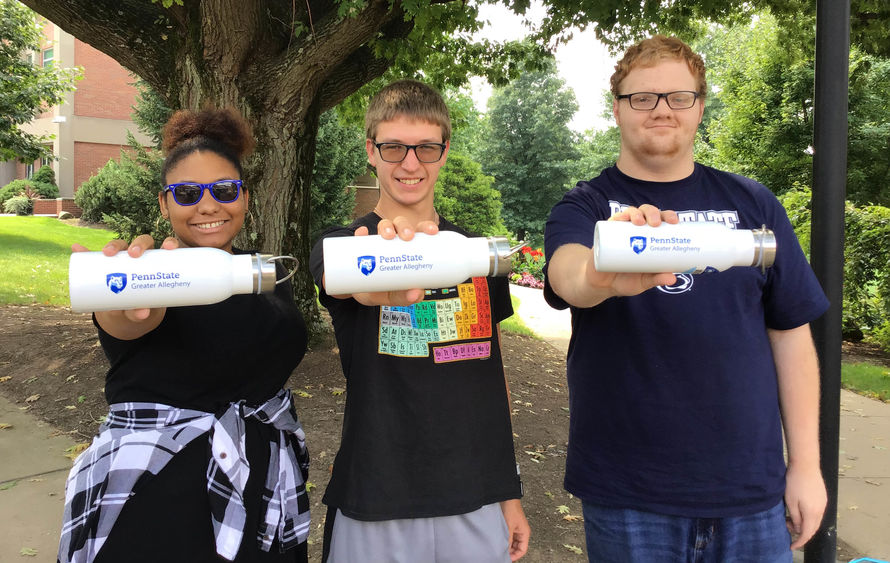 MCKEESPORT, Pa. – Penn State Greater Allegheny is working to leave a smaller environmental footprint through an initiative titled "Fill It Forward." The program, designed by the company Cupanion in collaboration with WaterAid, helps provide clean water to people in need by utilizing technology and reusable products. 
"We combine technology with sustainability to inspire the world to reuse," noted Cupanion on its website. "By tracking your reuse, you can engage with your footprint and see the impact of your good habits."
Cupanion, no stranger to working with universities, has worked with other colleges and fortune 500 companies to help provide over 2 million cups of water to people in need. Additionally, their efforts have diverted over 566,000 plastic bottles from landfills, and over 1,000 pounds of plastic from the ocean. 
Chancellor and Chief Academic Officer Jacqueline Edmondson said, "This program has environmental and health benefits. The environmental benefits include reducing the amount of plastic we are using and discarding in landfills. The health benefits involve the incentive to drink filtered tap water."
Edmondson continued, "My hope is that the campus community may gain awareness of ways we can limit the use of plastic and that we may find other opportunities to engage in projects that allow us to live on our campus in environmentally responsible ways."
Greater Allegheny's program with Cupanion is in line with Penn State's strategic commitment of enhancing health and stewarding our planet's resources. 
"Drinking plenty of water is imperative for good health, and filtered tap water is a healthy choice," noted Edmondson. "Sometimes people avoid drinking water because of concern about how safe the water may be, but they choose instead to drink beverages that have sugar and chemicals. These are not healthy choices. As we work with the Cupanion program, we will engage in helping students to know the health benefits of filtered tap water."
Eric Lipsky, associate professor of engineering, and coordinator of Greater Allegheny's 3+1 Energy Engineering Program advises a new student club focused on the environment and sustainability. Students were involved in the Cupanion bottle design, and will monitor the progress of the programs. Since the late August launch, Greater Allegheny community members have self-reported filling their bottles over 140 times. 
Students, faculty, and staff who would like to participate in the "Fill It Forward" initiative can stop by one of the water bottle filling stations on campus to pick up their designated barcode for their reusable water bottle.