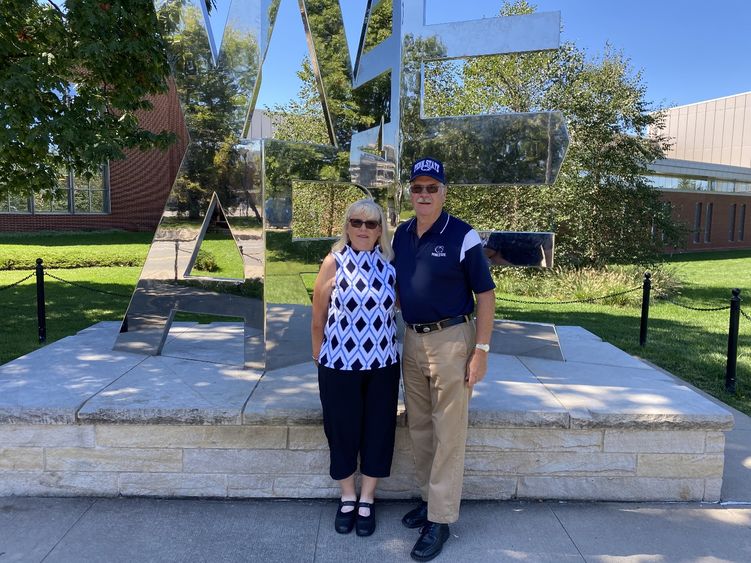 McKEESPORT, Pa. – Robert and Cynthia Van Druff, longtime supporters of Penn State Greater Allegheny, have pledged $100,000 to create the Robert A. Van Druff and Cynthia A. Dawso Van Druff LaunchBox Endowment, in memory of Della Dawso and Charles W. and Anna Grace Van Druff. The fund will support the Mon Valley LaunchBox, a community-facing innovation hub that assists early-stage entrepreneurs in McKeesport and surrounding communities. Penn State will match the couple's pledge, resulting in a $200,000 endowment supporting the LaunchBox as part of the University's current campaign, "A Greater Penn State for 21st Century Excellence."
"Since its inception, people have remarked that the Mon Valley LaunchBox brings hope to our region," said Jacqueline Edmondson, chancellor and chief academic officer at Penn State Greater Allegheny. "We are humbled and grateful that the Van Druffs chose to keep hope eternal for the people who have innovative ideas they aspire to make a reality."
Mon Valley LaunchBox Director Eric Ewell and his Street Team, Greater Allegheny faculty and staff with strong ties to the local community, regularly meet with residents to discuss and formulate their business ideas and connect them to resources at Penn State. 
The Van Druffs became familiar with the work of the Mon Valley LaunchBox during "Impacting the World through Innovation and Entrepreneurship," a virtual event hosted by Penn State President Eric J. Barron and Molly Barron in February of this year. During the event, Edmondson discussed the role the LaunchBox plays in "McKeesport Rising," a city initiative to improve neighborhoods and create economic opportunities for residents, many of whom are from underrepresented groups. 
Reflecting on their motivation to make their gift in memory of their parents, the Van Druffs said, "Our parents set us on a path of faith, hard work and service. They wanted life to be better for their children, and education was an important part of that. Our Penn State education provided that next generational step and gave us a foundation in community service, allowing us to be prosperous and to have successful careers. Penn State continues to be a part of our life. The Mon Valley LaunchBox is a new and exciting educational service which widens its outreach and helps entrepreneurs do greater things. We are honored to give back to Penn State and the community through this new mission of the Mon Valley LaunchBox." 
In addition to this endowment, the Van Druffs have also funded two scholarships at Greater Allegheny, the Robert and Cynthia Van Druff Open Doors Scholarship and the Robert and Cynthia Van Druff Scholarship.
Robert and Cynthia attended the campus then known as Penn State McKeesport before moving onto University Park where each completed their undergraduate degrees -- Robert with a bachelor of science in engineering and Cynthia a bachelor of science in education. Cynthia also earned a master's in education in health and human development. 
This endowment will advance "A Greater Penn State for 21st Century Excellence," a focused campaign that seeks to elevate Penn State's position as a leading public university in a world defined by rapid change and global connections. With the support of alumni and friends, "A Greater Penn State" seeks to fulfill the three key imperatives of a 21st-century public university: keeping the doors to higher education open to hardworking students regardless of financial well-being; creating transformative experiences that go beyond the classroom; and impacting the world by serving communities and fueling discovery, innovation, and entrepreneurship. To learn more about "A Greater Penn State for 21st Century Excellence," visit greaterpennstate.psu.edu.
Gifts to support Invent Penn State's LaunchBox and Innovation Hub Network, as well as select economic development initiatives across the commonwealth, are a priority of the campaign, and two opportunities to leverage University funds — the LaunchBox Matching Program and the Economic Development Matching Program — are available through the end of "A Greater Penn State" on June 30, 2022, or until the pool of support is exhausted. To learn more about how to make a gift and secure a match, please contact Heather Winfield at [email protected]. For more information on all giving at Penn State Greater Allegheny, contact George Barron, director of development, at 412-675-9180 or [email protected].