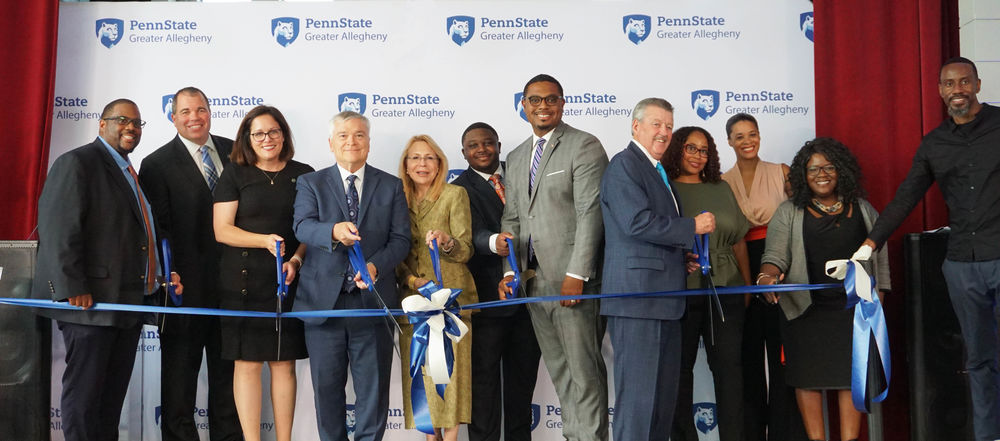 MCKEESPORT, Pa. – On Wednesday, Sept. 4, Penn State Greater Allegheny, in conjunction with the city of McKeesport, held a ribbon-cutting and dedication ceremony of the Mon Valley Launchbox powered by Penn State Greater Allegheny. The new facility is located at 410 Ninth St. in downtown McKeesport.   
Penn State President Eric J. Barron joined Penn State Greater Allegheny's Chancellor and Chief Academic Officer Jacqueline Edmondson, Penn State Vice President of Commonwealth Campuses Madlyn Haynes, McKeesport Mayor Michael Cherepko, and other Penn State administrators and local dignitaries in celebrating the new innovation hub that provides business idea and startup support, co-working space, business, legal and intellectual property advice and mentorship for McKeesport residents who are interested in starting or growing a business. The launchbox can support up to 20 businesses at one time and offers entrepreneurs a conference room, an Apple iMac computer lab, and collaborative working spaces.
"We are seeing this vision unfold here in the city of McKeesport," said Chancellor Edmondson "And we are extremely humbled and honored to be part of the story of McKeesport Rising and the broader revitalization efforts of the Mon Valley. It is about making a difference in the lives of people who have been left behind by a post-industrial economy that ravaged this region over three decades ago. This space is about realizing social and economic change, and most importantly, it is about hope."    
President Eric Barron reflected on the mission of the Invent Penn State initiative and the funding of its 21 innovation hubs that are creating job growth possibilities across the commonwealth. "We can transform Penn State's land-grant mission, which means in service to society and in service to the commonwealth. We can have that mission operate in a different way" said Barron. "(Penn State is) famous for Ag Extension; why not economic extension?"
Mon Valley LaunchBox is one of 21 Penn State-funded innovation hubs opened in Pennsylvania since 2015. They have served 2,463 entrepreneurs, developed 205 new products, started 115 new companies and created 109 new jobs.
"There is a Launchbox within 30 miles of 96% of the population of the state of Pennsylvania," said Barron. "The Mon Valley LaunchBox here provides educational and technical support for aspiring entrepreneurs. In addition, it connects faculty, professionals and students who are passionate about building a vibrant community in downtown McKeesport and the surrounding area." 
"When we talk about working together for a better McKeesport," said Mayor Cherepko, "We look at it as more than a slogan. It's an invitation. And to have the opportunity to partner with Penn State is amazing. It's amazing to know that not only have they accepted that invitation, but also they truly exemplify what it means to be a good partner to the City of McKeesport and truly exemplify what it means to work together for a better McKeesport."
Launchbox co-coordinators Eric Ewell, director of continuing education, and Aaron Whigham, strategic initiatives manager, have already assisted several small businesses since the centers soft opening in 2017.   
"The process of getting a business started in the Mon Valley can be challenging at times since there are limited resources in the area," said Whigham. "Their passion and desire to get things off the ground pokes at your heart; it makes you want to give extra effort and make the difference in the region."  
One entrepreneur getting her business off the ground is Vickey Giddens of Vickey's Soul Grill Takeout and Catering. Giddens has long dreamed of owning a restaurant.  When she met Ewell and Whigham, they worked with her to develop a brand identity, create a customer service policy, and build a larger client base.   
"It's more than just food; it's more than just designing; it's more than just retailing; it's everything. If they believe in your business, you have no choice but to be successful, said Giddens. "They (Ewell and Whigham) don't sugar coat anything. You can call on them, they will respond. You ask them a question, they will answer. If it weren't for the Mon Valley (launchbox) leading, guiding and showing me the way, I wouldn't be at the category that I seek today."  
Ewell and Whigham are assisted by Greater Allegheny employees who volunteer their time as members of the Street Team.  These members have their ear to the ground in the community and work to engage individuals and businesses in addressing the needs of aspiring entrepreneurs and the greater McKeesport area.  
"When we were creating the footprint of the center, we knew that the only way it could succeed would be with strategic partners," said Erica Tachoir, Penn State Greater Allegheny street team member. "The goal of the street team was to leverage the work that we were already doing with community partners to benefit the university as well as the greater community. The seminars, training opportunities, and events that have grown out of the center were not our ideas, but they reflect the needs and wants of those who live, work and worship in the Mon Valley. We are so lucky that we can serve as a conduit to magnify the good that has been and will continue to happen here in our community." 
Tachoir is joined by street team members Johnathan White, Erica Willis, Mylisha Burns, and Siobhan Brooks.  
Many community and business partners are supporting Mon Valley Launchbox efforts by providing education, business, financial, marketing, and legal seminars and workshops. Partners include McGrail and Associates, TMS International, Dollar Bank, Youth Places and Bynum Marketing. Additionally, the Jefferson Regional Foundation has awarded two grants to the Mon Valley Launchbox to support its work.  
"(The grants) allow us to have additional hands to do the work," said Ewell. "It validates the work that we are doing and shows that other people are recognizing that the launchbox is an asset." 
Barron's statewide Invent Penn State initiative was designed to spur job creation, economic development, and student career success. The campaign provided an initial $50,000 Seed Grant to establish innovation hubs near all 21 Penn State commonwealth campuses, with opportunities for $50,000 seed grants for two additional years.