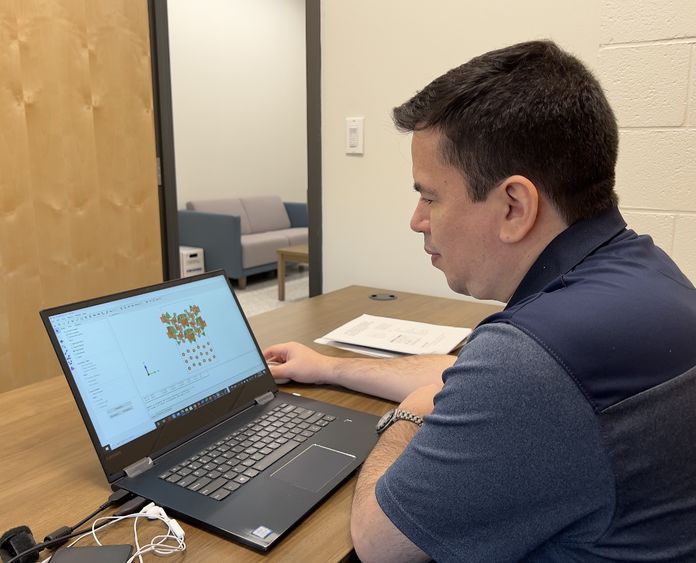 MCKEESPORT, Pa. — Penn State Greater Allegheny welcomed Fernando Soto to its campus community this fall. Soto will serve as a new assistant professor of energy engineering in the campus' unique 3+1 energy engineering major. The program allows students to attend the Greater Allegheny campus for three years before transitioning to the John and Willie Leone Family Department of Energy and Mineral Engineering in the College of Earth and Mineral Sciences at University Park for their fourth year. 
With extensive research and knowledge in Electrochemical Energy Storage, Hydrogen Energy Storage, Catalysis Sustainable Concrete Engineering, Corrosion Science, Optoelectronics and Additive Manufacturing, Soto's experiences and interests will give Greater Allegheny students the opportunity "to research areas at the cutting edge of technological innovation that will significantly impact the United States," according to Soto.
"Students will benefit by being involved with research endeavors that can develop advanced materials and take part in transformational opportunities that can shape and improve our lives throughout the next 100 years," said Soto.
"I believe teaching and research share a symbiotic relationship in a learning community," Soto added. "When appropriate, I discuss my research with the students so that they can gain new perspectives."
"I believe teaching and research share a symbiotic relationship in a learning community."

—Fernando Soto , Assistant Professor of Energy Engineering
Soto's research interest in computational materials science supports the University's strategic thematic priority of Stewarding Our Planet's Resources.
"Computational materials scientists like myself use computers to manipulate the next generation of materials to solve one of the biggest challenges of this century: making energy available when and where it is needed in an environmentally and socially responsible way," said Soto. 
According to Soto, as part of his work, it is possible to manipulate matter at the atomistic level, resulting in an opportunity to work on interdisciplinary topics with interdisciplinary teams to raise awareness and develop new engineering materials to alleviate the world's energy problems.
Soto will work alongside Alandra Kahl, associate teaching professor for energy and environmental engineering, and Eric Lipsky, associate professor for mechanical engineering and program coordinator. Soto and his engineering colleagues are creating a high-impact learning environment that will enrich students' learning experiences.
"This is very important for students because a smaller-than-average class size of 15, compared to class sizes at larger campuses, provides a solid foundation for school studies while enriching their minds and lives," said Soto. 
Plans are underway to renovate current energy engineering lab space where students will get hands-on experiences working with alternative energy systems and working with professors to develop solutions for the energy sector.
Soto was born and raised in Tegucigalpa, Honduras, and holds a doctoral degree in engineering, a master's degree in microsystems engineering, and a bachelor's degree in industrial engineering, all from Louisiana Tech University.
Students who question everything and are interested in math, science, and creative curiosity, can learn more about the program by visiting greaterallegheny.psu.edu/energy-engineering or by calling 412-675-9010.  
Penn State Greater Allegheny's mission is to inspire students to be greater by offering transformative educational experiences. The campus is a catalyst for individual and social change, committed to improving the community and the world.