Campus leader named president of the University of Southern Maine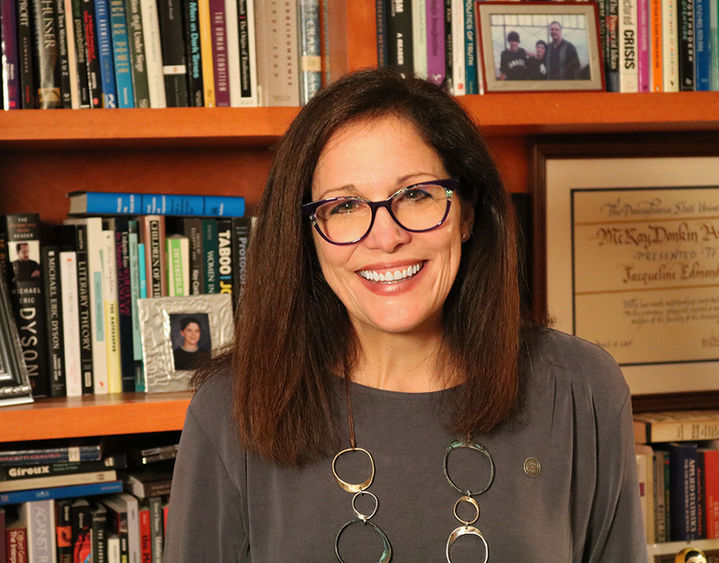 MCKEESPORT, Pa. — Jacqueline Edmondson, chancellor and chief academic officer at Penn State Greater Allegheny since 2017, was named the 18th president of the University of Southern Maine today (May 16). Edmondson begins her tenure at that institution on July 1.
As Greater Allegheny's chancellor, Edmondson is responsible for 14 two- and four-year degree programs, approximately 400 students and 93 full-time and 43 part-time staff. The campus is one of the University's more diverse locations. Sixty percent of the student body are male, 42% are from underrepresented groups, and 49% are first in their families to attend college.
Edmondson was a first-generation college student, attending the University Park campus after graduating from high school. She went on to earn three degrees from Penn State, a bachelor of science degree in elementary and kindergarten education; a master of science degree in educational psychology; and a doctorate in curriculum and instruction, language and literacy.
"I will be forever grateful to Penn State for the many opportunities it has provided to me and my family for so many years," said Edmondson. "I am especially grateful to Dr. Stephen Smith, who gave me a chance as a 17-year-old first-generation college student from rural Pennsylvania. Dr. Smith took a chance on me when he offered me admission to his studio as a piano performance major. His gesture changed the course of my life, and since that time, I have been committed to providing access to higher education to others."
Edmondson established an ambitious agenda for the campus when she arrived and was instrumental in its revitalization, establishing new degree programs to meet the needs of the region, and introducing signature initiatives that focused on student success and diversity, equity and inclusion.
"We wish Jackie great success in her new role, as we know she takes with her many years of proven leadership in higher education," said Penn State Executive Vice President and Provost Nick Jones. "Her contributions to our University have been many, particularly her last five years as chancellor and chief academic officer at Penn State Greater Allegheny where she focused on student engagement and building critical and lasting collaborations with local community partners."
One of Edmondson's successful collaborations paired the campus with the City of McKeesport and Invent Penn State to open the Mon Valley LaunchBox in downtown McKeesport. The LaunchBox assists early-stage entrepreneurs in McKeesport and surrounding communities to establish small businesses. In 2021, Edmondson secured a $100,000 gift from Penn State alumni Robert A. Van Druff and Cynthia A. Dawso Van Druff. Penn State matched that gift resulting in a $200,000 endowment as part of the University's "A Greater Penn State for 21st Century Excellence" campaign.
Creating programs that united Greater Allegheny faculty, students and staff with community members to discuss issues and identify solutions was an important component of Edmondson's vision.   
In 2017, she launched The Crossing Bridges Summit, a five-pillar program to bridge racial divides in the Mon-Valley region.  Its popular Speakers' Series brought more than 2,000 people to the campus to learn from the first three speakers Michael Eric Dyson (2017), Angela Davis (2018) and Cornel West (2019). With the onset of the pandemic, Edmondson partnered with WPSU to produce two virtual Speaker's Series which addressed racial disparities in women's health (2020) and policing (2021) in the Pittsburgh region.
Another signature program Edmondson introduced was the Digital Fluency Project. Started in 2018, the project places an iPad and digital writing tool into the hands of each student, faculty and staff member. Knowing each student has the same device allows faculty to bring new pedagogy into the classroom and engage students in innovative ways. Faculty also leverage the device to identify free and open resource materials, lowering textbook costs incurred by students. This decrease in out-of-pocket expenses reduces a financial burden for Greater Allegheny students, 50% of whom are Pell Grant recipients.
One of the new degree programs Edmondson brought to Greater Allegheny will position students to engage in social problems by understanding the cultural, economic, environmental and historical conditions individuals and groups face.
Beginning this summer, the bachelor of social work degree will be offered exclusively at Greater Allegheny. The major provides broad-based educational experiences for undergraduate students interested in working in the private and public sector to provide social services for diverse people and populations. Two additional programs added during Edmondson's tenure were cybersecurity analytics and operations, and recreation, park and tourism management.
Edmondson has worked at Penn State for 22 years, joining the faculty in 2000 as an assistant professor of education in the College of Education, and receiving promotion to full professor in 2012. She has held several administrative positions at the University, including associate dean for undergraduate and graduate studies in the College of Education, and associate vice president and associate dean for Undergraduate Education from 2013 to 2017 where she worked with 20 Penn State campuses to develop undergraduate curriculum and programs related to access and affordability.
"Penn State Greater Allegheny holds a very special place in my heart, and always will," said Edmondson. "Each day I come to work determined to bring the best of Penn State's world-class education to our campus community. An extremely talented and dedicated faculty and staff, and numerous alumni and generous friends joined me in that work. Together we lived our mission to be a catalyst for individual and social change and provided transformative experiences for our students. I know that work and commitment will continue in the future."
Additional details about the leadership transition for Penn State Greater Allegheny will be shared soon.