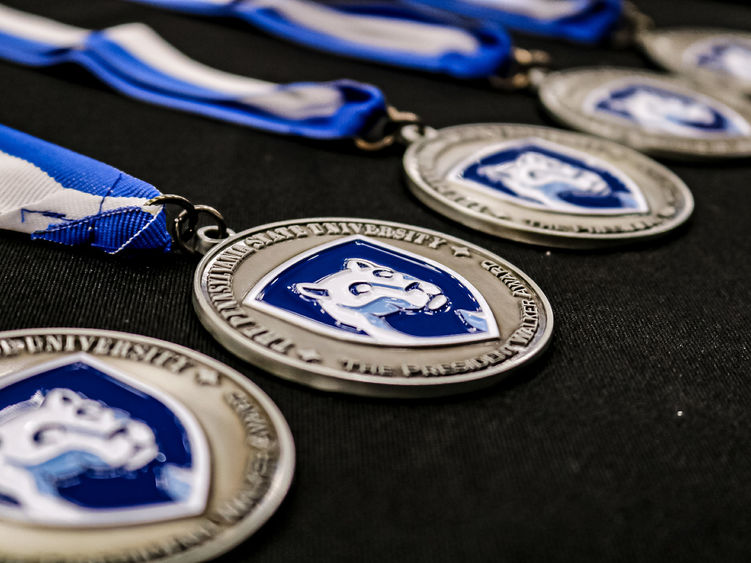 MCKEESPORT, Pa - Penn State Greater Allegheny celebrated its 37th Honors Convocation on Wednesday, April 19, 2023, in the Wunderley Gymnasium. Eighty-three students were recognized for distinguished academic achievement and exceptional leadership and service to their communities, along with four faculty and staff. Megan Nagel, interim chancellor and chief academic officer, presided over the ceremony.
"The Honors Convocation was initially established by the campus Alumni Society in 1983," said Nagel. "The members wanted to recognize the academic and personal achievements of students who were enrolled at then-Penn State McKeesport. It is a privilege to continue this tradition and officially recognize our students. Our honorees are members of the psychology and business honor societies, our Campus Honors program, and those students who further distinguish themselves in their respective majors."
In addition to recognizing members of Psi Chi (Psychology Honors Society), Sigma Beta Delta (Business, Management and Administration Honors Society), and the Campus Honors program, the campus presented Academic Achievement Awards to students maintaining a cumulative grade point average of 3.6 or higher, and Campus and Community Scholarship Awards, including the G.C. Murphy Award, the Patricia A. Klemans Memorial Scholarship, the Dr. Edward Sichi Jr. Memorial Award, and the Greater Allegheny Alumni Society Scholarship Award.
Nagel also acknowledged the contributions of faculty and staff who received special recognition during the past year. "Our faculty and staff work hard to offer Penn State's world class education in the Mon Valley. They are committed to student success and so it's a pleasure to also honor their contributions," she said.
The employee honorees included: Beth Lindsey, associate professor of physics, who received the Faculty Teaching Award; Fernando Soto, assistant professor of energy engineering, who received the Award for Excellence in Advising; and Alandra Kahl, associate teaching professor of engineering, who received the Award for Excellence in Community Engagement. Renee Stahl, assistant finance officer, received the Staff Excellence Award, and Rosemary Martinelli, lecturer in business and communications, received the Open and Affordable Educational Resource Champion Award from the University Library.
The evening ended with the presentation of the Penn State Greater Allegheny Faculty Award for Academic Excellence and the University's President Walker Award.
The Faculty Award for Academic Excellence was created by the campus faculty to recognize the top students in their respective disciplines. This year's recipients include Ethan Galley of White Oak, Administration of Justice/Criminal Justice; Aubree Sample of West Mifflin, Agricultural Sciences/Sciences; Zachary Petrulak of North Huntingdon, Arts and Humanities; Neila Raveen of Sewickley, Biobehavioral Health; Surya Venkateswaran of Riyadh Riyadh, Saudi Arabia, Business; Carlin Whalen of North Huntingdon, Communications; Mitchell Fasiczka of North Huntingdon, Cybersecruity; Evelyn Siler of Export, Engineering/Earth and Mineral Sciences; Suphansa Htway of Pittsburgh, Information Sciences and Technology; and Diane Banks of Monroeville, Psychology.
The President Walker Award is presented to undergraduate degree candidates who have earned a 4.0 cumulative grade point-average based on at least 12 Penn State credits completed their first semester at the University. This year, five Greater Allegheny students received this prestigious award. The recipients included Brooke Beisler of Glassport; Isaac Bruner of West Mifflin; Gabriel Golden of Greensburg; Gino Penascino of Elizabeth; and Jason Shank of McKeesport.
For a listing of additional award recipients, visit the Honors Convocation page.