Founder of Care Heart CPR uses resources from Mon Valley LaunchBox powered by Penn State Greater Allegheny to provide CPR instruction to local community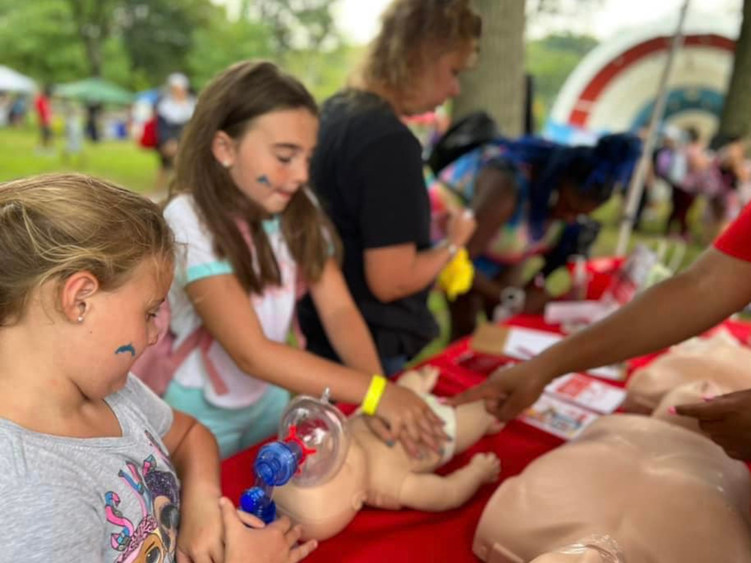 McKEESPORT, Pa. — At the height of the pandemic, McKeesport local Shalay Williams was employed as a nurse and frequently worked in the COVID-19 units. One day, she witnessed a patient pass away after a hectic attempt to resuscitate them. Deeply shaken by the incident, Williams reflected on what she could do to prevent more of these incidents from happening. 
"I had to decide if I even wanted to go back after that, as it was a lot to deal with," Williams said. "I ultimately decided that if I wasn't going to be a part of the solution, then I was a part of the problem."  
Williams became an official CPR instructor, setting her on the path to founding Care Heart CPR, a CPR instruction company, in June of 2021. 
Care Heart CPR offers classes to anyone aged 12 years and up. Classes are offered to individuals and groups and are open to everyone from Girl Scouts to health care professionals, with virtual and mobile options provided. Participants leave the course with an official certification from the American Heart Association. 
Williams said that no matter the age, it's extremely important for people to know how to administer CPR.  
"When it comes to CPR, it's better to be proactive than reactive, because you never really know who's going to need it, when they're going to need it or if you're the only person that's going to be around," WIlliams said. "My son is eight, and he can tell you 30 compressions and two breaths." 
In the same month that she started Care Heart CPR, Williams began utilizing the coworking space at Mon Valley LaunchBox powered by Penn State Greater Allegheny.  
Mon Valley LaunchBox, part of the Invent Penn State LaunchBox & Innovation Network, provides an incubator for emerging businesses, as well as training for the local workforce and outreach to the community. 
Williams said she is proud of herself for persevering when things became difficult. In August 2022, an explosion at the Mon Valley LaunchBox displaced Care Heart CPR, along with other businesses.   
"I lost thousands of dollars' worth of emergency medical equipment in the explosion, and I had to start over with one mannequin," Williams said. "But I've grown a lot since then. The LaunchBox program was great in helping me get that equipment back."  
Williams said that being part of the entrepreneurial community at Mon Valley LaunchBox has greatly benefited her.  
"When you start a business, you may not always get the answers you're looking for," Williams said. "I've gotten a lot of good advice and guidance. The LaunchBox has not only helped me grow as a person, but it has also helped me grow my business. All of the networking, the connecting that happens at LaunchBox — I get excited about all of it." 
Eric Ewell, the director of Mon Valley LaunchBox, has worked with Williams as a guide in her entrepreneurial process. 
"Shalay came to the LaunchBox wanting some direction on the process of starting a business," Ewell said. "At the Mon Valley LaunchBox, we do a lot of one-on-one coaching. We helped her with several things, from marketing and building her website to her structure of programming." 
The Mon Valley LaunchBox prides itself on supporting founders from underrepresented communities.  
"We consider ourselves to be a minority hub for Black and Brown founders," Ewell said. "We have a very strong speaker series. We have people mentoring our entrepreneurs on things from legalities to economics and we offer a lot of networking." 
Williams encourages aspiring entrepreneurs to keep going.   
"You might get laughed at because nobody sees what you see," Williams said. "And when that happens, it can be discouraging, but you just truly have to believe that, if this is what you want to do, what you're doing has merit, and you need to continue to pursue it." 
On Oct. 12, the Mon Valley LaunchBox hosted the grand opening for their new location. Williams plans to move into Mon Valley LaunchBox's new location by the end of the month to continue providing classes. 
About Invent Penn State 
Invent Penn State is a commonwealth-wide initiative to spur economic development, job creation and student career success. Invent Penn State blends entrepreneurship-focused academic programs, business startup training and incubation, funding for commercialization, and university/community/industry collaborations to facilitate the challenging process of turning research discoveries into valuable products and services that can benefit Pennsylvanians and humankind. 
This project was financed in part by a grant from the Commonwealth of Pennsylvania, Department of Community & Economic Development.