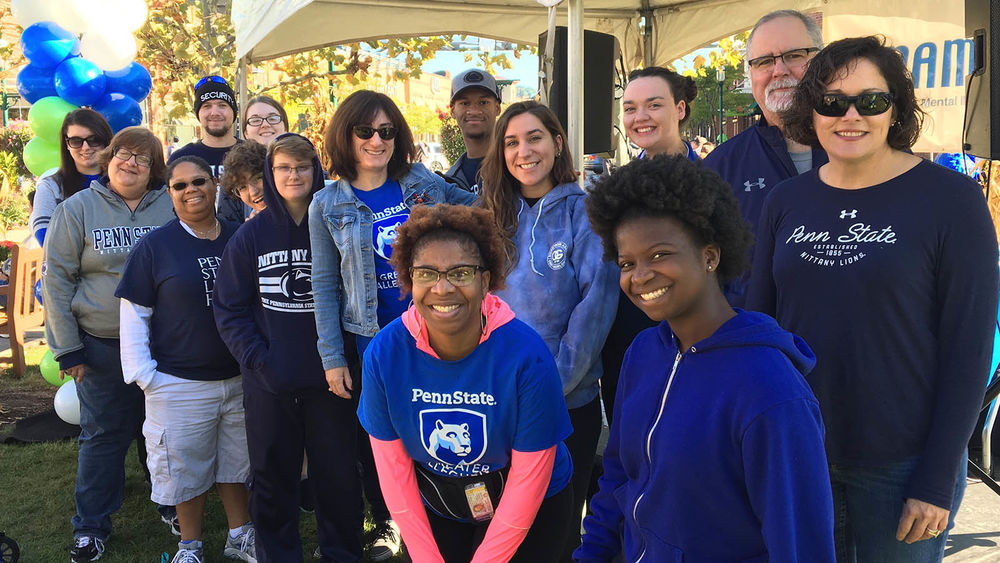 MCKEESPORT, Pa. — Students of the Psychological Association of Greater Allegheny recently organized a NAMIWalks team and nearly tripled their fundraising goal. This is the fourth walk organized by the Psych Club and the team consisted of students, faculty, staff, and friends of the campus.
NAMIWalks is an annual 5K walk hosted by the National Alliance on Mental Illness. Money raised by the walk benefits NAMI's efforts to raise awareness of mental illness through support, education, and advocacy efforts, in addition to funding NAMI organizations across the country.
Psych Club adviser and Associate Professor of Psychology Elizabeth Mazur is very proud of the students. "I've worked with NAMI for years, but I didn't tell the club what to do. They decided they wanted to do the walk."
"When making the team page, I just set it to $100 because I thought that was a stretch, but then I saw it hit $200, then almost $300," said Psych Club Vice President Livia Bodner. "We just want it to keep going."
"It felt really good to raise that much," said Psych Club President Ke'ira Williams. "It made me feel like there are people outside of our team that are watching what we are doing and [contributing in their own way]."
People can still donate to Penn State Greater Allegheny's NAMIWalks fundraiser until the end of October on the NAMIWalks website.
"There were a lot of families there," said Williams. "Think about it, if a kid asks their mom why they're there walking, that conversation helps break down the stigma around mental illness."
But Psych Club isn't slowing down after this success early in the semester. Club chairs are committed to continue integrating community programs with club initiatives.
"Doing this sort of event makes me want to do more in the community," said Williams. "It even makes me think about what I want to do for my career."
"We're helping the community," said Mazur. "The students are making connections by being out there and being visible."
The next Psych Club program is to join the Middle School Mentor Program with the Consortium for Public Education and the United Way in local schools. Bodner said, "It's an easy commitment, only an hour a week. We're looking forward to it."
The Psych Club is considering ways to reduce student stress on campus — especially during finals week — and inviting NAMI to campus for their "In Our Own Voice" presentation where speakers share their compelling stories of living with mental health challenges.
Those who wish to participate in these projects or for more information, can join Psych Club meetings at 12:15 p.m. on Fridays in Main 101. Join the Canvas group by emailing Mazur at [email protected].