Maria relief efforts become top-priority for students at Penn State Greater Allegheny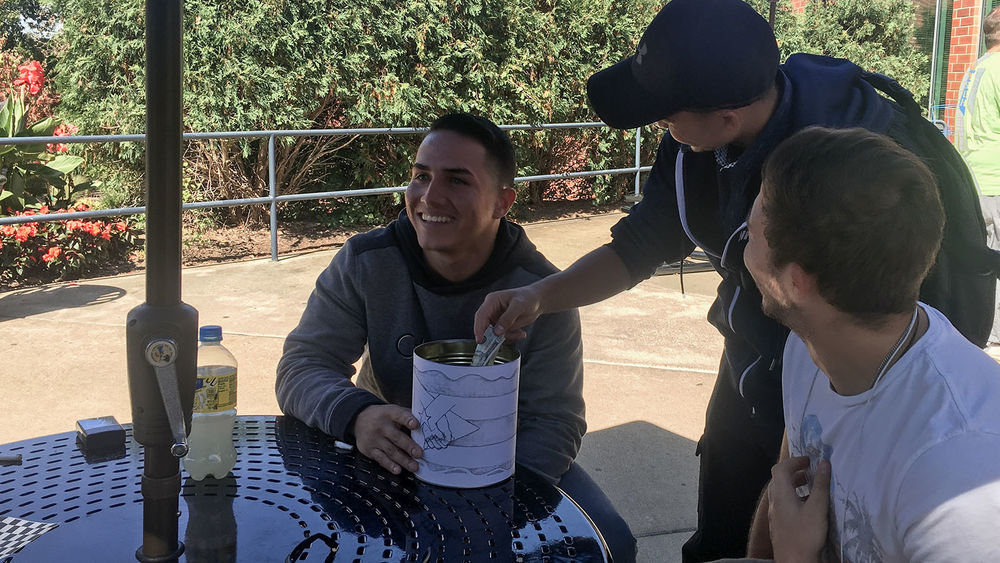 MCKEESPORT, Pa. — After a long pause and tears in his eyes, Marcos Lopez said, "We'll get back. Things are hard now, but I want everyone in Puerto Rico to know things are being done. We didn't forget about you."
In the wake of Hurricane Maria, students from Puerto Rico began a collection of money and supplies for relief efforts on the island. Lopez, a junior from Puerto Rico, kicked off the collection with a call to action in the Student Community Center.
"People are already giving us money!" Lopez said with a grin that reached from ear to ear.
Collection cans will be placed at the registers of Café Metro, in the Bookstore, and in the Admissions Office. Contributors are encouraged to donate bottled water, first aid supplies, diabetic products, baby supplies, candles, batteries, feminine products, and hygiene items by dropping them off in Admissions. "Basically, donate anything that can help a person feel clean," suggests Lopez.
This collection is coordinated by the Brother's Brother Foundation and the Pittsburgh Metropolitan Area Hispanic Chamber of Commerce and will be implemented by the Greater Allegheny campus baseball, volleyball, soccer and basketball teams.
On Sept. 30, Pedro Escobar, a freshman from Puerto Rico, attended the Hispanic Chamber's Hispanic Heritage Month Gala with several campus staff members.
"To see staff willing to help is great," said Escobar. "Puerto Rico needs it. I'm happy to be part of the reconstruction."
On Oct. 1, students and staff arrived at the Roberto Clemente Museum to help with a fundraiser for hurricane victims. The group even got to meet Pittsburgh Mayor Bill Peduto and Pittsburgh Pirates catcher Francisco Cervelli.
Through collaborations between the City of Pittsburgh, the Pirates, and the Clemente Museum, the results were encouraging. Over $50,000 was raised, more than 450k pounds of supplies were collected, and two planes were contracted to deliver donations to the island.
"It is really great to see all these Hispanic leaders stepping up," said Escobar. "I'm feeling motivated to be a good student, a good athlete and a good citizen."
While efforts by the Greater Allegheny campus and the region are inspiring, the 3.5 million American citizens in Puerto Rico still need aid.
"I've talked to a few friends down there and they think no one is doing anything to help," said Lopez. "I want to be able to show them things are moving along."
The reality for Puerto Ricans is heartbreaking, as Lopez found out during a call from a friend on the island. "She is completely broken down. She told me, 'Marcos, if you were here, you wouldn't even know where you were because everything is gone.'"
"I had family members go missing for a few days," said Lopez. "There are hardly any cell towers so we just had to wait for them to get to an area where they were able to let us know they were alive."
Escobar shares a similar helplessness for his loved ones on the island. "I just hope everything gets better in Puerto Rico. I'm very sad. I want to be there, to be doing more about the situation."
"Puerto Rico se levanta" is the phrase serving as inspiration as the island begins to rebuild, translating to "Puerto Rico rises."
This vision of Puerto Rico rising above adversity is echoed in the student's mentality. "Puerto Ricans are strong and tough," said Escobar. "We can handle this."