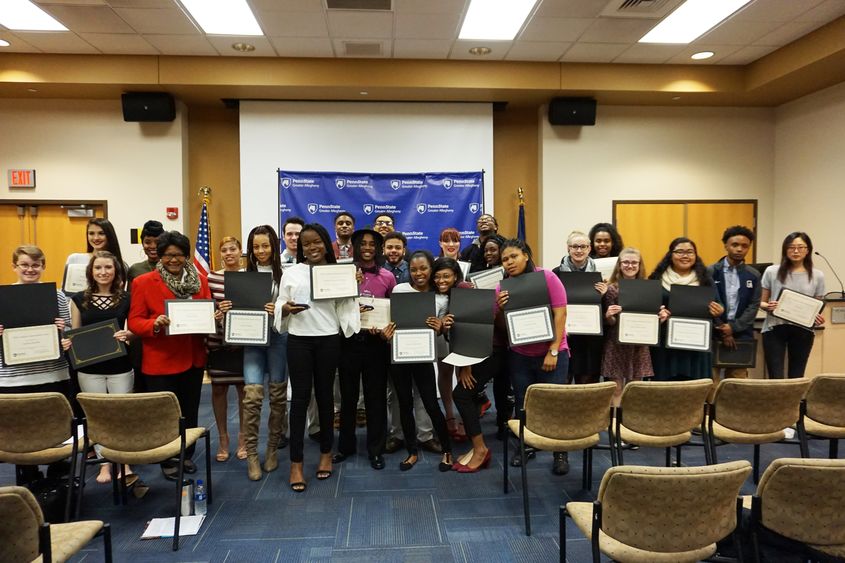 MCKEESPORT, Pa. — Penn State Greater Allegheny recently celebrated its inaugural EPIC awards ceremony to honor exceptional students with two campus awards: the Academic Achievement Awards and the Empowering Purpose through Individual and Cultural-Awareness (EPIC) Awards.
The Academic Achievement Awards have four tiers which distinguish students who have achieved a 2.7 or higher GPA in the previous semester. The tiers include Bronze, Silver, Gold, and the Gold Star.
The EPIC Awards recognize first-generation college students and students of color whose work in the classroom, campus community and local community advance the values of Penn State Greater Allegheny.
The Chancellor's Office, Office of Student Affairs, Center for Academic and Career Excellence (ACE) and the Gruskin Learning Center hosted the event in the Oystermeyer Room in the Student Community Center.
Greater Allegheny Chancellor and Chief Academic Officer Jacquline Edmondson welcomed honorees and guests and introduced keynote speaker Cynthia Baldwin, former Pennsylvania Supreme Court Justice, who delivered an empowering speech about drive, determination, confidence and humanity.
Baldwin reminded students that education continues even after they graduate from Penn State. As an educator, parent and former justice, she encouraged students to be mindful about what defines them in life and joked, "I still don't know what I want to be when I grow up."
Edmondson said, "Our students work hard to get to where they are, and these awards provide well-deserved recognition. Our students are inspiring and they are driven to not only achieve for themselves but for their families and their communities."
Honoree Steven Carter, also known as "Stevie Static" on the campus radio station, WMKP, received both a Gold Award and an EPIC Award for his hard work and determination inside and outside of the classroom.
"Steven is a bright, young African-American student who has long been involved with community organizations," said Zack Furness, associate professor of communications at Greater Allegheny. "He has been actively involved in the campus's activities and events that advance the values of Penn State University."
Carter's friends and family supported him as he accepted his awards. "It means that I am working hard and that I am standing for something," said Carter. "I am making a change for my community and I am making a change on campus."
Silver award honoree, Rebecca Capozzi, a biobehavioral health major, was also in attendance. Capozzi is completing her undergraduate degree and set to graduate this spring. She plans to continue her education by going to physician assistant school.
Capozzi also is president of the Student Government Association and is a student advocate between the student body and the campus. "It is one of my 'Be Greater' moments," said Capozzi. "It provides me with invaluable experience and opportunities that came because of it."
She wants the incoming class to be confident. "You need to find a way to be confident and communicate with your peers and those around you and know that your opinion is respected here," she said.
The inaugural EPIC and Academic Achievement awards winners are listed below.
EPIC Awards
Steven Carter
Keitha-Clemon Duhaney
Rhickisha Maria Hinkson
Curtis Newby
Gold Star
Harold Devin Redinger
Jeffrey Hunter Hawke
Loren Baseler
Tina Pan
Haley Snyder
Gold
Koran Fleming
Steven Carter
Savanna P Naylor
Tracey Thomas
Marina Puharre Selmi
Maryluz Rivera
Namrata Pokhrel
Diane Banks
Marissa Lynn Lewis
Andrea Lorraine-June Burroughs
Raghu Chimoriya
Jackson Buchko
Adam Smith
JerCara Magwood-Jones
Keitha-Clemon Duhaney
Binta Barry
Julie Frances Martin
PawPar Heat
Silver
Colby Terrell Hall
Shakeria Fallon Ra'sha Carter
Teraja Anada Bull
Tony Patterson Brown
Kayla Gomez
Jessica Gatti
Audriona Jackson
Tawnya Pirch
Aubriea L. Miller
Rebecca Capozzi
Rhickisha Maria Hinkson
Andrew Speranza
Jordan Jenkins
Katarina Shields
Katie Summer Chuahong
Paige Krygowski
Jashaun Jamie Fontanez
Mariana Manuela Mbemba
Qinzhi Chen
Erin Hammond
Bronze