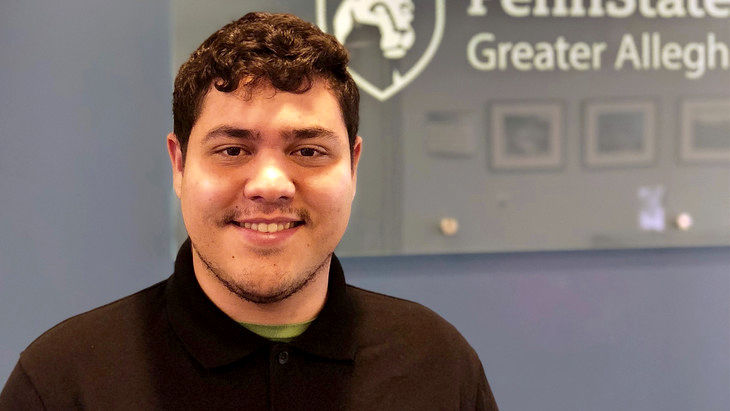 MCKEESPORT, Pa. — Penn State Greater Allegheny welcomed seven students from the University of Puerto Rico at Mayagüez (UPR-M) this spring semester. While enrolled at Greater Allegheny, these students participate in on-campus and community internships. Derrick Ferrer is a student participating in this unique exchange program.
For Ferrer, the quote by Wayne Gretzky, "You miss 100 percent of the shots you don't take," is the driving force behind why he wanted to study in this exchange program. "I didn't want to miss an opportunity to learn and explore in a new setting that could expand my horizons a bit," said Ferrer.
Ferrer works as an intern with the McKeesport Little Theater in its marketing and outreach department under the supervision of board member and Greater Allegheny Admissions Counselor Tony Gomez. "Derrick is a very hard-working young man, he sees tasks through until completion," said Gomez. "He's always checking in and making sure that he's doing what he is supposed to be doing."
Recently, the McKeesport Little Theater and Greater Allegheny launched a partnership to bring more performing arts to the campus. The partnership is also positioned to help the McKeesport Little Theater grow and thrive.
"Knowing Penn State Greater Allegheny and the McKeesport Little Theater are working hand-in-hand will help create a sustainable future for interested local residents and students," said Gomez.
Accepting an internship with a community theater was a natural fit for Ferrer. He is a co-founder of a UPR-M theatre association called Colectivo Teatral Thespis. The association promotes and produces a variety of productions on UPR-M's campus.
"We are a brand new group at UPR-M, and we are really looking forward to getting our feet off the ground and presenting shows in our own way," said Ferrer. "It is really rewarding to provide these opportunities and do these productions, and we hope they can become a big part of the campus community."
Ferrer participates in many on- and off-campus activities at Greater Allegheny, including the Lion's Big Adventure and recruitment events with the Enrollment Management Team. For Ferrer, these programs help him get to know the Pittsburgh area, and its residents. "I am around a lot of people whom you don't usually get in Puerto Rico," said Ferrer. "It's fun and very interesting."
Ferrer graduates from UPR-M this spring and plans to earn a master's degree and one day teach in the United States.