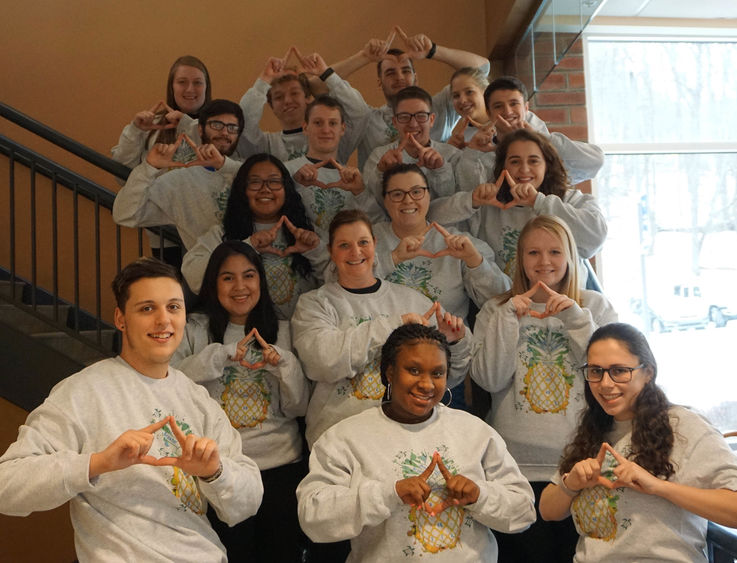 MCKEESPORT, Pa. — From Feb. 15 to 17, Penn State students from all over the Commonwealth descended upon University Park for THON, the largest student-run philanthropy event in the world. THON is committed and dedicated to raising money to help fight pediatric cancer. All in pursuit for a cure, THON's battle cry is FTK (For the Kids).
Since the event's start in 1973, more than $167 million has been raised in support of the Four Diamonds Fund at Penn State Health Children's Hospital. Students across the Commonwealth continue to raise awareness and provide financial support, all while having a great time. In total, Penn State Greater Allegheny raised more than $10,000 to help fight pediatric cancer.
The event is a 46-hour marathon and has three categories for participants. Dancers, who are student representatives from each campus and are on the dance floor for the entire time; moralers or dancer relations committee members (DRCMs), who tend to the campus' dancers; and supporters, students who cheer on and encourage their campus' dancers.
A total of 15 students and two staff members participated in THON, as representatives of the McKeesport-based campus.
Sophomores Shawn Dainty and Stephanie Katofsky were selected to be Greater Allegheny's dancers.
"THON was an amazing experience which I will, fortunately, remember for the rest of my life," said Dainty. "I was able to dance for 46 hours on the 46th year of THON. I met many kids and was able to test my own limits. It was because of the emotional stories and letters from not just friends, but also alumni and elementary classes which kept me going. THON is best experienced in attendance. See what it does for yourself. Always, For the Kids."
"Dancing at THON was a once in a lifetime experience," added Katofsky. "I wouldn't have wanted to dance with anyone else other than Shawn!"
While Dainty and Katofsky danced for 46 hours, their peers cheered them on, as supporters, from the stands at the Jordan Bryce Center.
"They are a very hard-working group of students," said Jennifer Ross, nurse and adviser of Penn State Greater Allegheny Benefiting THON. "We did a lot of different fundraisers and all the students going helped out a lot throughout the semester."
Greater Allegheny's THON president, Raeann Sleith, has participated in THON activities before. "This year was my third THON weekend," said Sleith. "I couldn't be more excited for Shawn and Stephanie for staying on their feet for 46 hours to show support and spread awareness for pediatric cancer."
THE BEGREATER THON TEAM
Students
Raeann Sleith (president)
Stephany Katofsky (dancer)
Shawn Dainty (dancer)
Katie Chuahong
Tyler Barry
Wyatt Thomas
Jerrod Anthony
George Graybill
Christa Koons
Dj Impavido
Jess Beckwith
Jesse Vargo
Jordan Clark
Kori Devaughn
Megan Trunk
Staff
Jennifer Ross
Louise Whyte-Aravich