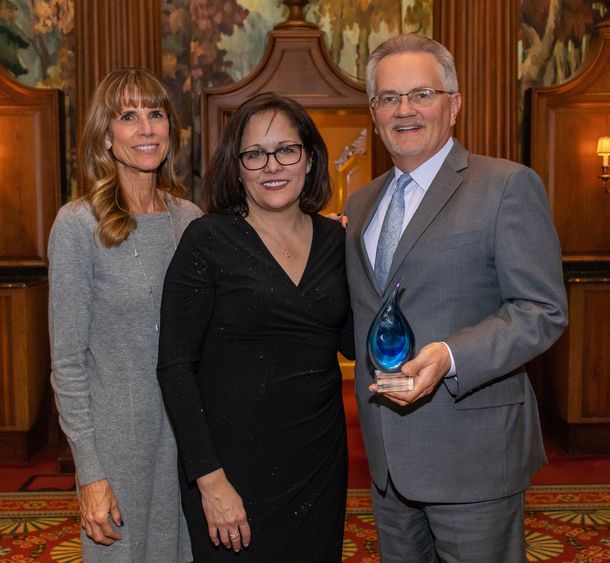 MCKEESPORT, Pa. — James and Megan Minarik have established a challenge grant to continue the Digital Fluency Project at Penn State Greater Allegheny.
Announced at the campus's Annual Scholarship and Distinguished Alumni Awards, where James Minarik was also honored as a distinguished alumnus, the Minariks' $50,000 donation, when matched by support from alumni, donors, corporations and foundations from the Greater Allegheny community, will provide $100,000 in support of the Digital Fluency Project, an effort to help students effectively use technology and interpret information, design content, and communicate ideas within digital spaces.
"We are delighted to enhance the ability of Penn State Greater Allegheny students to excel in our increasingly technological world," said James Minarik. "We hope that others will join us in supporting the Digital Fluency Project and helping this campus to be an innovative leader in a changing society and economy."
The Digital Fluency Project at Penn State Greater Allegheny is designed to ensure that students develop vital digital skills by learning to code, engaging in digital storytelling, and gaining hands-on experience with new technology. Through the program, undergraduates receive and gain experience with devices like iPads and Logitech Crayons that will not only build their digital skillsets and connect the campus through a unified digital platform, but also prepare students to thrive after graduation as demand for digital fluency in the workforce continues to rise. Through the Minariks' challenge grant, private gifts will provide vital funding for this program to continue.
Support from the Minariks' challenge grant will also continue Penn State's land-grant mission of access and affordability for students of all economic backgrounds. By investing in students through digital resources and technology, the Digital Fluency Project will help lessen the financial burden associated with higher education for the campus' undergraduates. For students in the Greater Allegheny community who may otherwise be struggling to afford higher education, the Digital Fluency Project will make a college education more accessible while providing them with enhanced academic opportunities.
"I am so grateful to the Minariks for their support of this cutting-edge program. Through their gift, they are enriching the educational experiences we offer and providing access to those experiences for more students," said Penn State Greater Allegheny Chancellor and Chief Academic Officer Jacqueline Edmondson. "They are both visionary and generous, and their challenge grant is inspiring others who wish to leave their mark on Penn State Greater Allegheny and the students it serves."
The Minariks' challenge grant will advance "A Greater Penn State for 21st Century Excellence," a focused campaign that seeks to elevate Penn State's position as a leading public university in a world defined by rapid change and global connections. With the support of alumni and friends, "A Greater Penn State" seeks to fulfill the three key imperatives of a 21st-century public university: keeping the doors to higher education open to hardworking students regardless of financial well-being; creating transformative experiences that go beyond the classroom; and impacting the world by fueling discovery, innovation and entrepreneurship. To learn more about "A Greater Penn State for 21st Century Excellence," visit greaterpennstate.psu.edu.
To participate in this opportunity to strive and build a brighter future for students at Greater Allegheny, please contact George Barron by phone at 412-675-9180 or by email [email protected].