Event raised $75,000 to help students succeed in college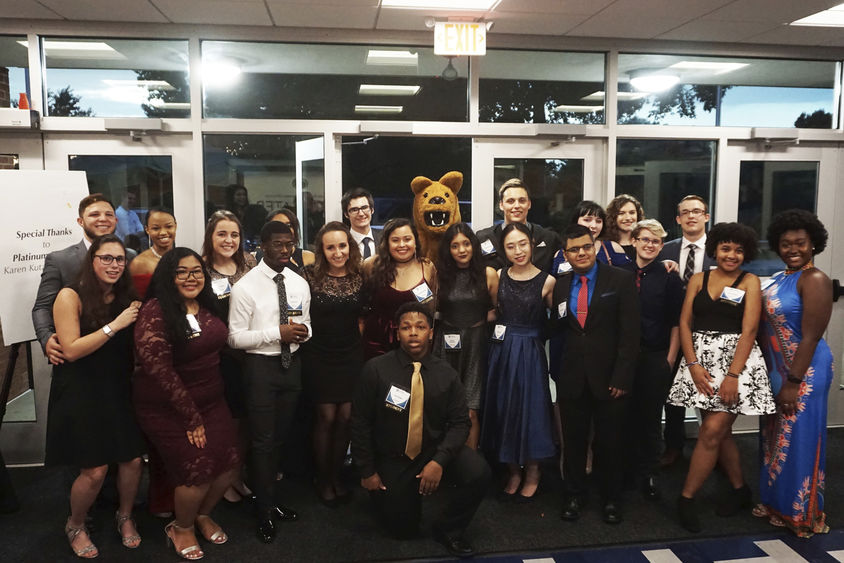 MCKEESPORT, Pa. — Hans Christian Anderson once said, "Where words fail, music speaks." On Oct. 6, the music at Penn State Greater Allegheny spoke of friendships new and old, and the belief that a Penn State education transforms lives.  
The 52-acre, McKeesport-based campus held its annual "All That's Jazz" scholarship benefit — raising $75,000 to help students succeed in college — in the Wunderley Gymnasium. The benefit is in its 15th year.
Former Greater Allegheny advisory board member and Penn State alumna Nancy Seifert founded the jazz event. Seifert, a recipient of the Distinguished Volunteer Award for her campus involvement and philanthropic support, and others helped to establish the event as a way to bring people to the campus and to celebrate music.  
"'All That's Jazz' brings people together through music to raise scholarship funds for Penn State Greater Allegheny students."

— Jacqueline Edmondson, chancellor and chief academic officer, Penn State Greater Allegheny
"'All That's Jazz' brings people together through music to raise scholarship funds for Penn State Greater Allegheny students," said Chancellor and Chief Academic Officer Jacqueline Edmondson. 
Over 200 guests enjoyed music from the Benny Benack Band, featuring Benny Benack III. The band has headlined the event since its inaugural year. 
"It has been a privilege to be so involved with the efforts to make 'All That's Jazz' the annual success it is. I so look forward to the personal interactions with the students that happen every year. That 'jazz' can be woven into the fabric of this spectacular event is a bonus," said Benack. 
Longtime campus friends Nancy and John Traina sponsored and chaired this year's event, making it a night to remember. 
The benefit drew support from local businesses around the Greater Pittsburgh Region. Karen Kutzer Associates contributed $10,000, through a platinum sponsorship. 
Kutzer, vice president of the Greater Allegheny advisory board, noted, "Amazing things are happening at Penn State Greater Allegheny. It is important to support the good work being done. Providing scholarships that give students access to this campus is the best way I can demonstrate my support."
UPMC McKeesport as well as Clifford and Barbara Wise served as Gold Sponsors. 
Chief Corporate Relations Officer for the Allegheny Conference on Community Development, Bill Flanagan, served as the master of ceremonies. Flanagan started the festivities by introducing two students, Raeann Sleith and Jay Jay Fields, who shared how scholarships helped them.
Sleith, a junior, is majoring in business management and marketing with a minor in psychology. She discussed how scholarships eased the financial burden for her and her family. 
"My mom was a single mom and had to take care of my brother as well," said Sleith. "Scholarships motivate me to not let down those generous donors out there who care about me and my education."
Fields, a sophomore majoring in business management, is a first-generation college student. He shared how his scholarships allow him to devote more energy to his studies and less worry to his finances.
As a member of the Men's basketball team, Fields is particularly grateful to Regis and Barbara Becker for creating the Regis W. Becker Strength and Conditioning Center at Penn State Greater Allegheny. This center provides students with Olympic style weights, machines, and more. The center was announced and dedicated at the benefit.   
"The strength and conditioning room provides a chance for me to get stronger and faster for the season," said Fields. "I am able to go straight from the center to the court where I practice my shots."
Over its history, "All That's Jazz" has raised more than $1 million, providing students access to a Penn State education.
"The scholarships make an incredible difference for our students, and the support our campus alumni and friends show to our students through their commitments is life changing. I truly appreciate every gift we received," noted Edmondson. 
Penn State Greater Allegheny inspires students to "be greater" by offering a transformative educational experience. Donors make it possible for Greater Allegheny students to earn a degree highly regarded in the world.  
Greater Allegheny would like to extend a special thank you to this year's sponsors of "All That's Jazz":
Platinum 
Karen Kutzer Associates
Gold
UPMC McKeesport
Clifford and Barbara Wise
Silver
Mark R. Gruskin
Jim and Megan Minarik
Nancy and John Traina
Bronze
Galen Grimes
In the Name of Ruth Hunt
Jendoco Construction Corporation
Next Architecture, L.P.
Penn State Greater Allegheny Alumni Society
Resource Development and Management, Inc.
TMS International
Gary and Sharen Thomas
Jay and Kimberly Weitzel
Patron
Arthur L. and The Honorable Cynthia A. Baldwin
Ed and Dorothy Datemasch
Jacqueline and Michael Edmondson
Dennis and Beth Meteny
Supporters
Corbett Inc./ KI Furniture
Ron and Chris Grassel
Rich and Judy Kalich
Donald and Monica Lovre
Robert and Donna Nicely