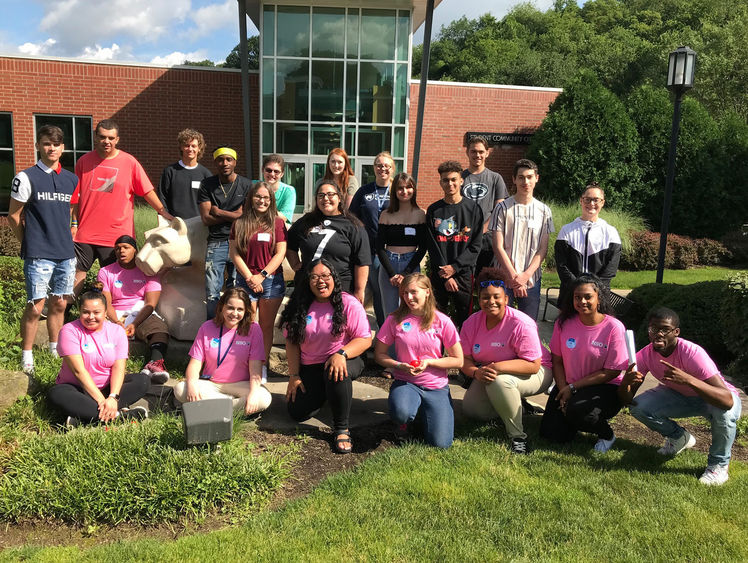 MCKEESPORT, Pa. — Some college campuses may be quiet over the summer, but that's not the case at Penn State Greater Allegheny. Fourteen first-year students joined eight returning second-year students for the Pathways to Success: Summer Start (PaSSS) program. The program is structured to help first-year students build a strong foundation for the college experience before the start of the fall semester, while second-year PaSSS students can continue to take summer classes toward their degree programs.
The PaSSS program offers scholarships and campus employment to participating students to help reduce the financial barriers of a college education. First-year PaSSS students take six credits, while second-year PaSSS students take up to 12 credits over the summer. Beyond the financial benefits, students participate in workshops, mentoring programs, and activities on campus and in nearby downtown Pittsburgh.
James Plez, a sophomore business major from Philadelphia and a returning PaSSS student, is serving as a mentor to the incoming class.
"PaSSS was helpful to me because it gave me a glimpse of how college life was going to be," said Plez. "I met my closest friends through PaSSS. When the rest of the freshmen arrived last fall, I already felt comfortable on campus, and I was more confident in class. It was easy to get involved on campus."
"The PaSSS program balances academic preparation with social events on campus and within the city of Pittsburgh," added Melan Hasquet, admissions counselor at the Greater Allegheny campus and PaSSS co-coordinator. "It is a great opportunity for students to build a set of skills that will help them successfully transition into the academic environment of Penn State while also meeting new friends, building their resume, and creating connections with campus faculty and staff.
"Our students will develop a foundation that will help them throughout their college career both inside and out of the classroom. We are excited to see our students grow and advance throughout the program and school year."
Students arrived on campus Monday, June 24, for a welcome luncheon with the campus community. The PaSSS program is slated to run through Aug. 7, with final exams on Aug. 9.
To learn more about the PaSSS program, visit www.greaterallegheny.psu.edu/passs or contact the campus admissions office at 412-675-9010.