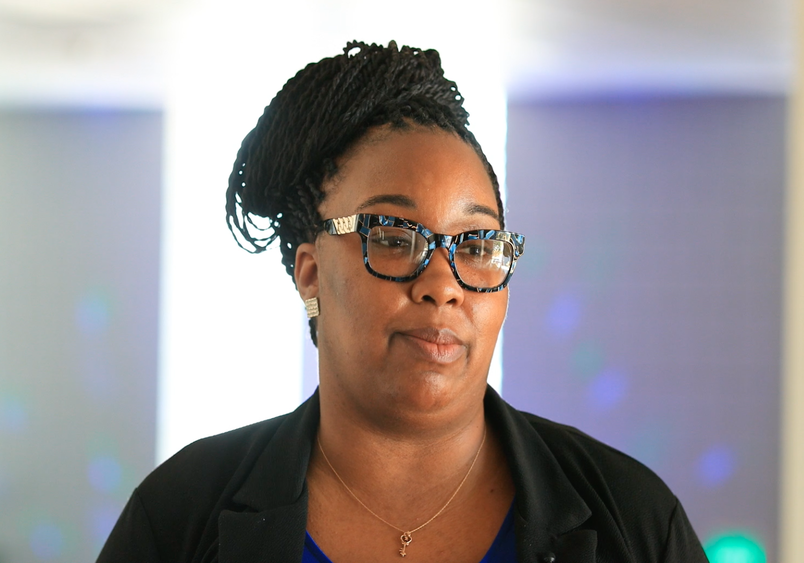 MCKEESPORT, Pa. — When the summer vacation bell rings in 2020, youth from McKeesport and the surrounding communities can expect an exciting summer program at Penn State Greater Allegheny when Kids College returns for another year.
Mylisha Burns, continuing education assistant at Greater Allegheny, is the driving force behind the resurgence and success of the program.
"Kids College fosters the growth of young and impressionable minds," Burns said. "The program allows learning through creativity and real-life experiences in a college setting. It seems to give the campus life. What's not to love about 10-20 kids with big smiles roaming the hallways?"
Burns is a McKeesport native, wife, mother of six, and a grandmother of four. She said she believes that "success comes from growth." She came to work at Greater Allegheny because of the vision that her colleagues Eric Ewell and Aaron Whigham have for the community. Ewell and Whigham are co-coordinators of the Mon Valley LaunchBox, an innovation-hub nestled into downtown McKeesport.
"The vision that Eric and Aaron had for the LaunchBox and how it could help foster growth in my community made me want to be a part of that positive change," said Burns. "It was mind-blowing to see that two men who are not from here showed so much passion and concern for a community that I love."
Greater Allegheny employees often tell the stories of their greater moments at work, a nod to the campus' "Be Greater" tag line. Burns said her "Be Greater" moment was the last day of Kids College 2019.
"The kids performed a short play, which they learned in less than five days," said Burns. "They showed so much determination, and I couldn't have been prouder to see a packed audience and hear the applause. It brought me to tears. At the end, when it was time to say our farewells, most of the kids hugged me and asked to take a picture with me. That's when I knew the impact that Kids College had on those precious lives, and I was proud to be a part of it."
Community members who are interested in Kids College should be on the lookout for informational flyers in early 2020. The 2020 lineup, slated to begin in June, will feature many new sessions including restaurant wars, mad sciences, robotics and coding, and crossing oceans, along with returning favorites, athletics and performing arts.
For more information on Kids College, contact Burns at 412-675-9032 or by email at [email protected].